OUR TRIP TO ARGENTINA, MAY 2009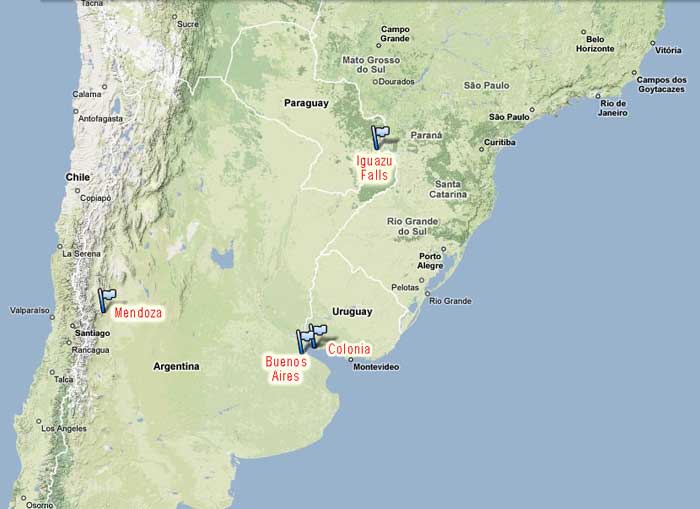 Buenos Aires, Argentina
Buenos Aires is huge, like the New York of South America. The city is elegant, clean, and easy to get around by taxi. The people in the tourist sections are friendly and a fair number speak some English. At the present exchange rate everything was fairly inexpensive. We were there for just a few days and hit all the requisite tourist spots, but really only scratched the surface of what there is to do around the city. We had a 11 hour flight from D.C. that was uneventful. Jim was there for a 3-day conference and he had to sit in an uncomfortable, dark auditorium listening to dry talks about the epidemiology of toxogenic E. coli while Steven, Brandie and Andy got to explore.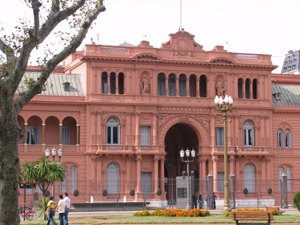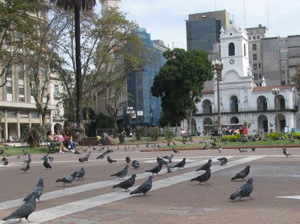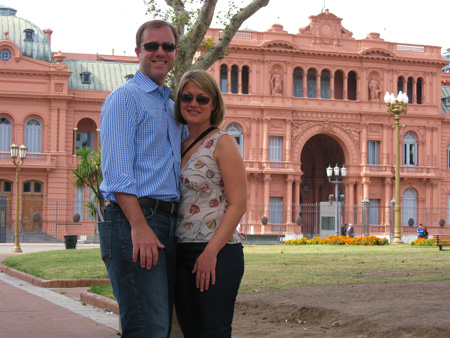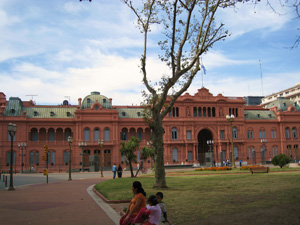 The Pink Palace (Casa Rosanda) in the Plaza de Mayo (they can dedicate a whole square to a condiment, but if you ask for mayo in a restaurant they just look at you like your speaking gibberish). They will tell you that this is the presidential palace and plays an important role in Argentine history, blah, blah, blah, but what this building is really most notable for is that Madonna sang from the balcony on the left in the movie version of Evita.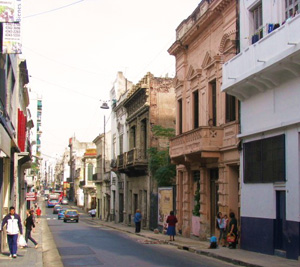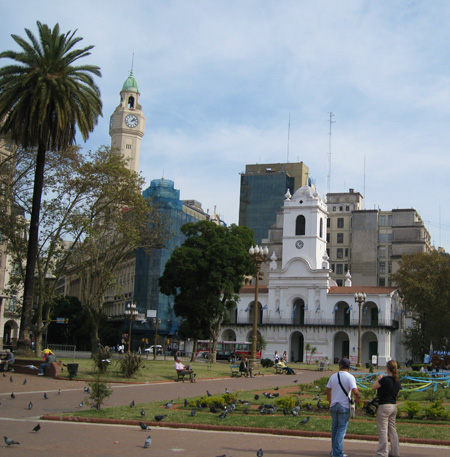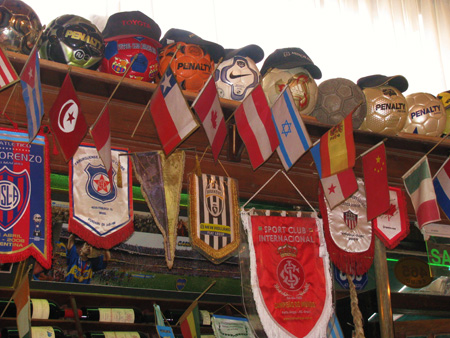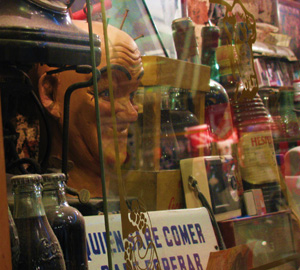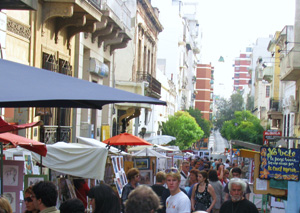 The Feria de San Telmo street fair is a arts and crafts market that stretches for many blocks in the oldest part of Buenos Aires. This fair takes place every Sunday and is jam-packed with tourists. What this shows is that you can find the same freaks selling the same crap no matter where you go in the world.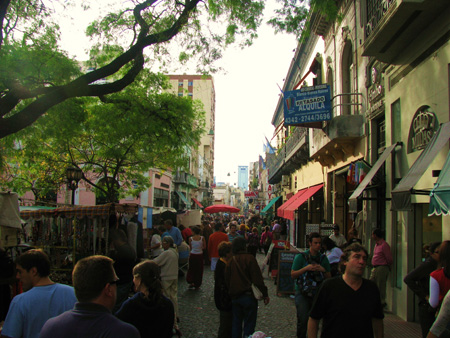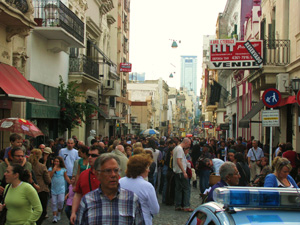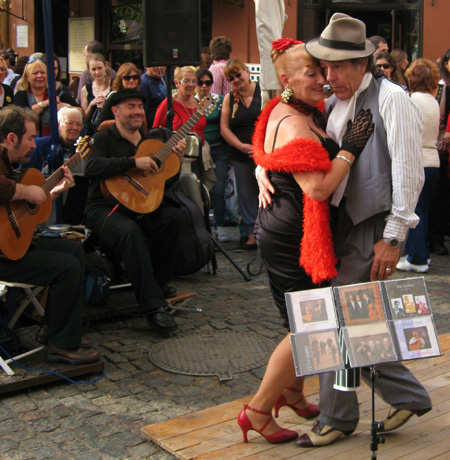 Aren't these two a little old to be doing the Tango? It's like watching grandma and grandpa making out. You know they do it, but don't really want to see it.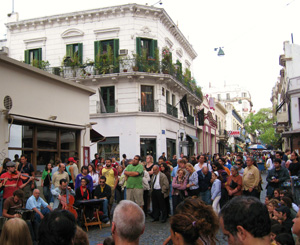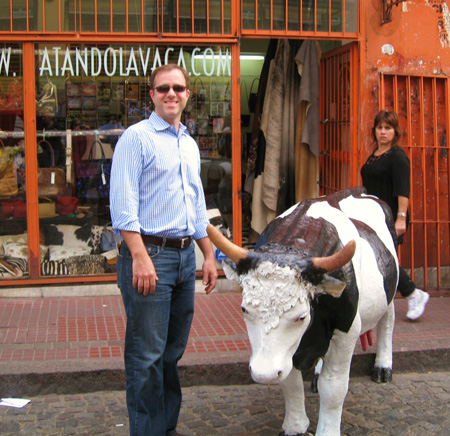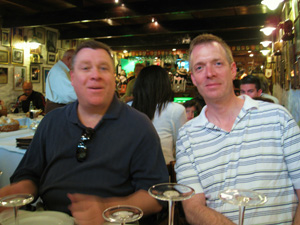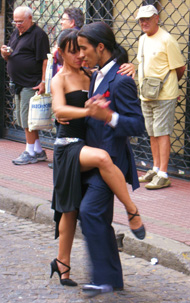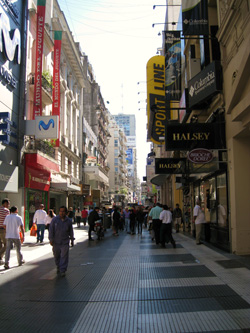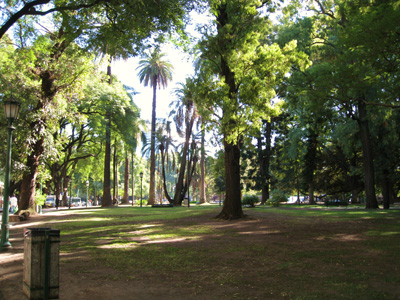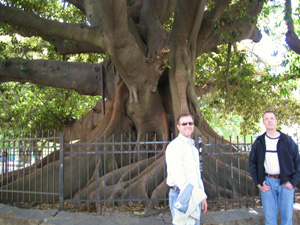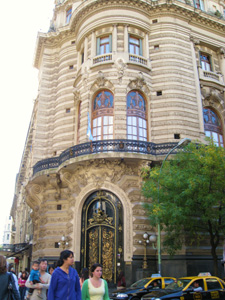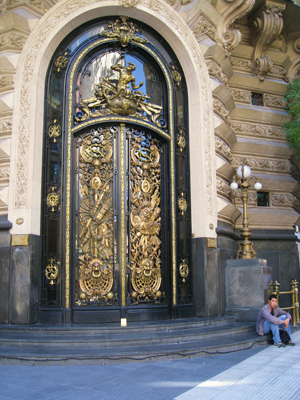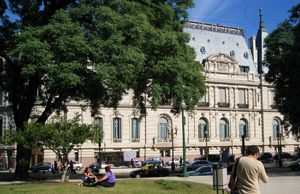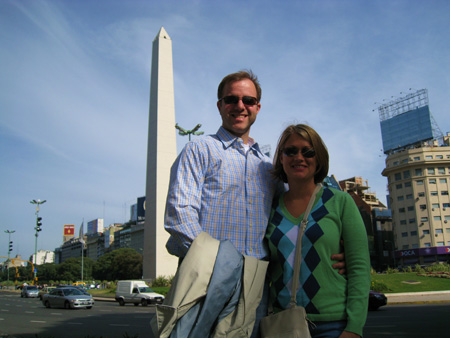 The Obelisk of Buenos Aires (El Obelisco) is a shameless rip-off of the Washington Monument. It was built in 1936 to commemorate the founding of the city.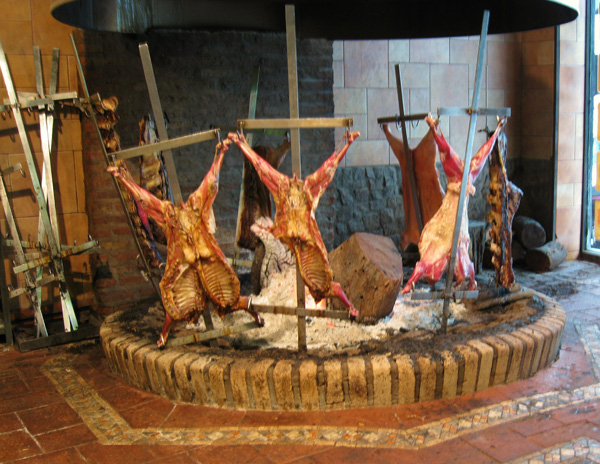 MEAT, MEAT, MEAT !!!
Argentina is all about the Beef. The more grisly the display the better the restaurant.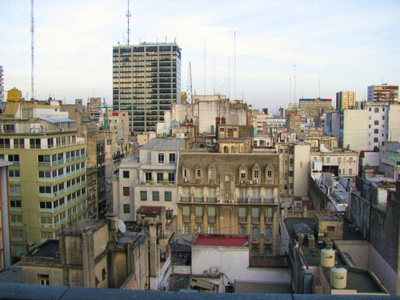 This is view from our hotel room window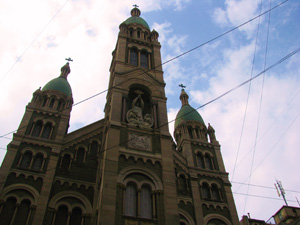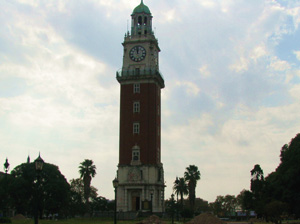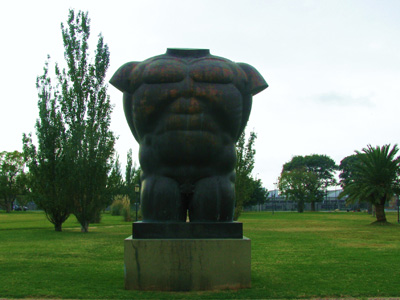 Is it a face or a torso? You decide.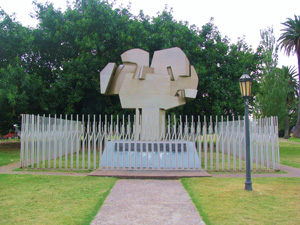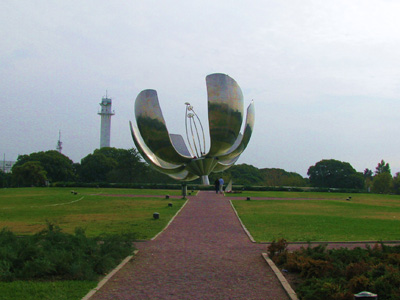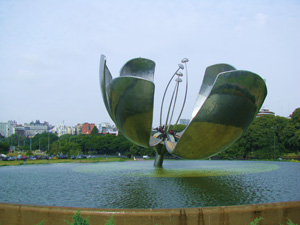 The world-famous Tulip sculpture Floralis Generica. It opens and closes during the day. At night it has pretty colored lights shining on it. Post-modernist hooey is probably an apt description for this landmark.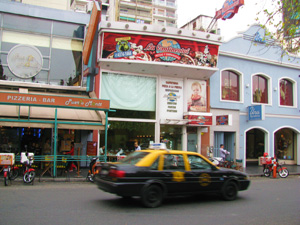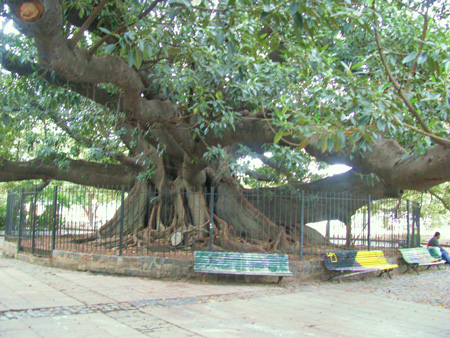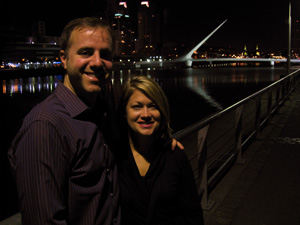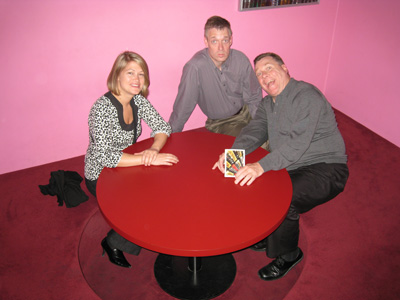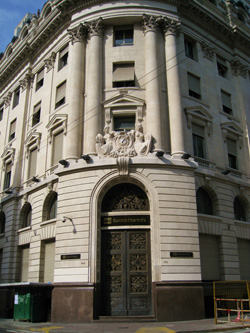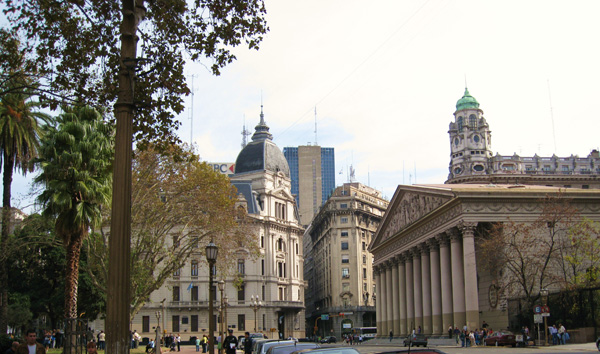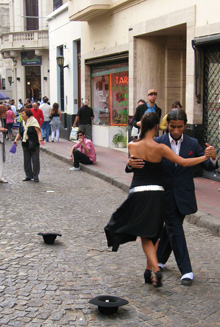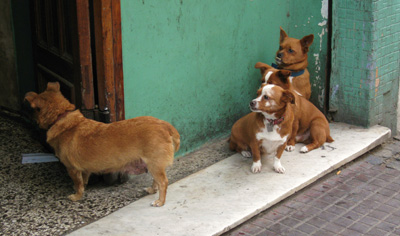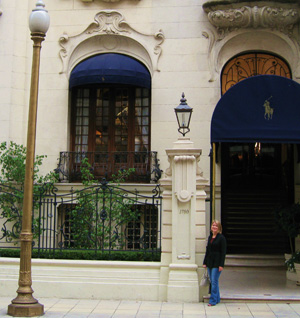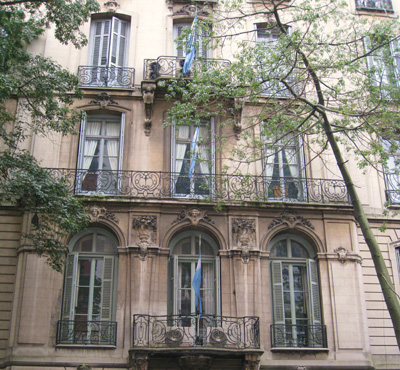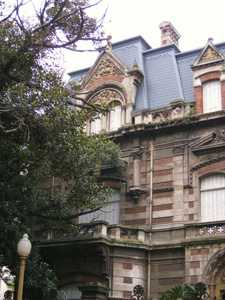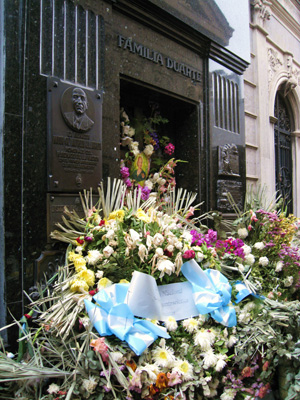 Evita's crypt in the Recoleta Cemetery.
A ghoulish must-see for a trip to B.A.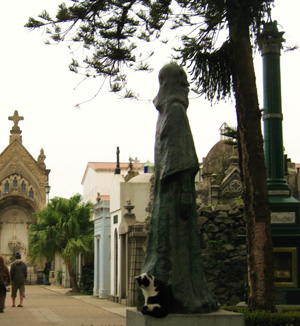 The cemetery is really quite spectacular. The statues and monuments are endlessly fascinating. These people really know how to go out in style.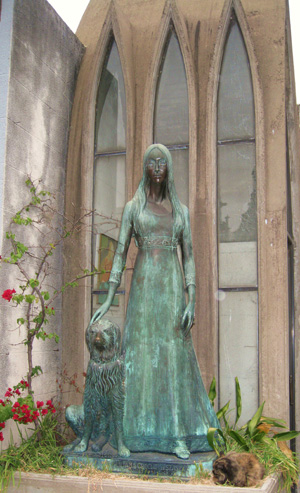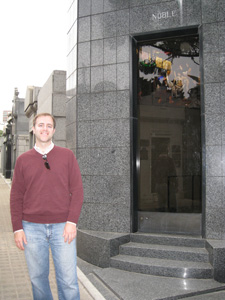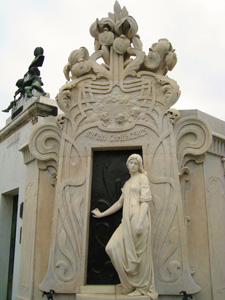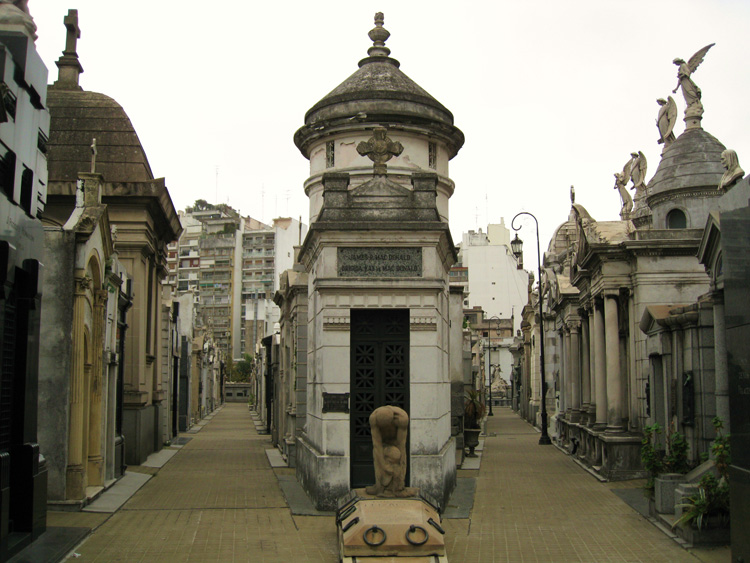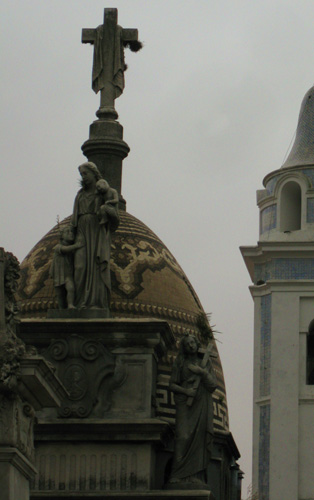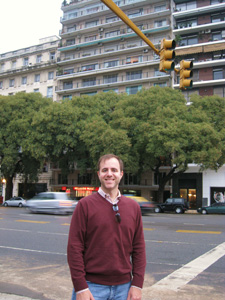 Andy standing in front of the apartment building where his family lived until he was two years old.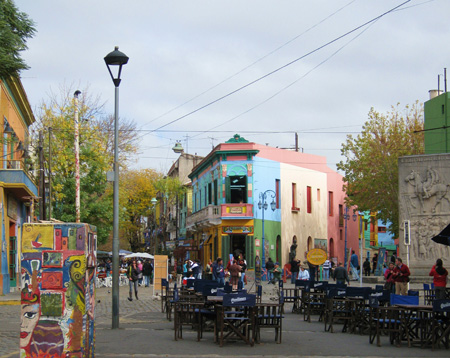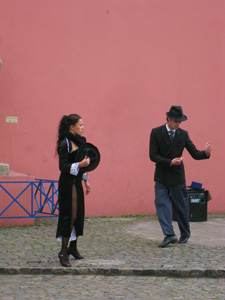 La Boca is a neighborhood of Buenos Aires known for colorful houses and Italian flavor. The area is home to many tango clubs and Italian taverns.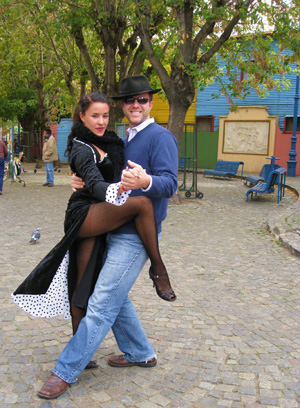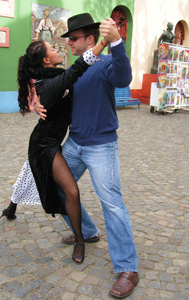 Oh this girl was all over Andy,
poor thing.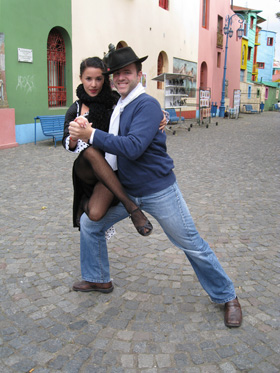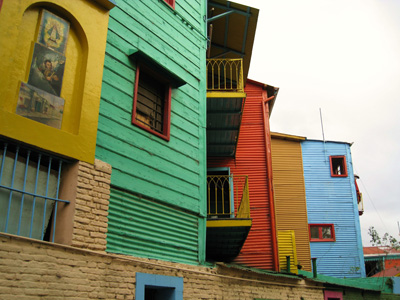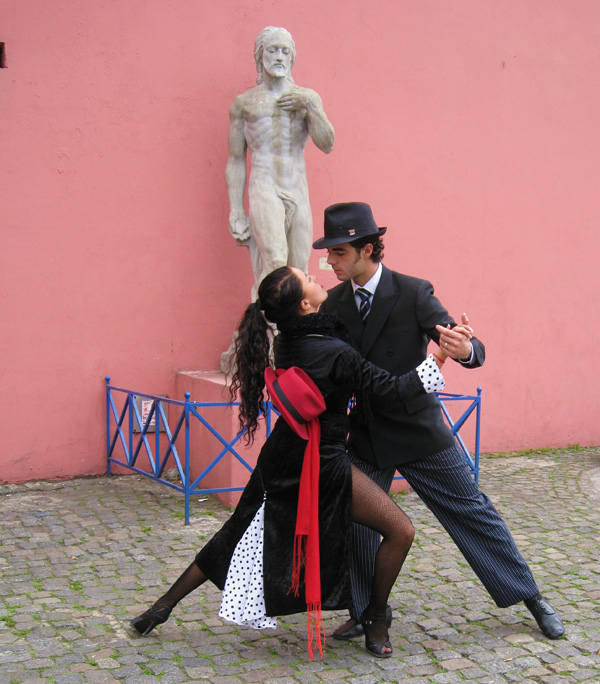 This picture is fantastic. The equilateral triangle formed by the dancers intertwined legs is exactly three times the area of the triangle formed by connecting the eyes of the couple with the withered genitals of the old man statue. Not only is this image artistic, it is also very, very Freudian.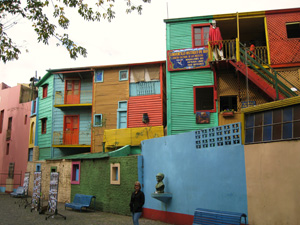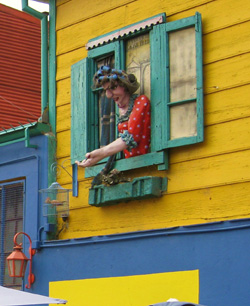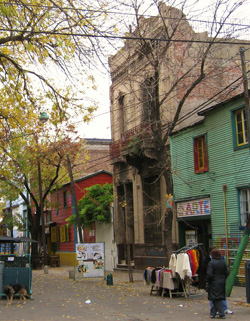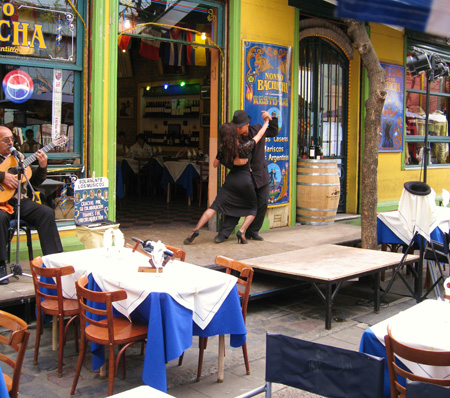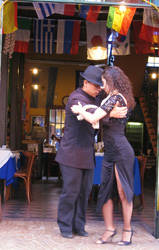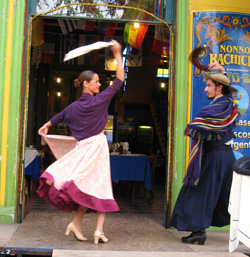 Click here for a short video of tango.
Brave Brandie gives it a go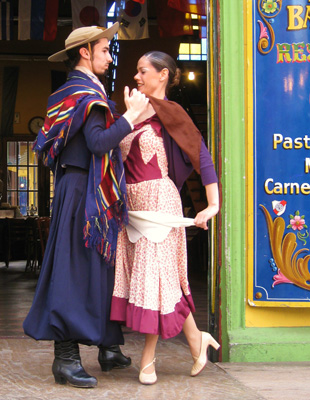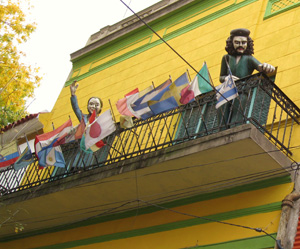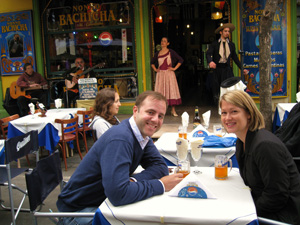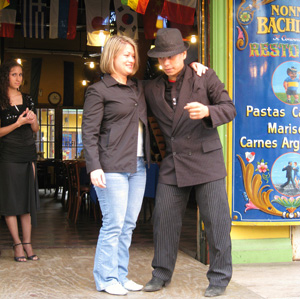 Brandie says "Weeeeeeeeeee!"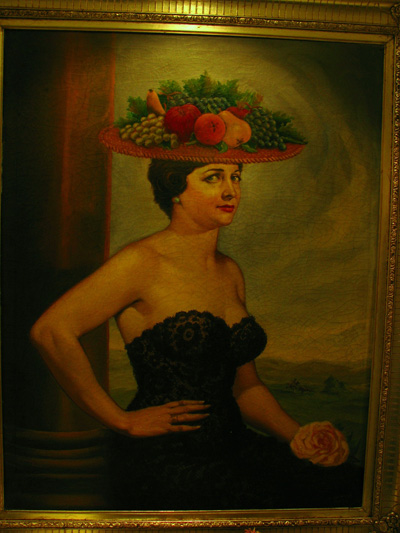 Look at this woman's expression. She seems to be saying "You dressed me in a lace negligee and put a plate of fruit on my head. Is this really how I want to be painted for posterity?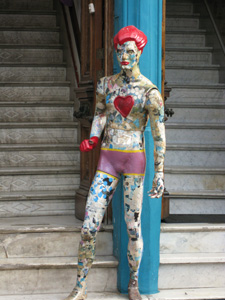 Mendoza Wine Country
This region of Argentina is really a great big desert, but snow-melt runoff from the Andes mountains has allowed irrigation. The Spanish first came to this area around 1600 and, by enslaving the Native American peoples, have turned this area into a lush oasis. This region is seismically active and an earthquake destroyed the city in 1861, and half the population was killed. We learned that this region was the 'Wild West' of Argentina. People running from the law ended up here along with Spanish and Italian homesteaders. Wine making and olive oil production are the major industries. Until about twenty years ago this region just made table wine for Argentina. With the global upsurge of wine consumption in the late 80s and 90s, this region has started to make better vintages that are comparable with the Sonoma region of California.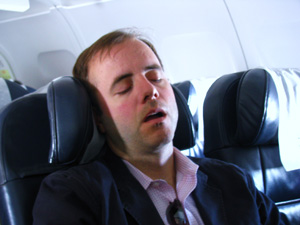 Andy grabs a few zzzs on the short plane trip from Buenos Aires to Mendoza.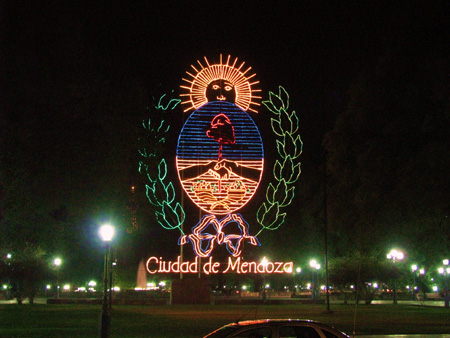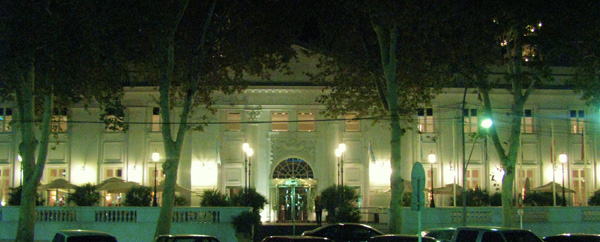 The Grand Hyatt Hotel where Steve and Jim stayed (only because they could use points).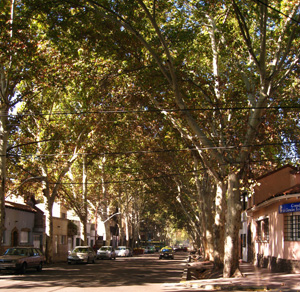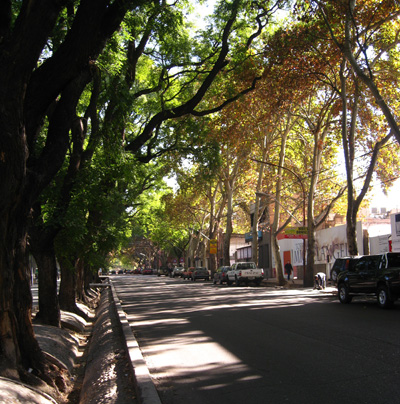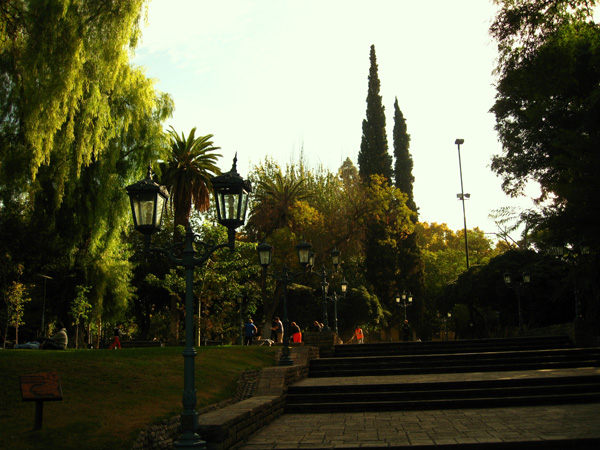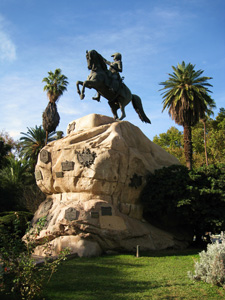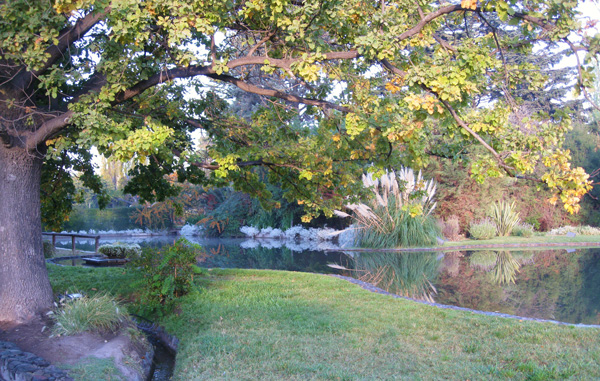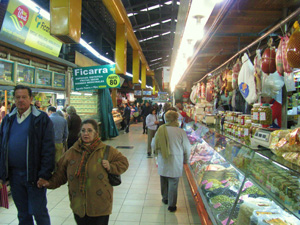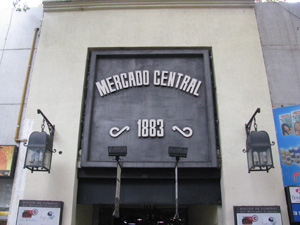 The Central Market, where you can get any spice, vegetable, or meat that you desire.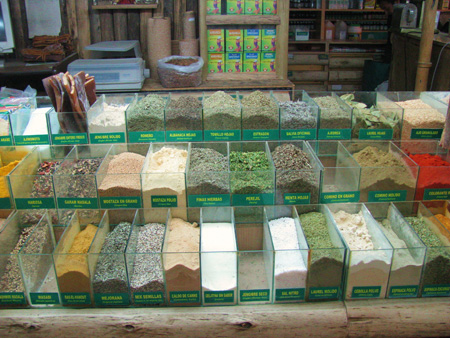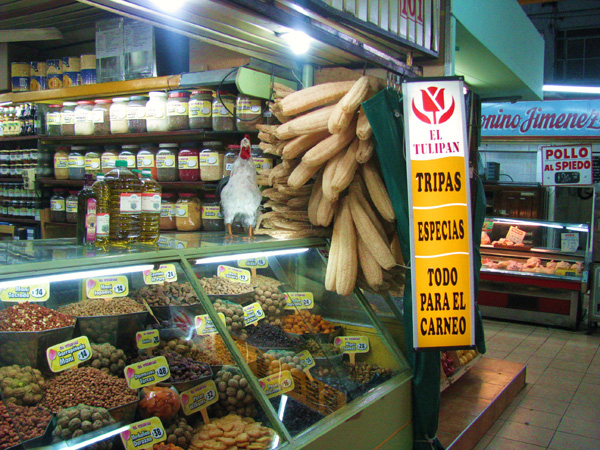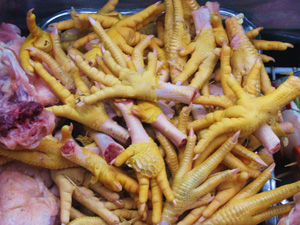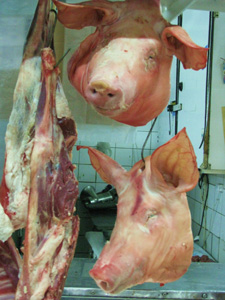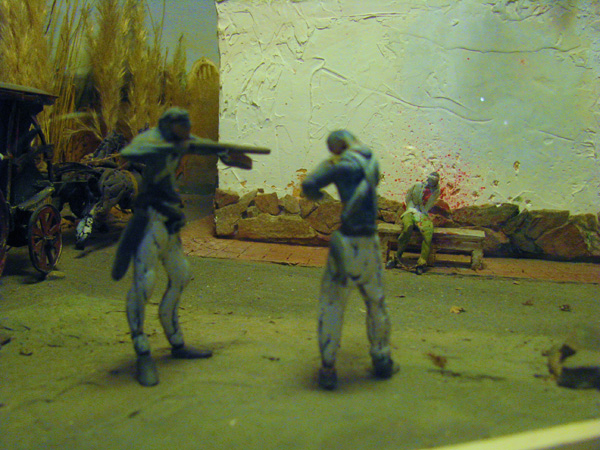 A delightful little diorama in the cultural museum that depicts the brutal execution of a businessman who was on the wrong side of Argentina's struggle for independence from Spain.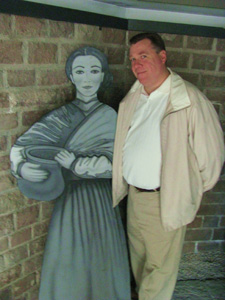 Steven hits it off with one of the many two-dimensional people who inhabit this part of Argentina.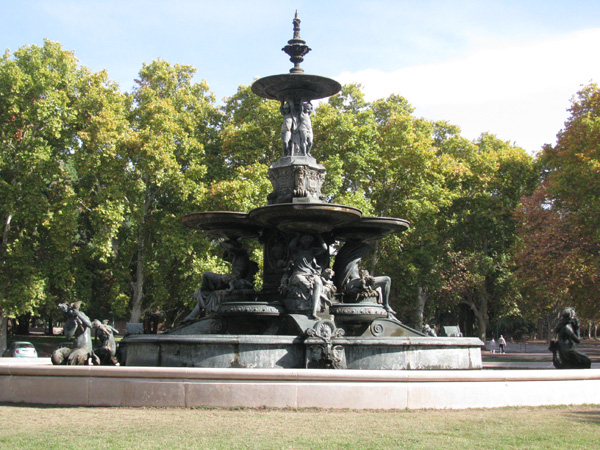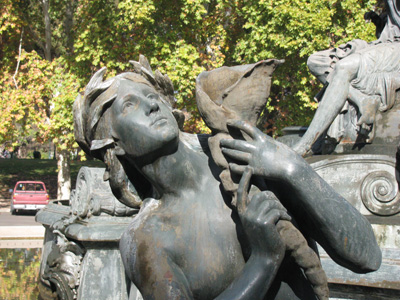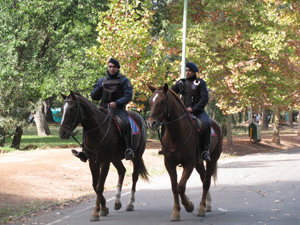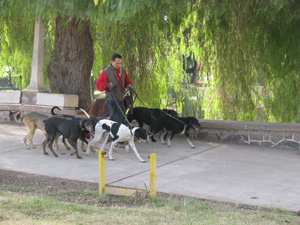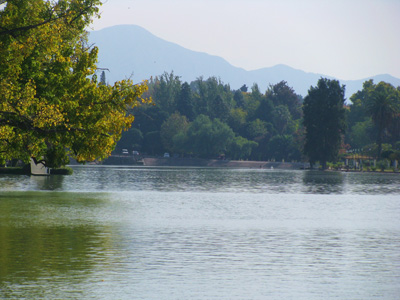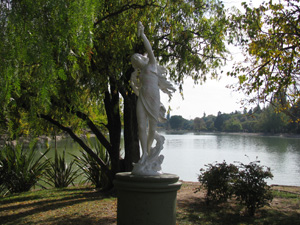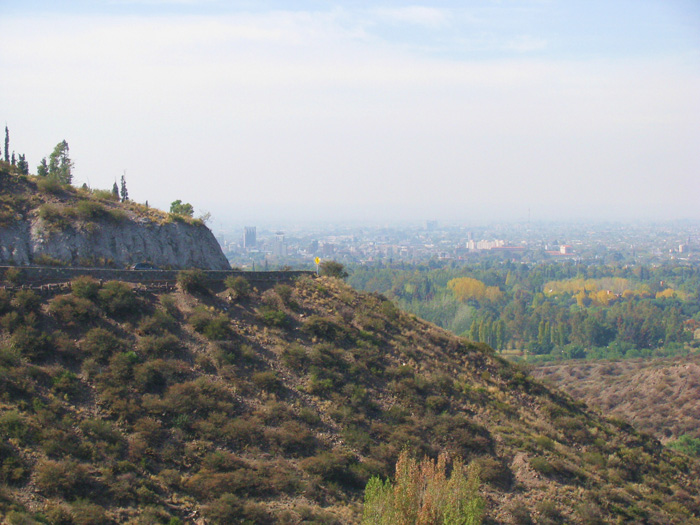 This is what Mendoza would look like without irrigation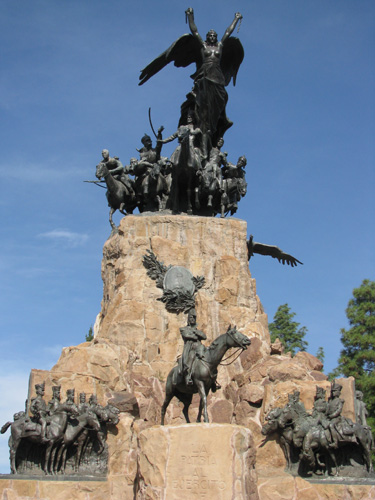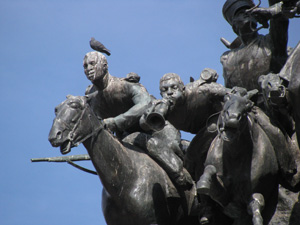 This was a very impressive monument dedicated to the Army of the Andes, on the summit of the Cerro de la Gloria that overlooks Mendoza. This army went from Argentina to free Chile from Spanish rule. Our Tour guide made it very clear that Chile has not been very appreciative, and has royally screwed Argentina three times in the past.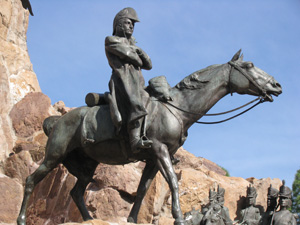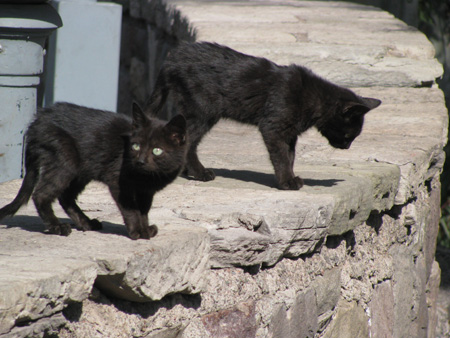 Kittens are prized in Argentina for their soft fur and tender meat.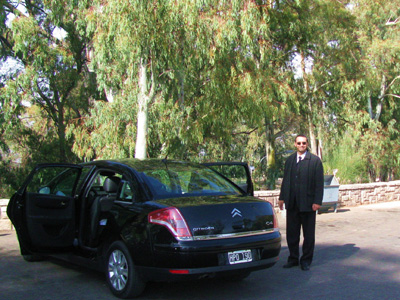 We hired private drivers through the hotel to take us to the wineries and around town. They were very charming and all had names right out of romance novels.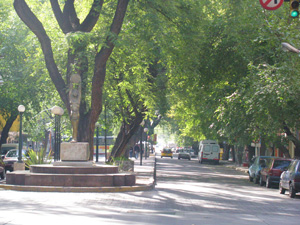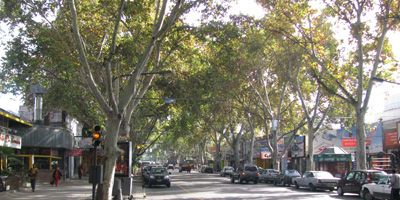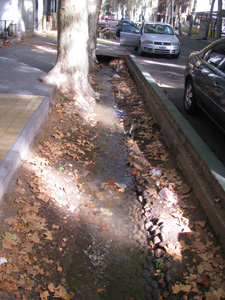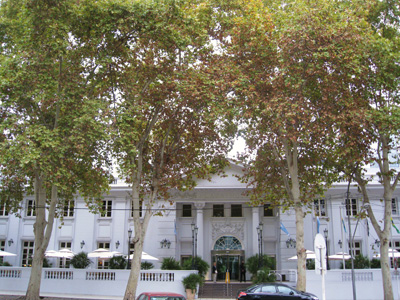 We had planned to visit several wineries on our first full day in Mendoza. Unfortunately Andy fell ill so he and Brandie were unable to travel that day. We felt a bit guilty about leaving Brandie alone with sickie, but the driver was booked in advance so we went without them. The day before had been overcast and rainy, but this day was sunny and crisp, a perfect day for tasting wine. Our first vineyard was Catena Zapata which has a gorgeous visitor's center in the shape of an Aztec pyramid. They showed an incredibly cheesy movie touting the family's humble beginnings and how over the generations they have developed wines that embody the true spirit of the Andes. The film ended with the stirring strains of a Beethoven symphony and an image of the youngest member of the Zapata family shedding a tear over a grape leaf. What a load of grade-A hokum.
We were given one tasting of their Malbec and then purchased two flights; one was the domestic line sold under the name of Saint Felicien, and the other was the export line sold as Alamos. We definitely liked the exported wines better, which probably shows that our palettes are very low-brow. We were sipping our wines when a very loud American woman came in and started loudly explaining that in America the tastings are free and that she shouldn't have to pay for tastings here. We were so ashamed. Of course we had our own fair share of Ugly American moments on this trip, but we won't go into that.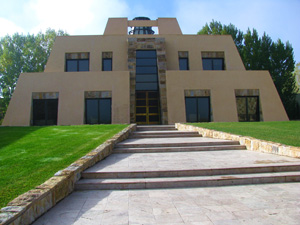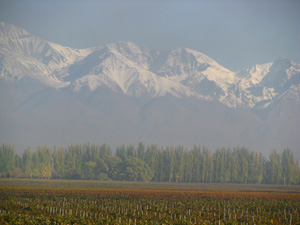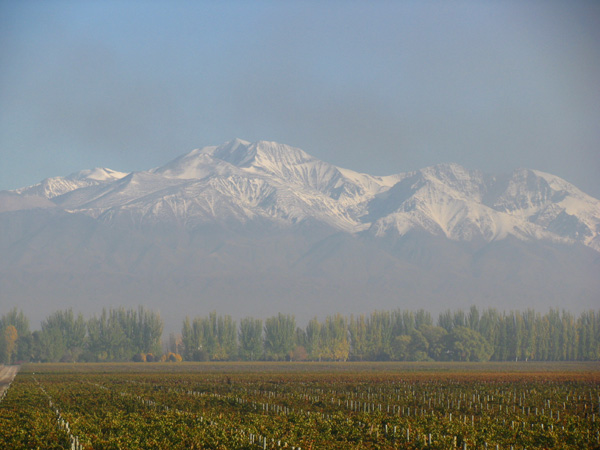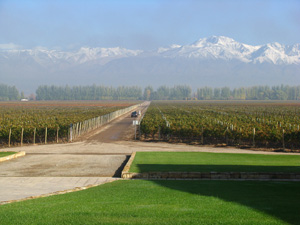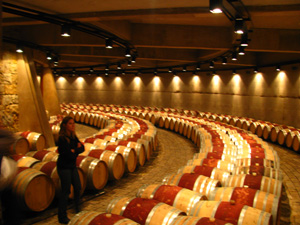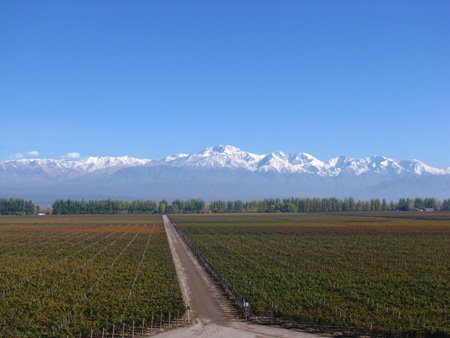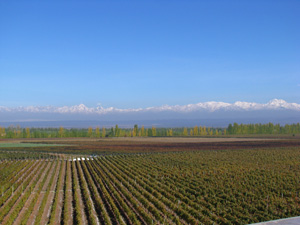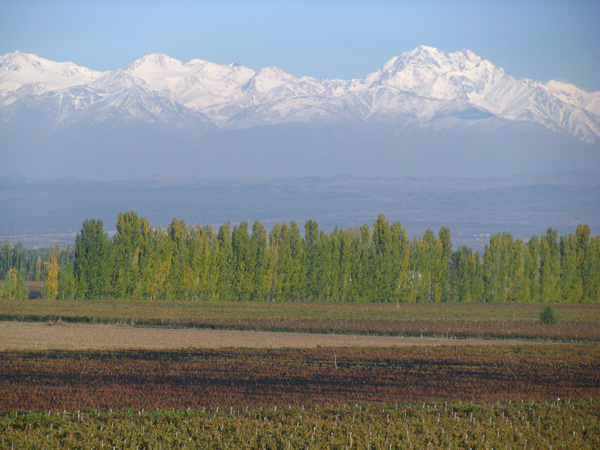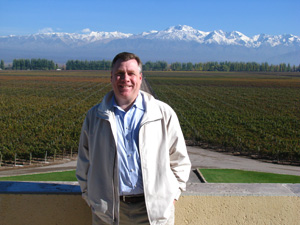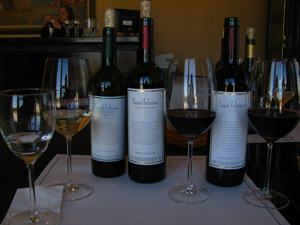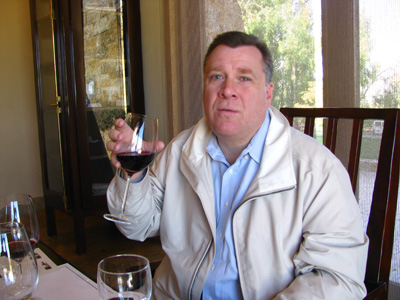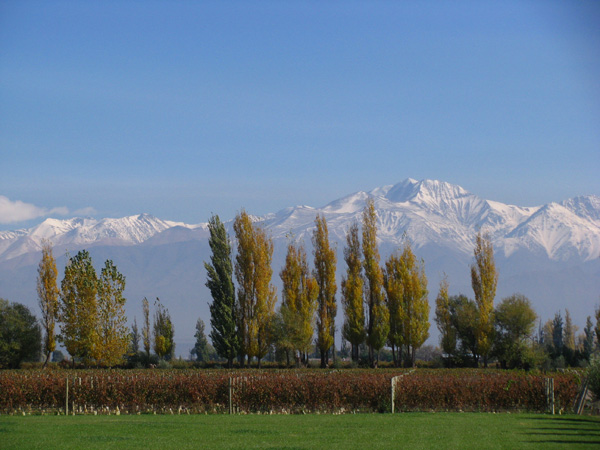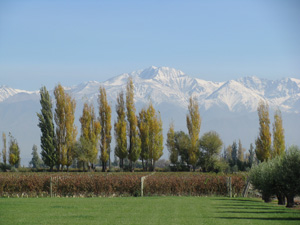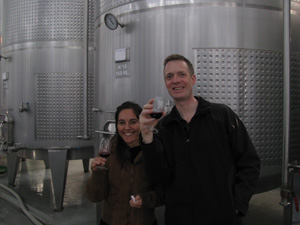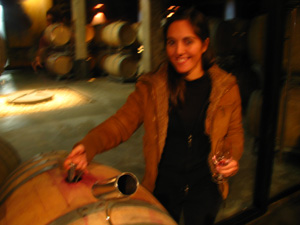 The next winery was Melipal, where we had a short tour and then lunch. The tour guide gave us a taste of wine right out of the stainless steel vat and then from a barrel, which was quite interesting. Lunch was probably the best meal we had in Argentina. The menu was as follows (read it and salivate).

STARTER:

Pine mushroom cappuccino and black pepper
Paired with a Malbec Rose


APPETIZER:

Sliced chicken wrap with potatoes and Granny Smith apple with cinnamon puree, plums and Malbec sauce
Paired with a young Malbec not aged in oak


SOUP:

Traditional onion soup with bacon, croutons, almonds, black olives and spinach bubbles
Paired with a Malbec - Merlot blend aged 12 months in American oak


MAIN:

Grilled beef tenderloin served with roasted eggplant, and crispy ravioli, sweet chili sauce tomatoes and black olives
Paired with Malbec aged 18 months in French oak


DESSERT TRIO:

Bitter chocolate marquis, quince crumble, and white chocolate mousse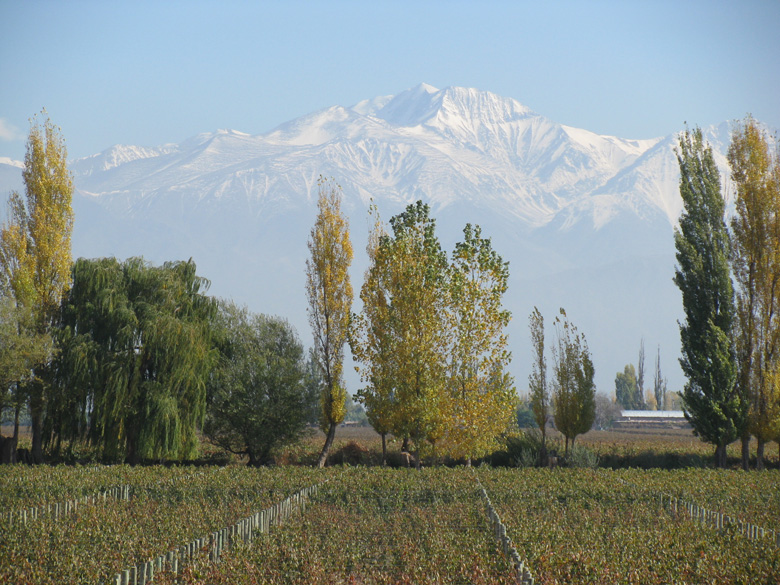 Imagine the scene; the restaurant was tastefully decorated with native stone tiles and unfinished wood. A large plate glass window gave a stunning view across the vineyard to the snow-capped Andes in the distance. There was only one other couple dining, so we pretty much had a server attentively waiting on us through the whole meal. The Chef even came out and visited with us for a time. Each course was a delight and the wine was excellent. The beef was cooked just right, a crispy char on the outside and the most beautiful rosy pink throughout the center, so tender you could have cut it with a spoon. After our coffee we left the winery to be greeted by our private driver holding open the door of the black Mercedes. It doesn't get much better than that.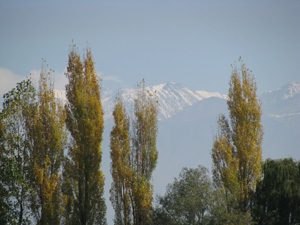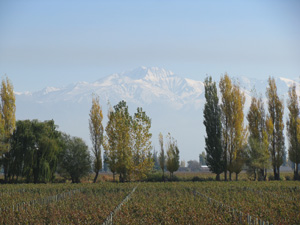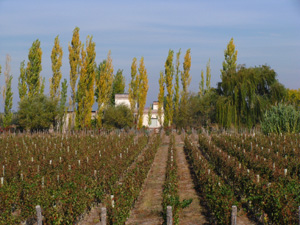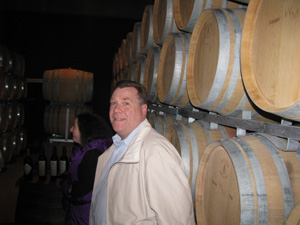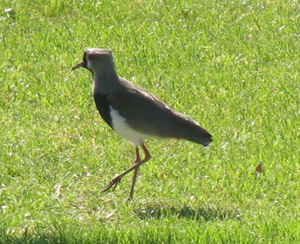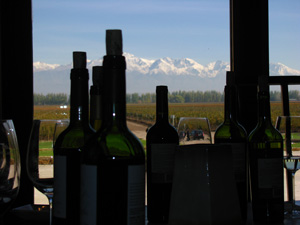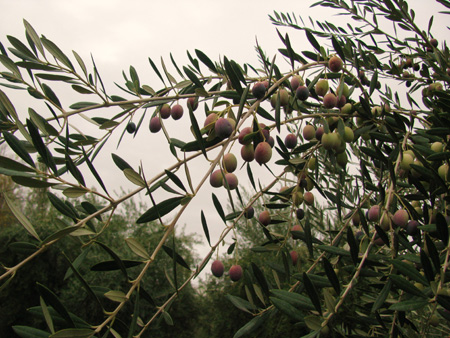 Olive groves are as common as vineyards in the region.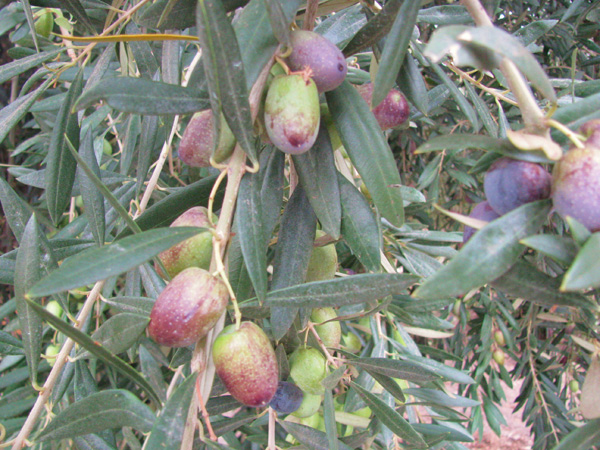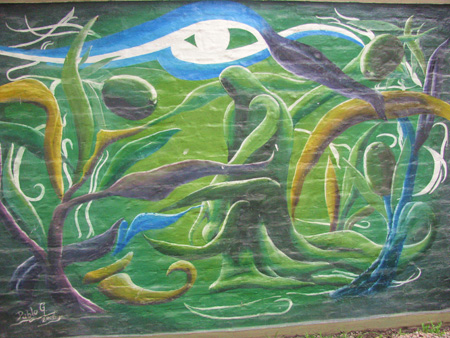 We visited the Pasrai company. This is a fifth generation family business that makes olive oil and dried fruit. We did a tasting, and it was some of the best olive that we have ever tasted. Do yourself a favor and contact their U.S. distributor to order the Quinta Generacion virgin olive oil from Pasrai in Mendoza.
Kysela Pere Et Fils, LTD.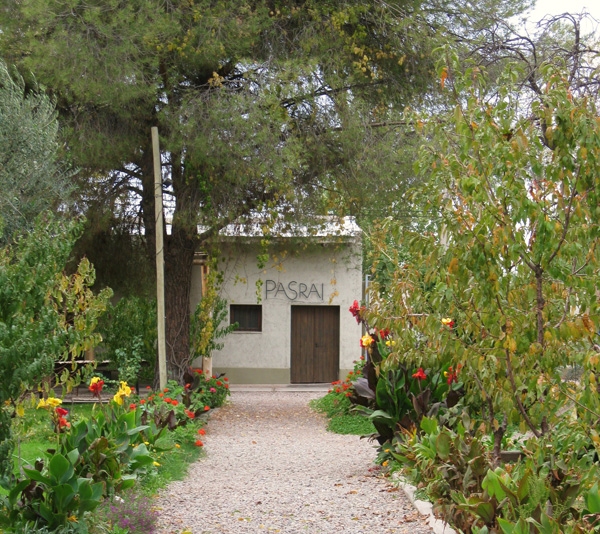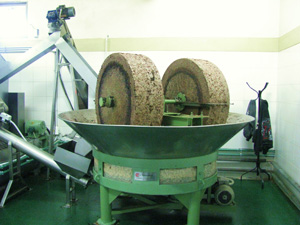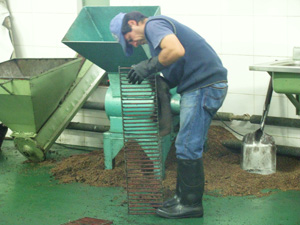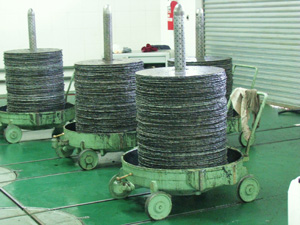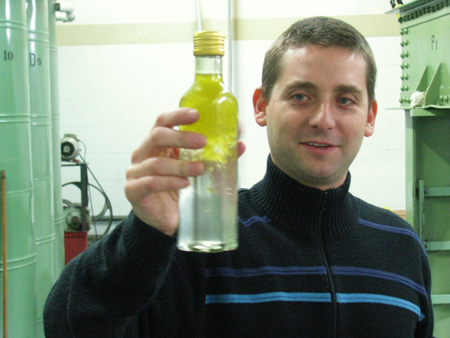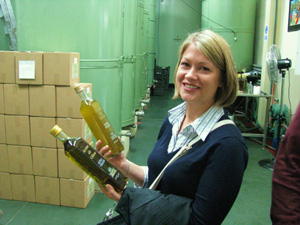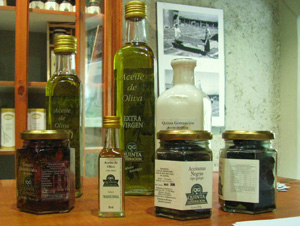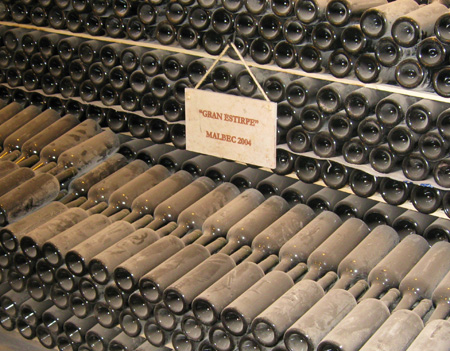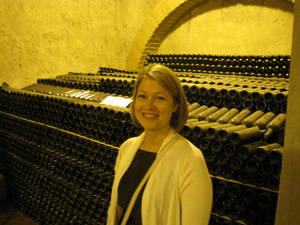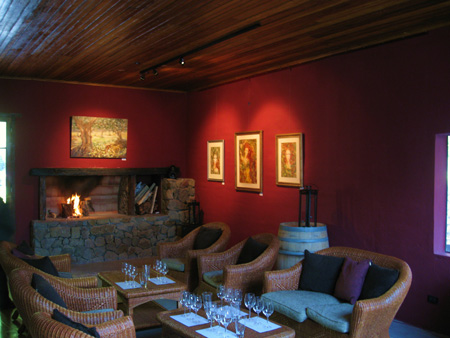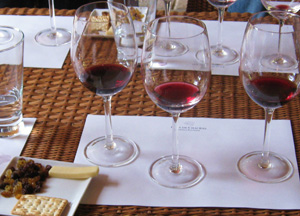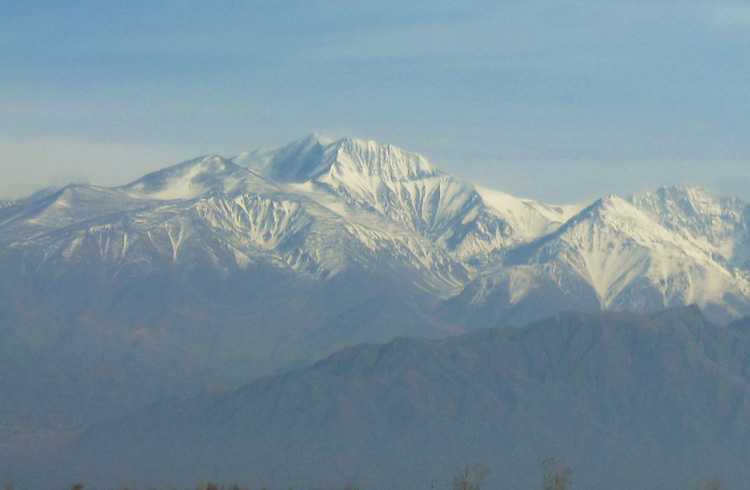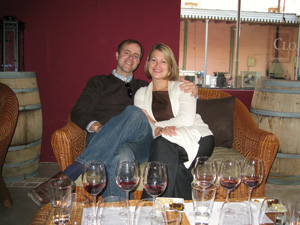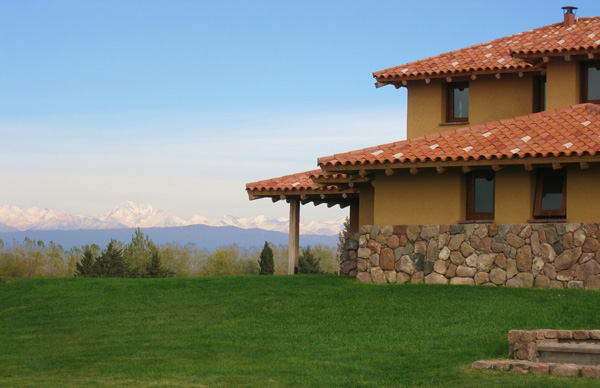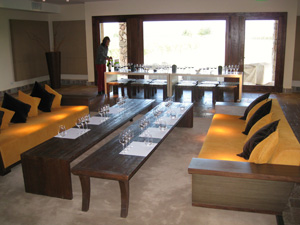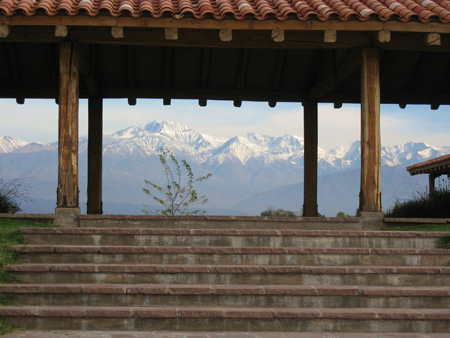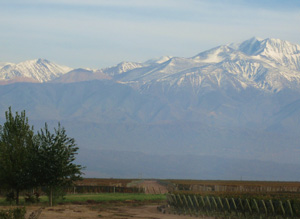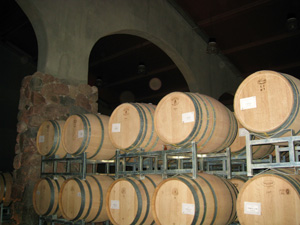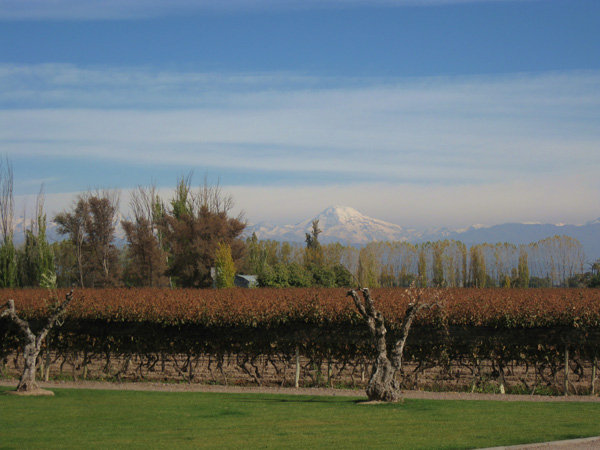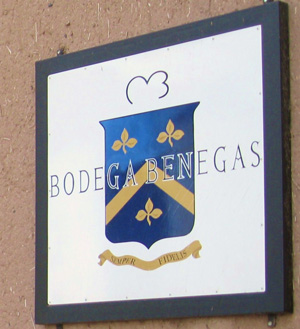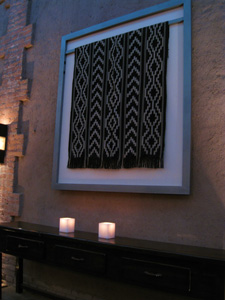 Andy and Brandie visited the Benegas winery. The owner lives here and has created a fantastic space that could be right out of Architectural Digest. He has hung antique ponchos on the walls. That's right, I said ponchos.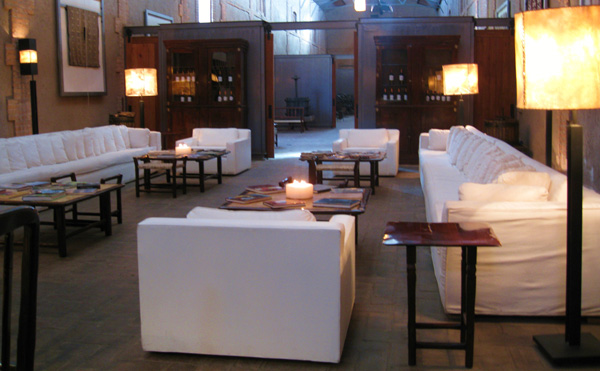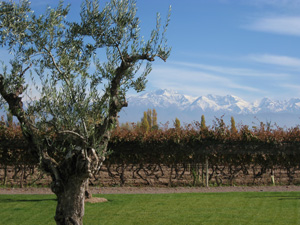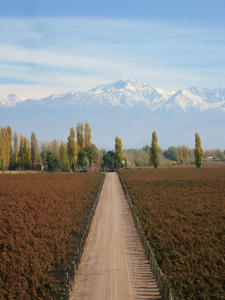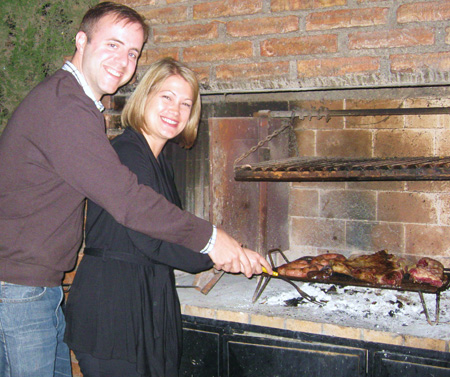 Andy shows Brandie how to handle the meat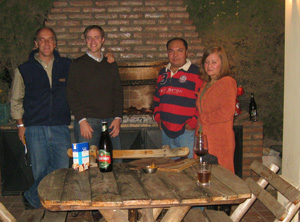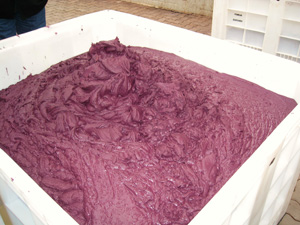 They use every part of the grape. This mass of crushed grape skins will be sold to cosmetics companies for makeup production.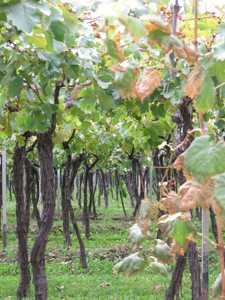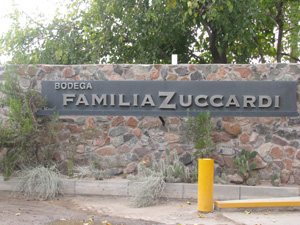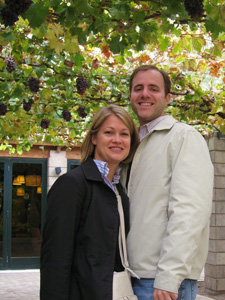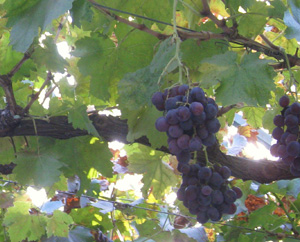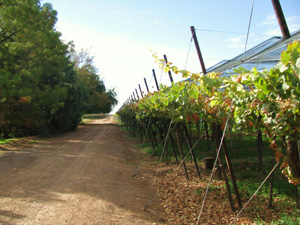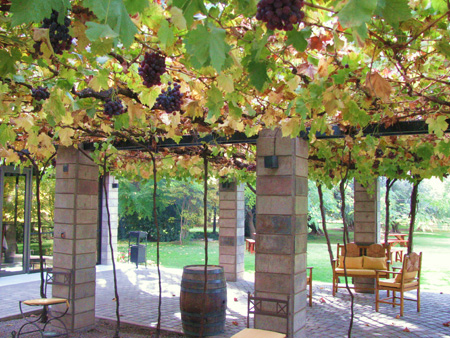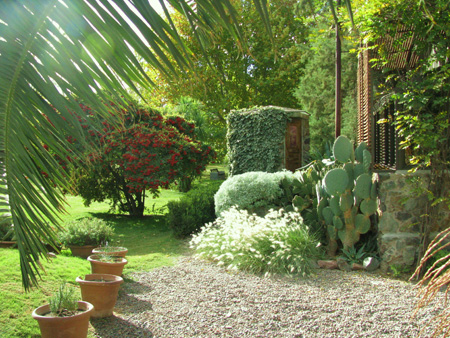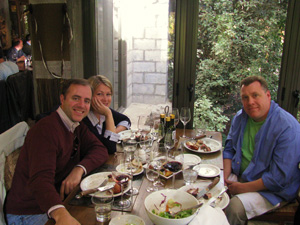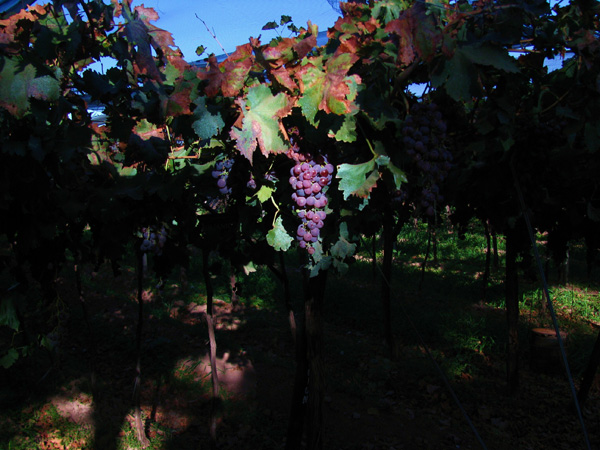 Igauzu, Argentina
We flew from the cold deserts of Mendoza to the lush, tropical rain forests of Igauzu. This is a small town on the border of Argentina, Brazil, and Paraguay. There is only one reason to come here, and that is the Falls. This is a series of waterfalls that are the most scenic in all the Americas.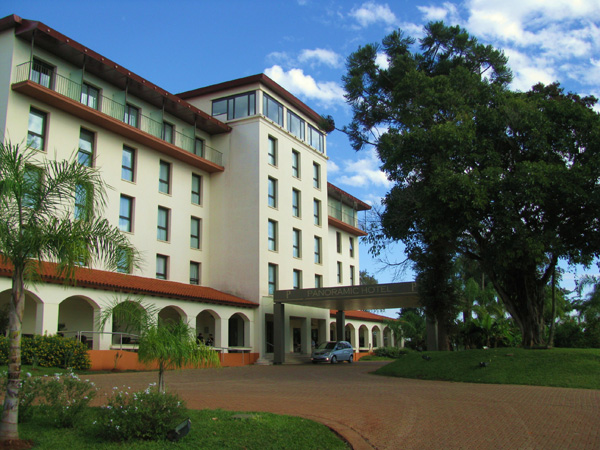 We stayed at the Panoramic Hotel which has a sweeping view over the Igauzu River.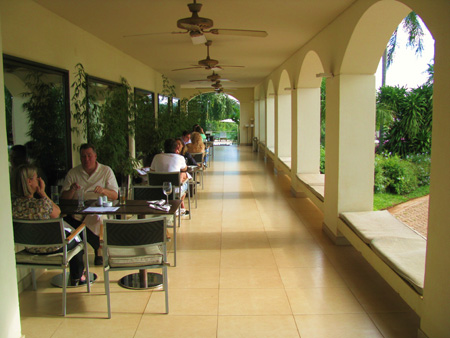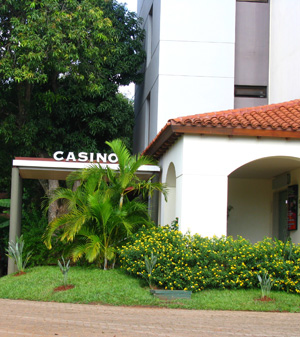 Although you couldn't see the falls from the hotel, there were sights here that Steven found most appealing.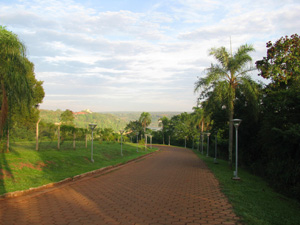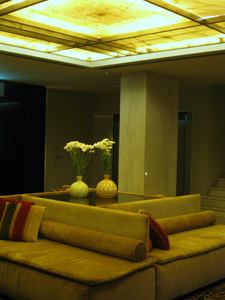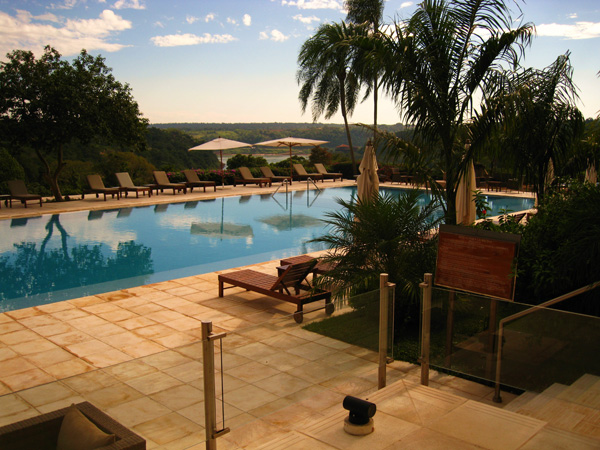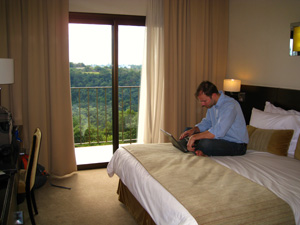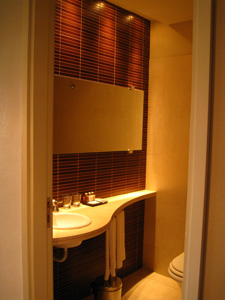 The bathrooms had little counter space, which was really annoying. A girl needs a place to put her toiletries.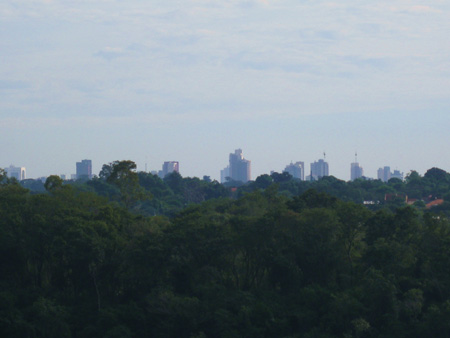 We could see buildings in Brazil across the river, but could not go there because we didn't have Visas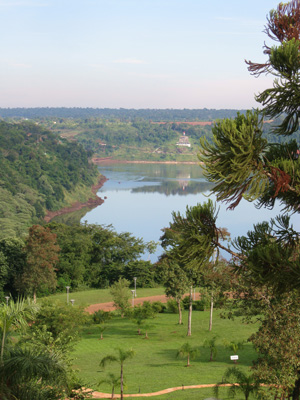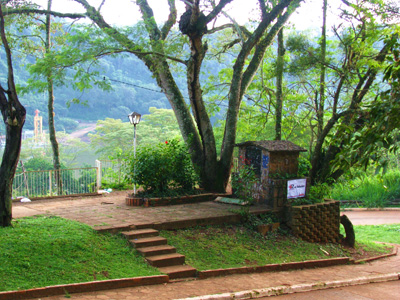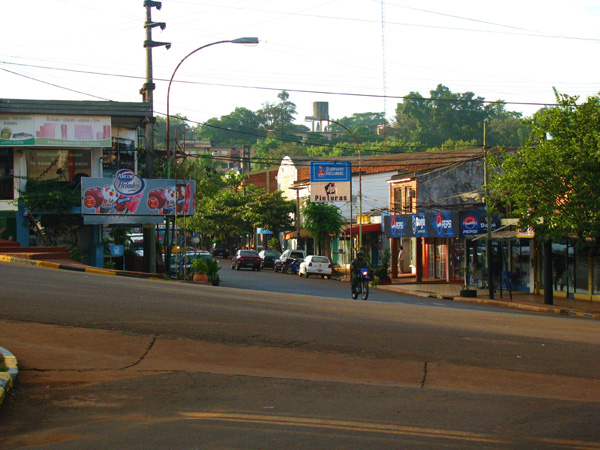 A busy intersection in downtown Iguazu. This was a hopping town youbetcha.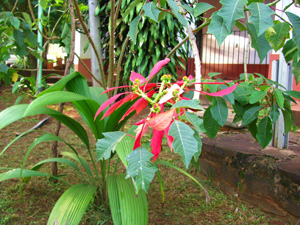 A real poinsettia tree.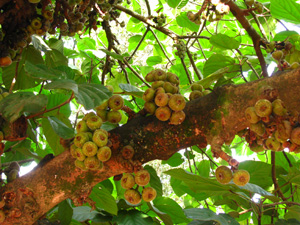 Figs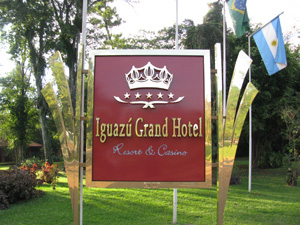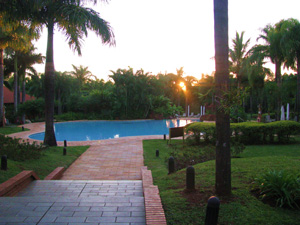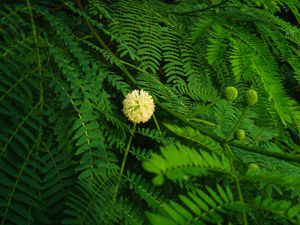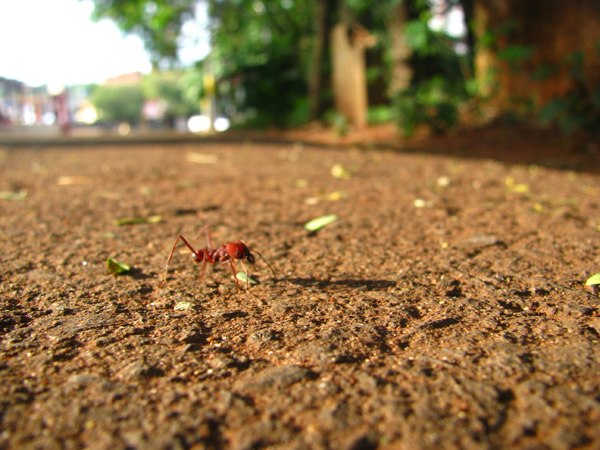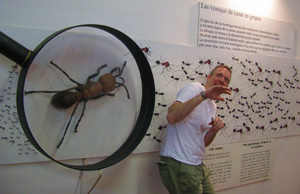 The ants here grow to a huge size and attack tourists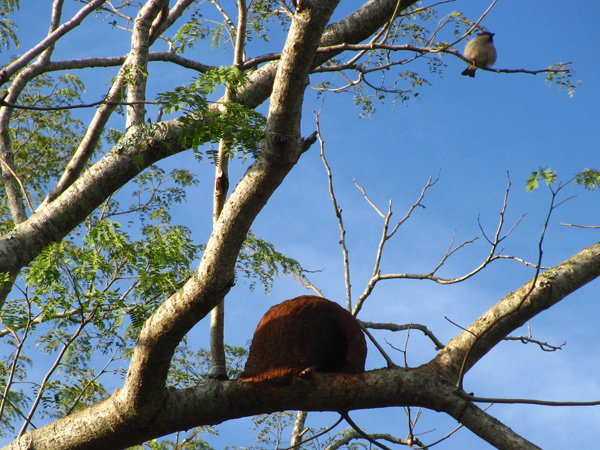 The birds have to build mud huts to protect themselves from the huge ants and carnivorous butterflies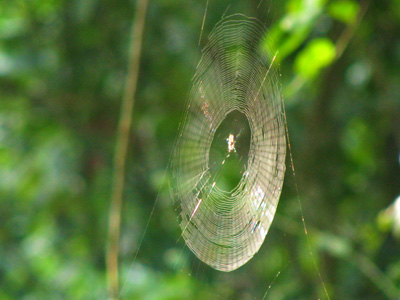 Gigantic spiders the size of a mans head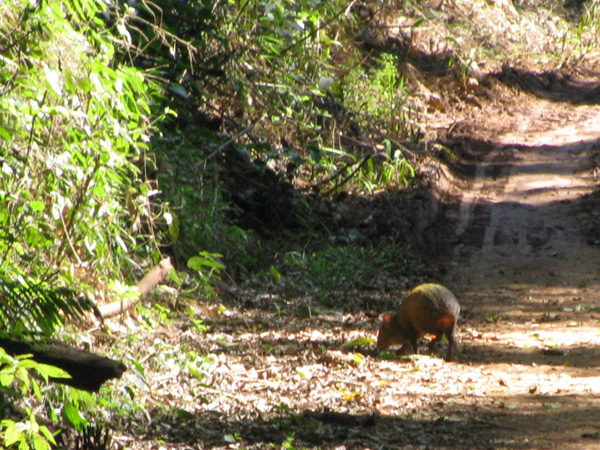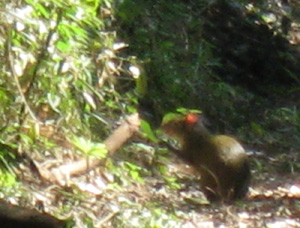 An Agouti. This is essentially a great big rat. The tour guide said that we were very lucky to see one out during the day.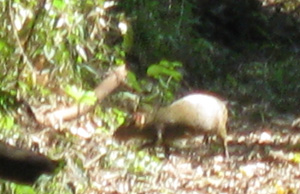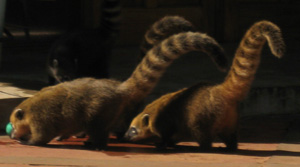 Ring-tailed Coati are the South American version of raccoons. These traveled in a pack so were most probably several adult females with their children. They were scavenging food from the snack area of the park. The have strong jaws, sharp teeth and can be quite aggressive. These have no fear of humans and have been known to steal food right out of peoples hands. All that being said, they are really cute. Mommy I want one.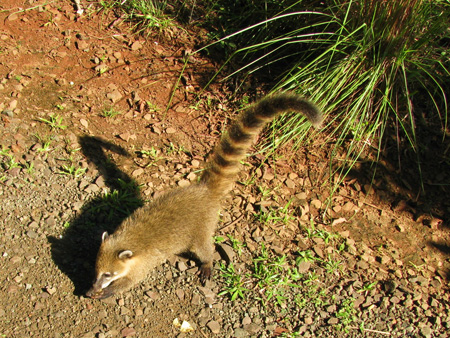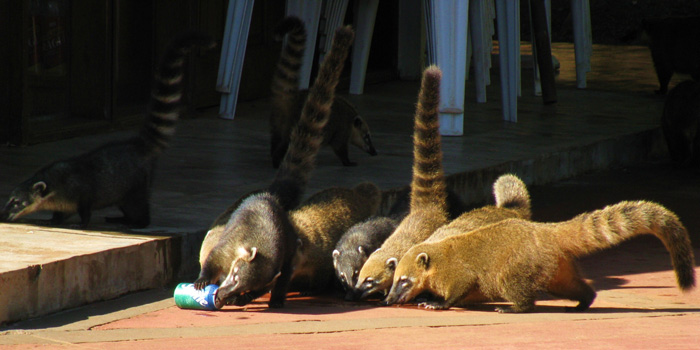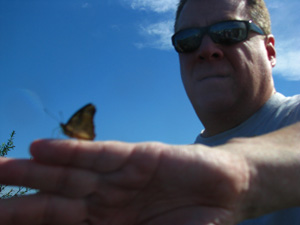 The carnivorous butterflies were a big problem around the falls. Here Steven is trying to shake off one of the little buggers that has tapped into an artery.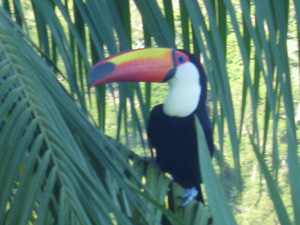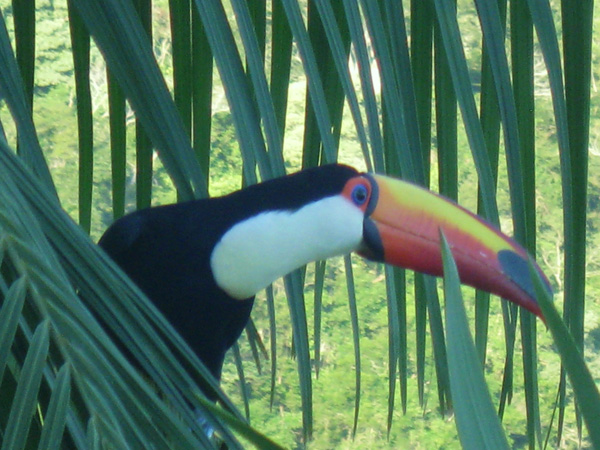 This was fantastic, a Toucan flew into a tree next to where we were having cocktails after having toured the falls. Andy was so excited. In case you were wondering, it did not bring Fruit Loops, which was a bit of a bummer.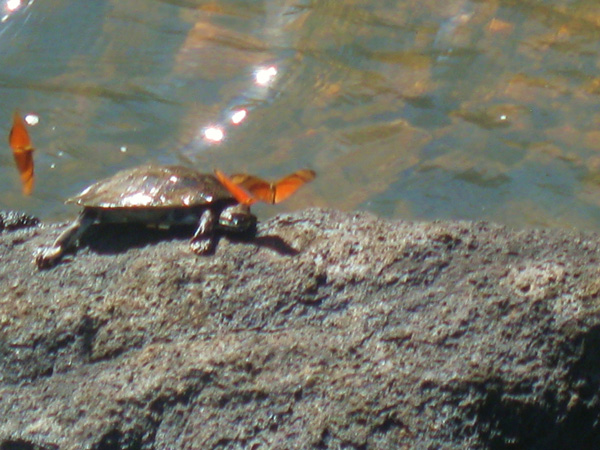 We witnessed an epic battle between the carnivorous butterflies and a turtle.
The turtle was almost overwhelmed, but in the end escaped.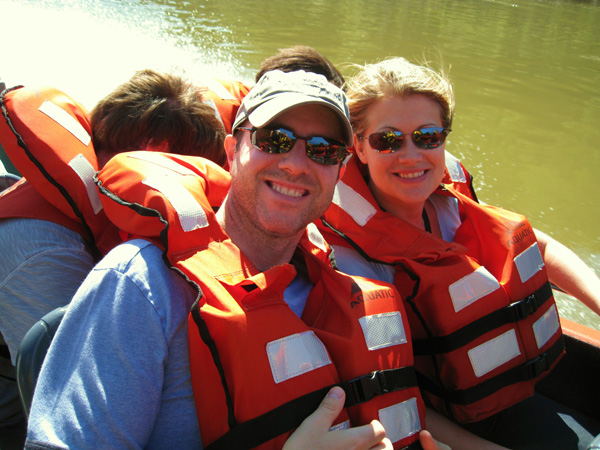 OK, here are far too many pictures of Iguazu falls. The sight was beautiful and these images don't do it justice, but hopefully you can get a sense of just how majestic this is. We started out on a boat tour that took us up the river to the bottom of the falls.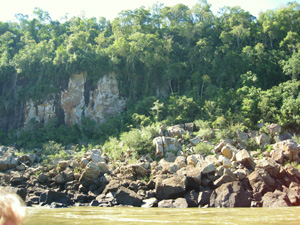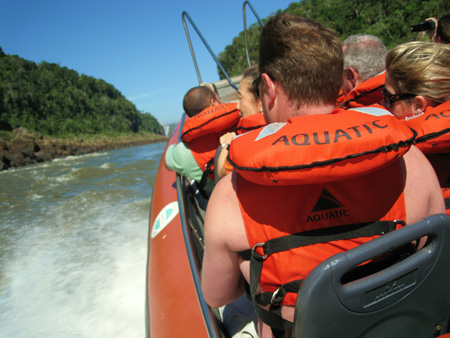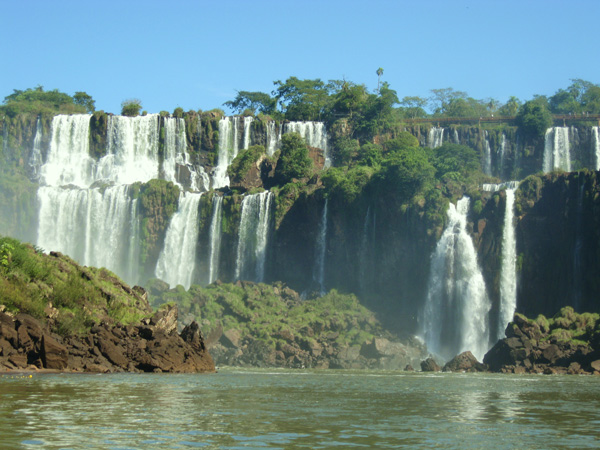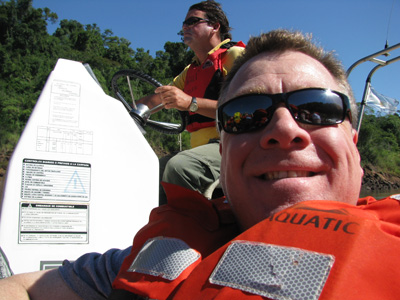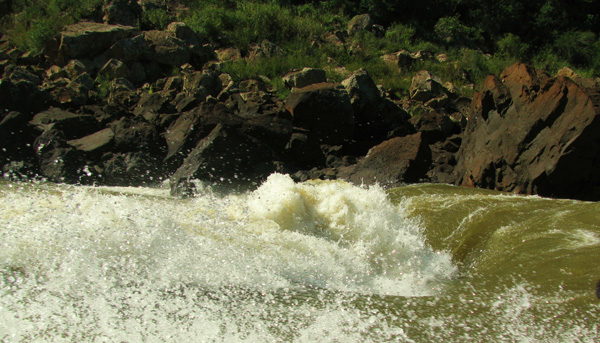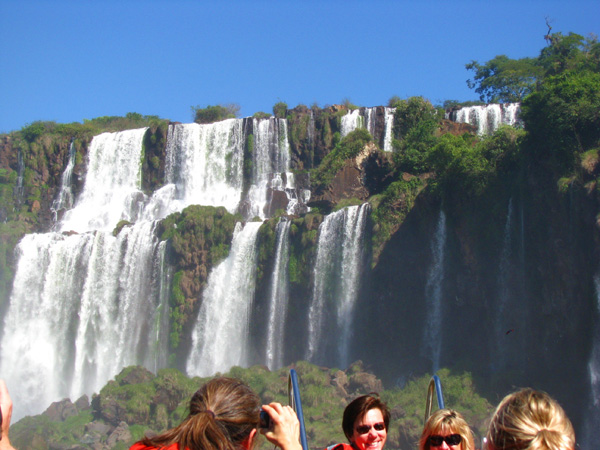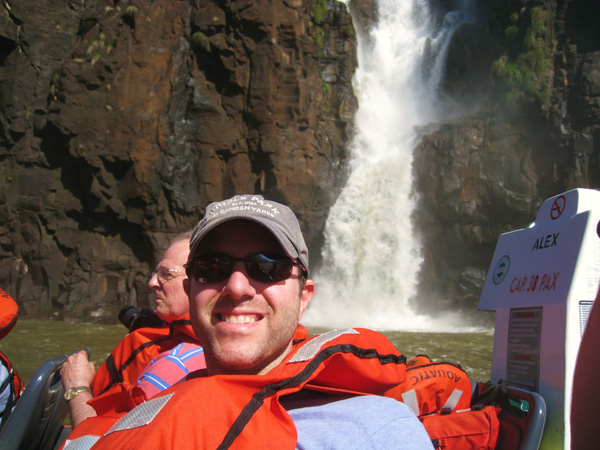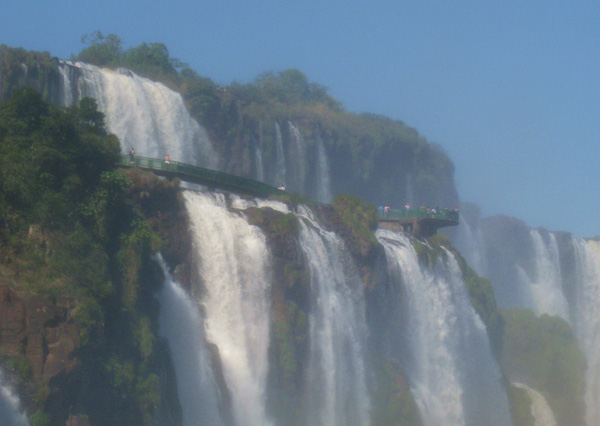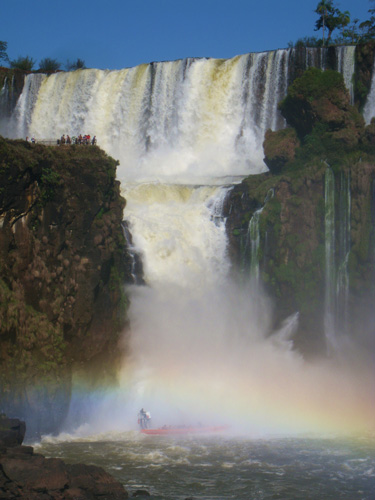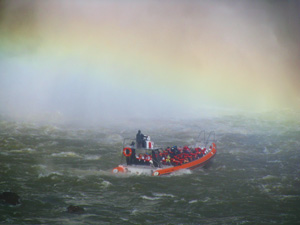 Those SOBs took us under the falls 3 times. Once was enough. If you ever wondered what it is like being underneath a waterfall, let me tell you: it's cold and wet and you can't see anything cause your eyeballs are being pounded by a freaking waterfall.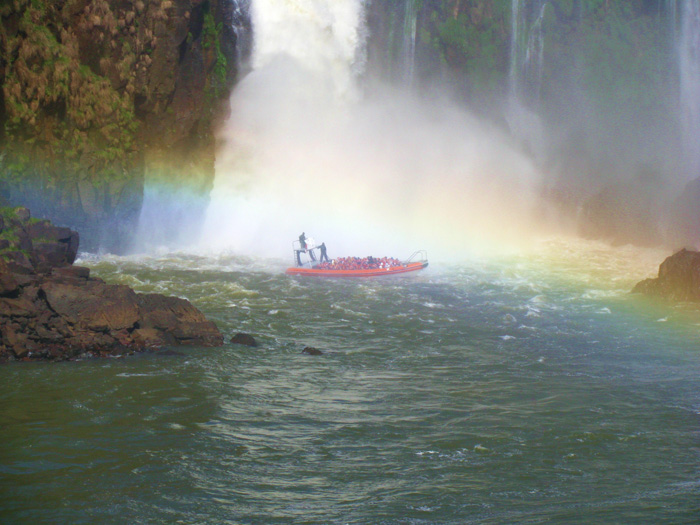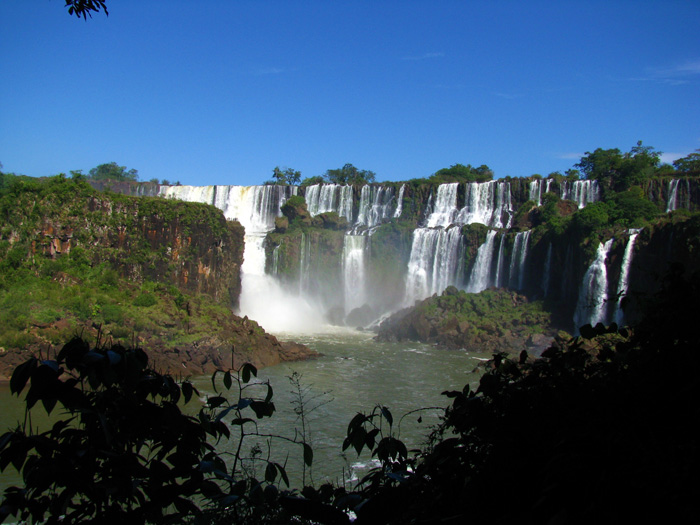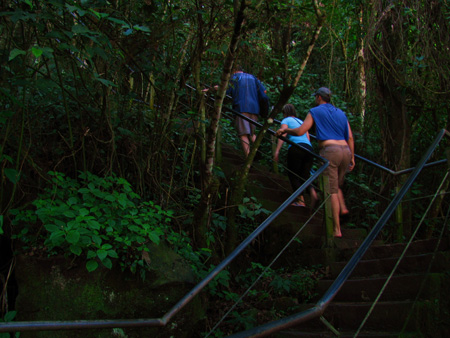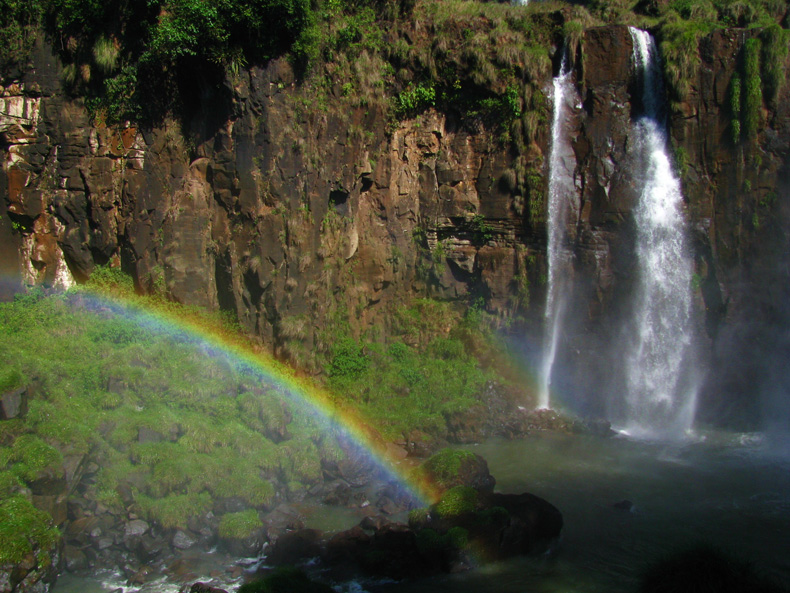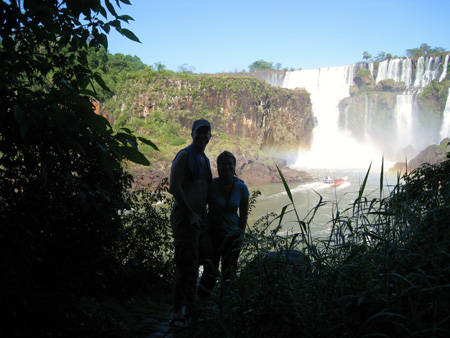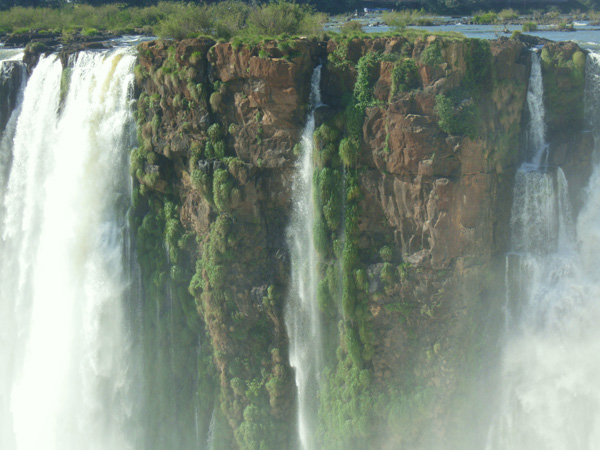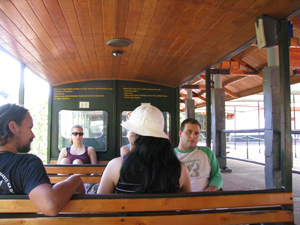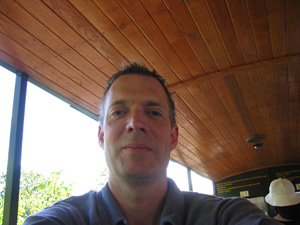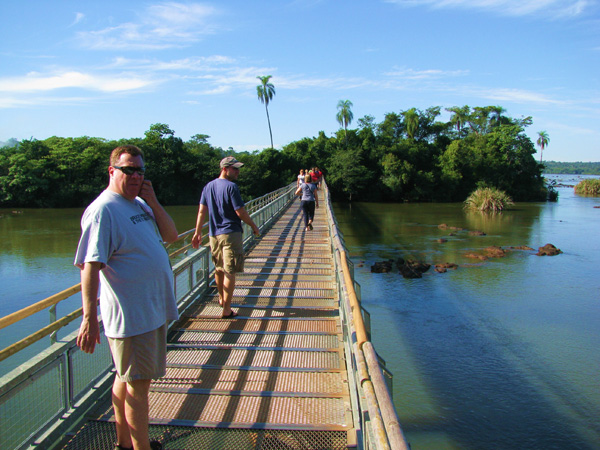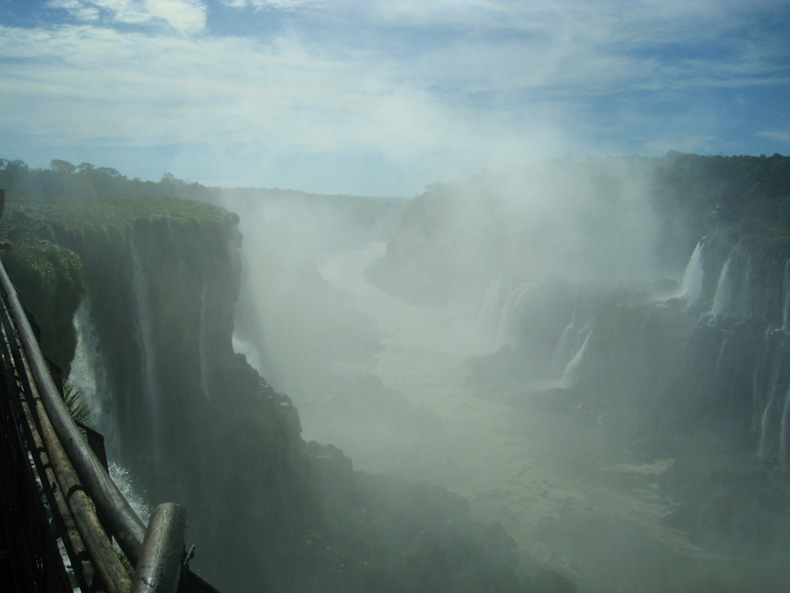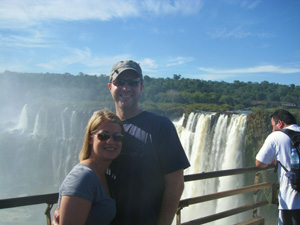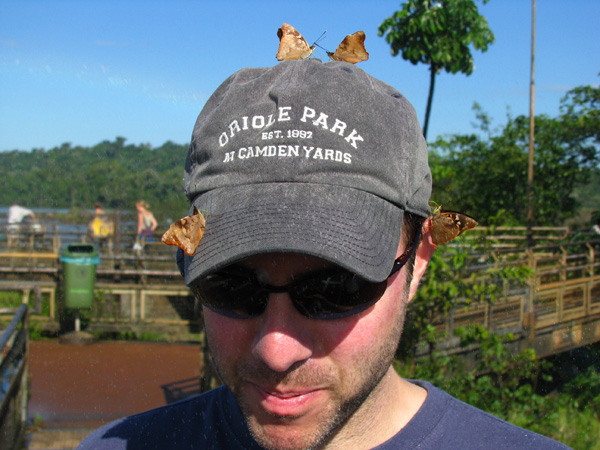 Andy having his brains sucked dry by carnivorous butterflies. The poor dear hasn't been the same since the attack.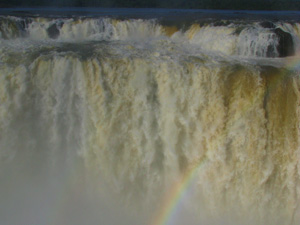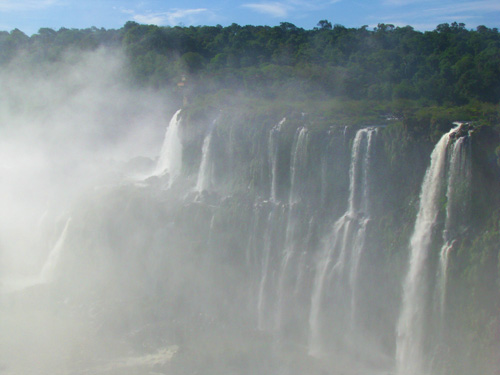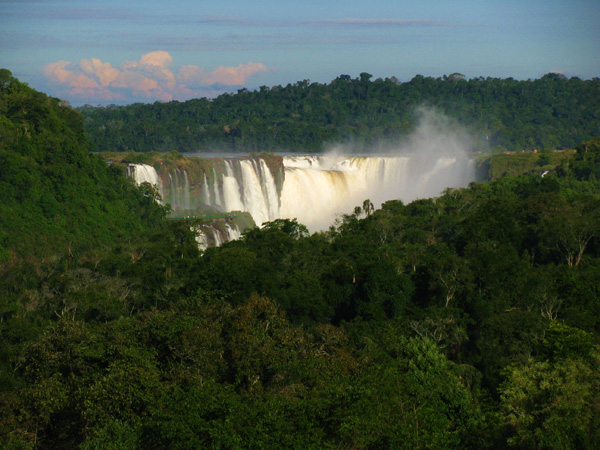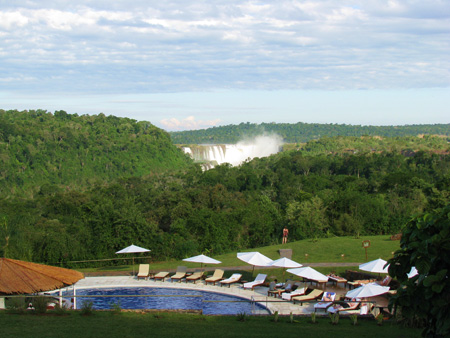 This was the view of the falls from the outside bar of the Sheraton hotel. The hotel is located in the national park, and we could have stayed here if we wanted to shell out mucho deniro. However the rooms are second rate and, as you can see, we got the same view for the price of a round of drinks.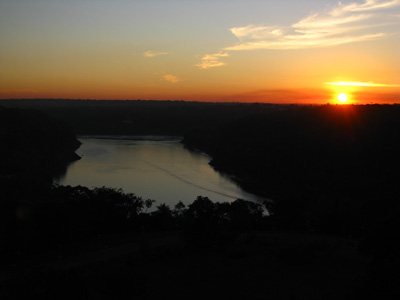 The view of the sun setting over the Iguazu river as seen from our hotel the evening after we toured the falls.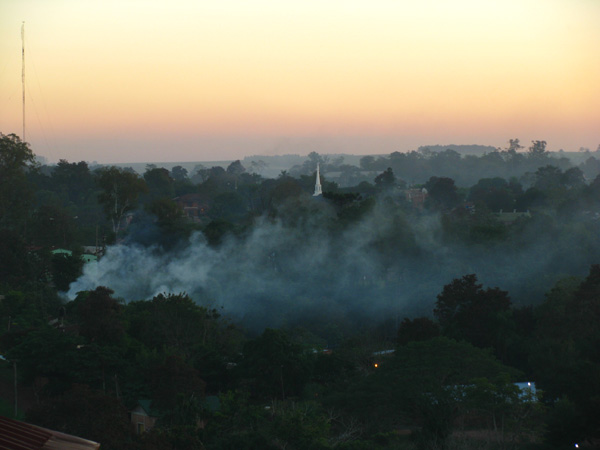 Colonia del Sacramento Uruguay
Colonia Uruguay is a historic town just across the river from Buenos Aires. We flew from Igauzu back to B.A. and took a day trip to Colonia. Because we crossed the border we had to go through customs and immigration twice in one day, which was a bit of a pain. Colonia del Sacramento was fought over by the Spanish and Portuguese and has been ruled by both countries before Uruguay became an independent country. The town is best described as picturesque. apparently the Argentines come here to escape the hustle and bustle of B.A.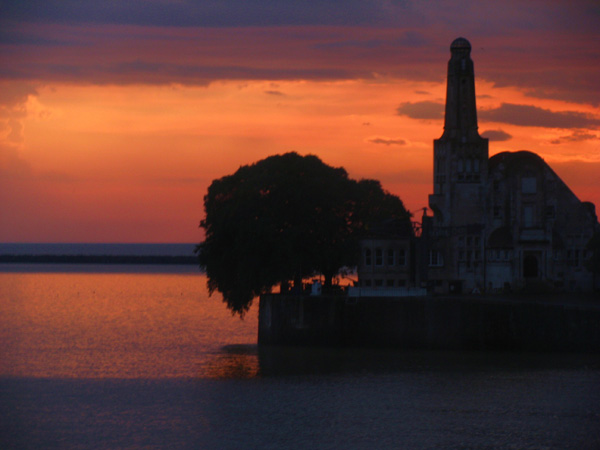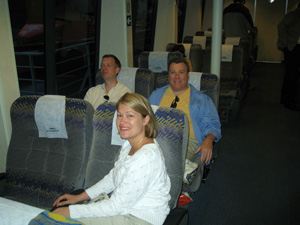 We took the Buquebus Ferry to Colonia. There was a slow ferry (3 hours) and a fast ferry (1 hour). Because we booked at the last minute, we had to pay for first class tickets. Life is hard.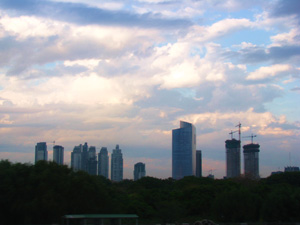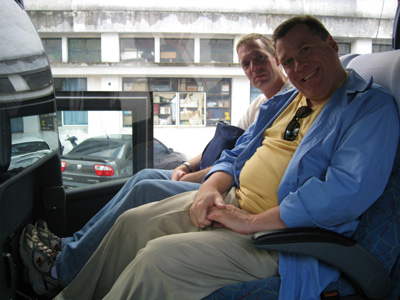 A short bus trip from the ferry terminal into town made Steven happy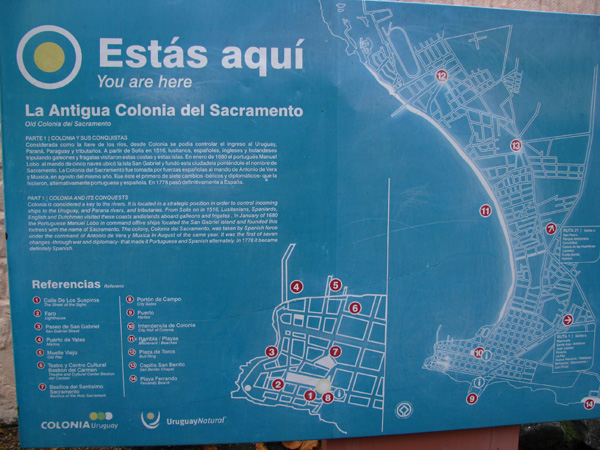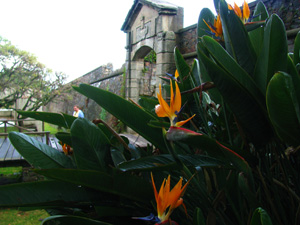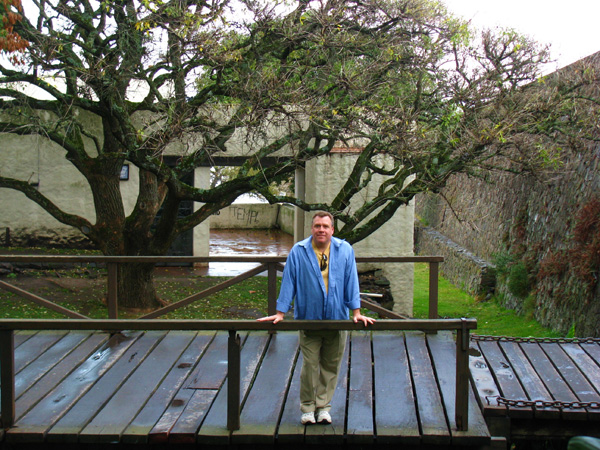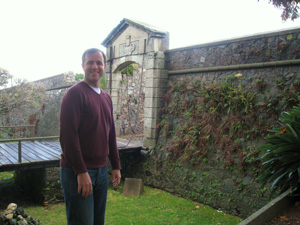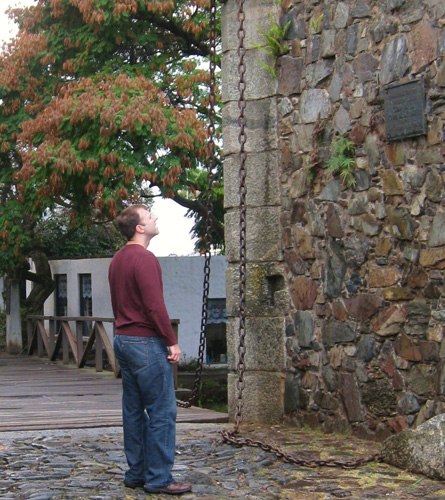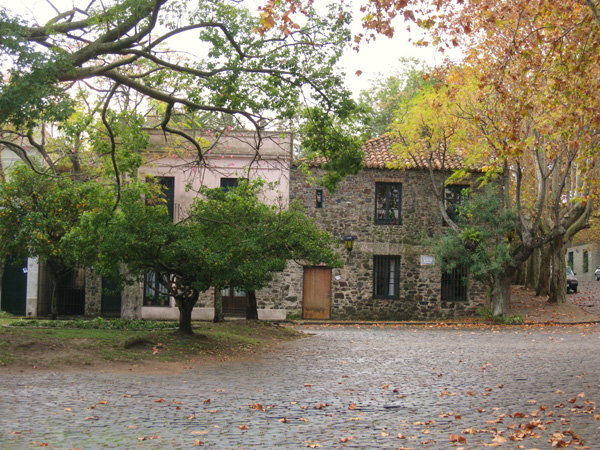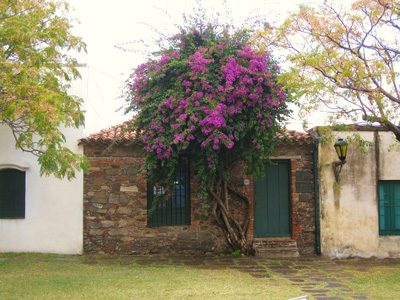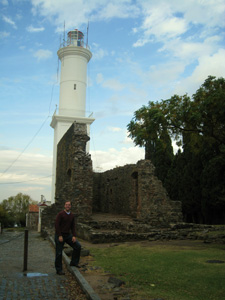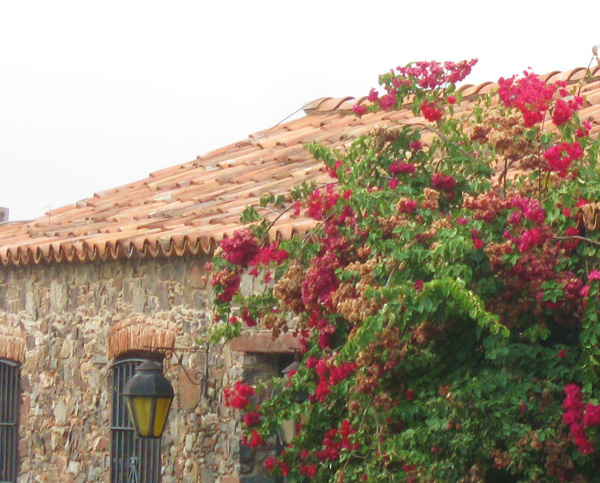 Beautiful Bougainvillea were grown everywhere. We just like saying the word Bougainvillea.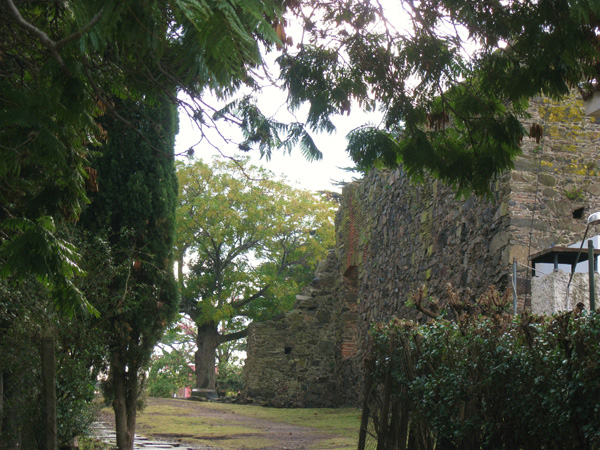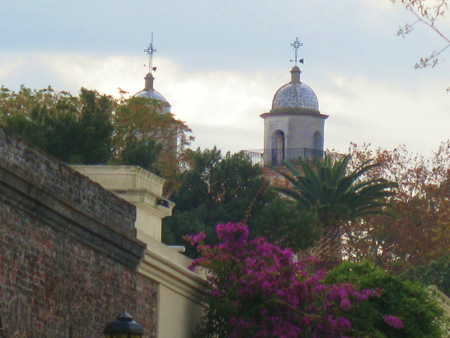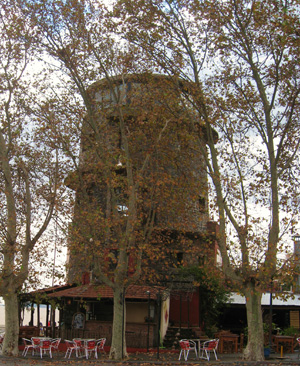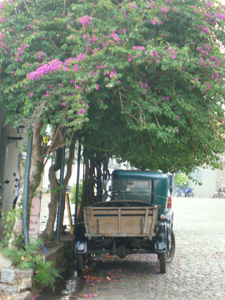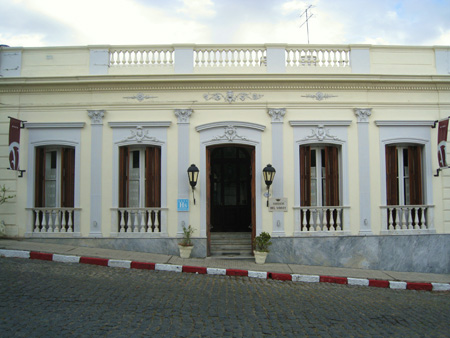 Yes, that's right. Thrifty has a golf-cart rental business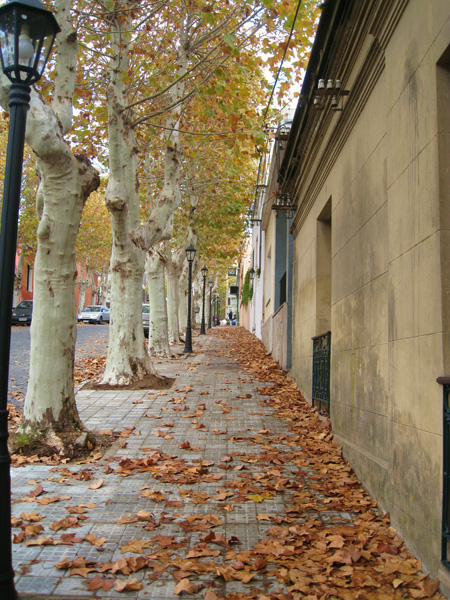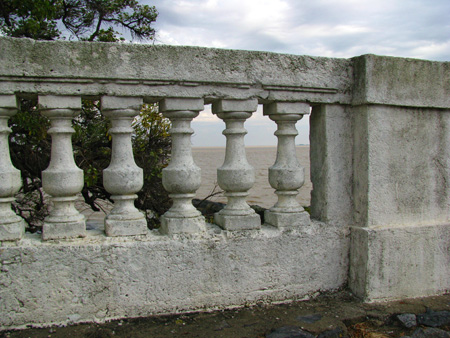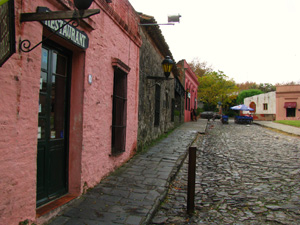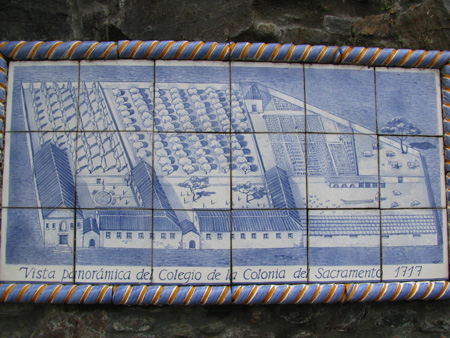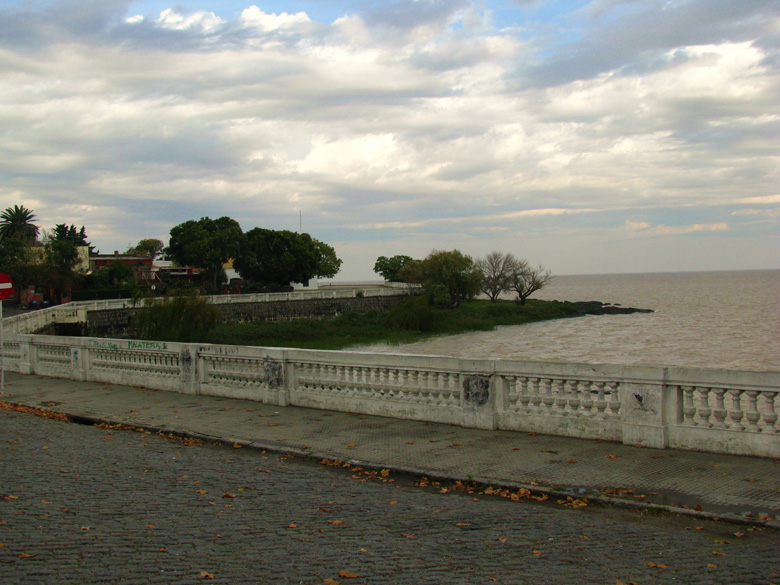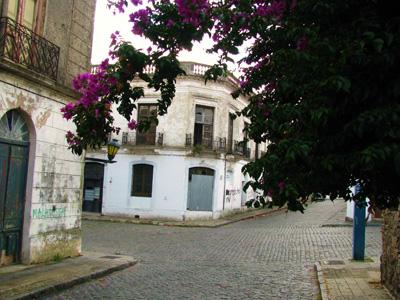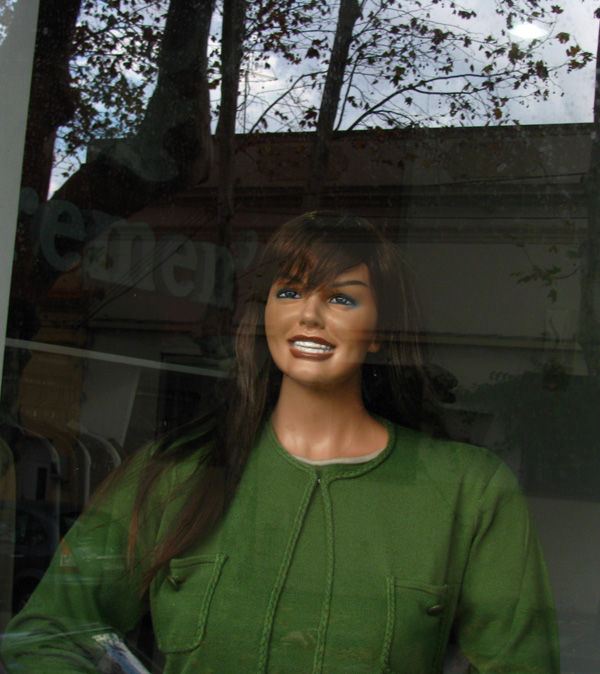 Even the store mannequins seem to have had plastic surgery is this land of beautiful people. Smile!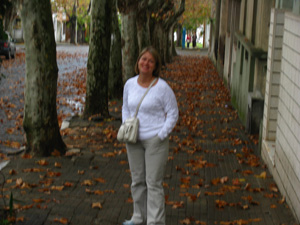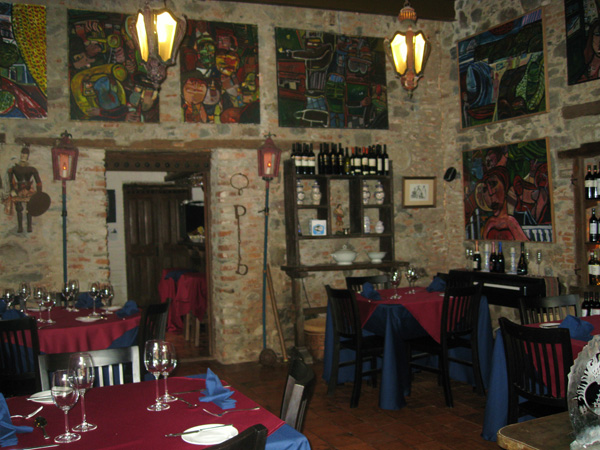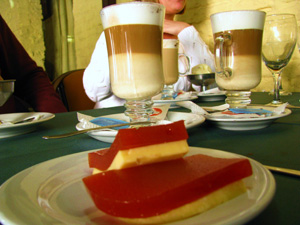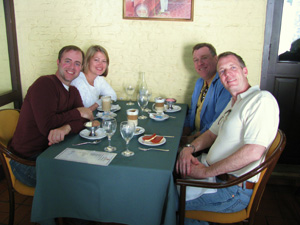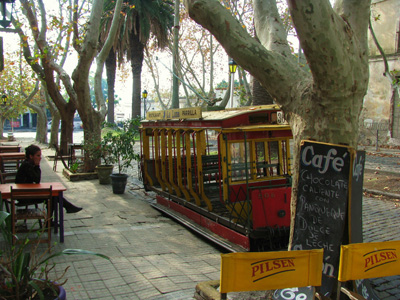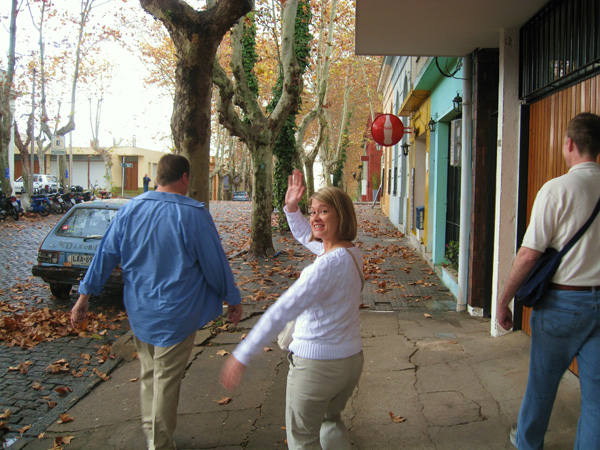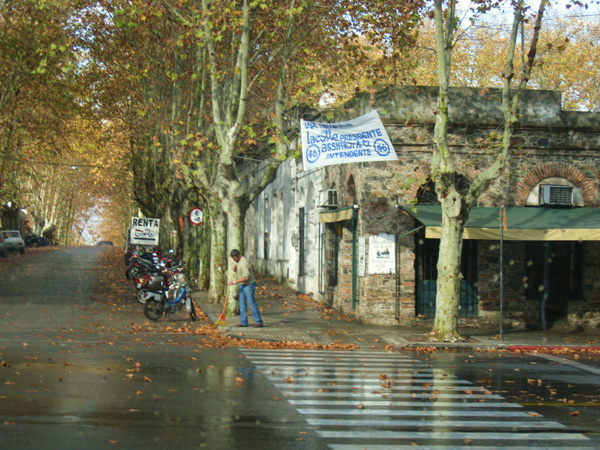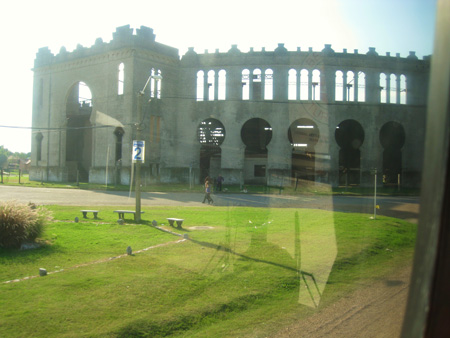 A bull-fighting stadium built when the Spanish ruled and used only eight times. Now bull-fighting is outlawed and the place is falling to ruins.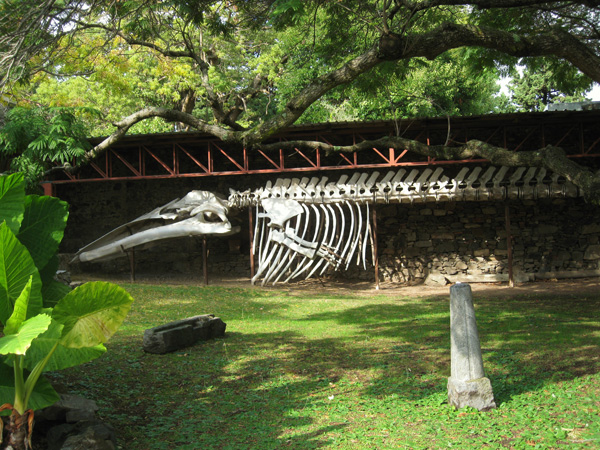 For some reason these people had the skeleton of a blue whale in their backyard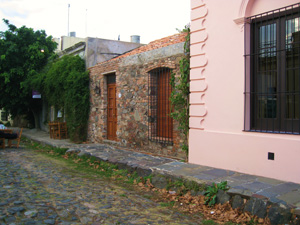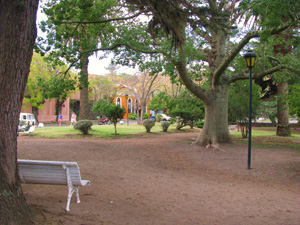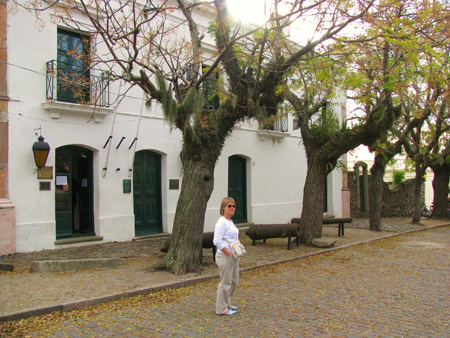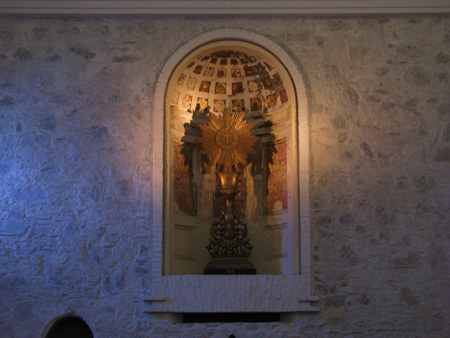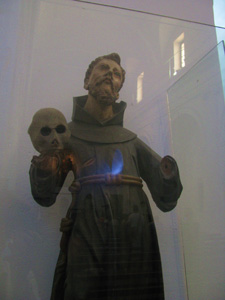 So, I've got a human skull stuck to my right hand, and I seem to have lost my left. Oh well, nobody said being a saint would be easy.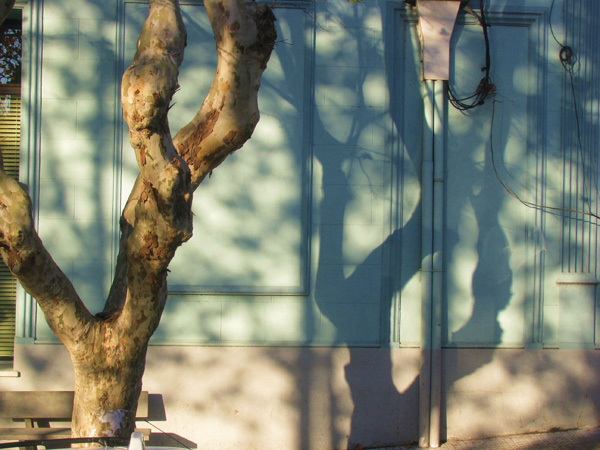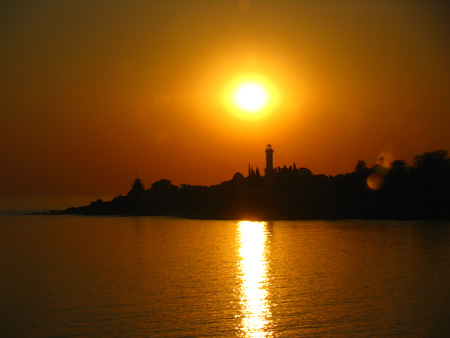 We hope you enjoyed these pictures from our trip. Let us know what you think.