SPRING IN JAPAN
Celebrity Millennium, April 13-26
Yokohama, Thursday April 11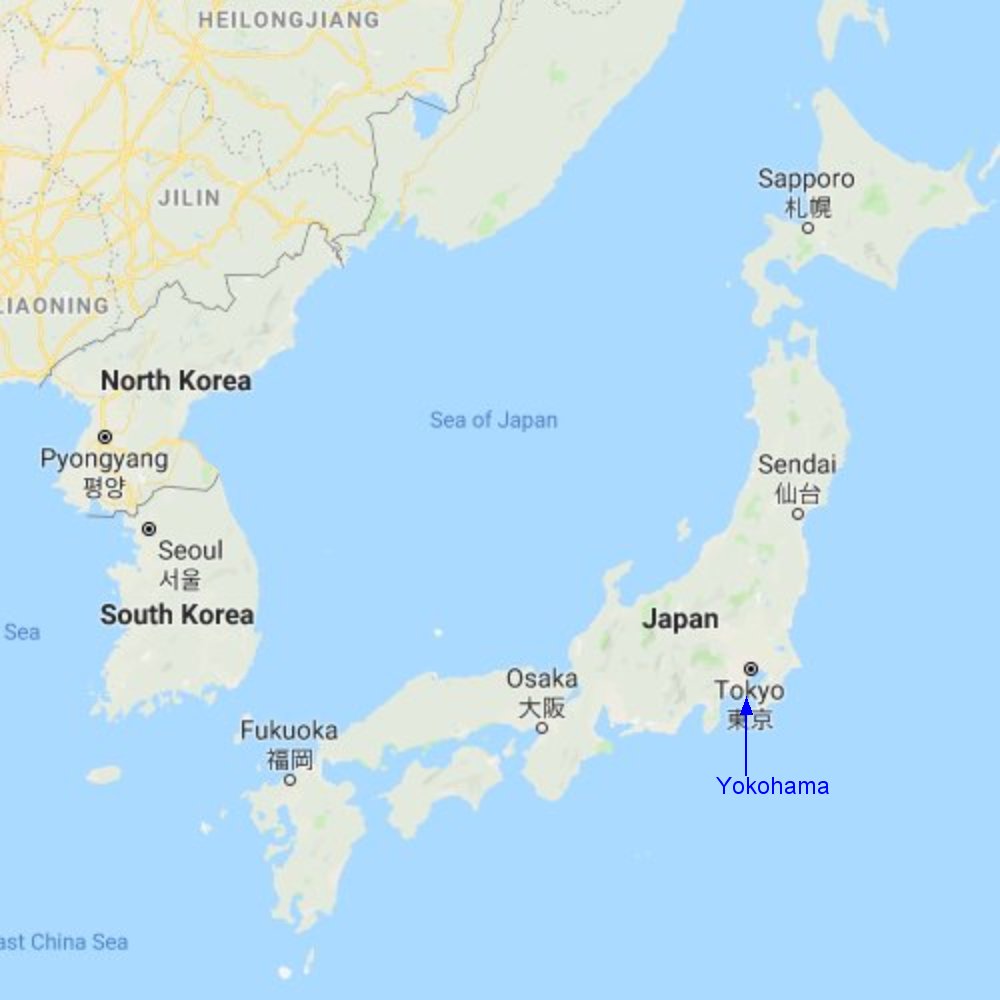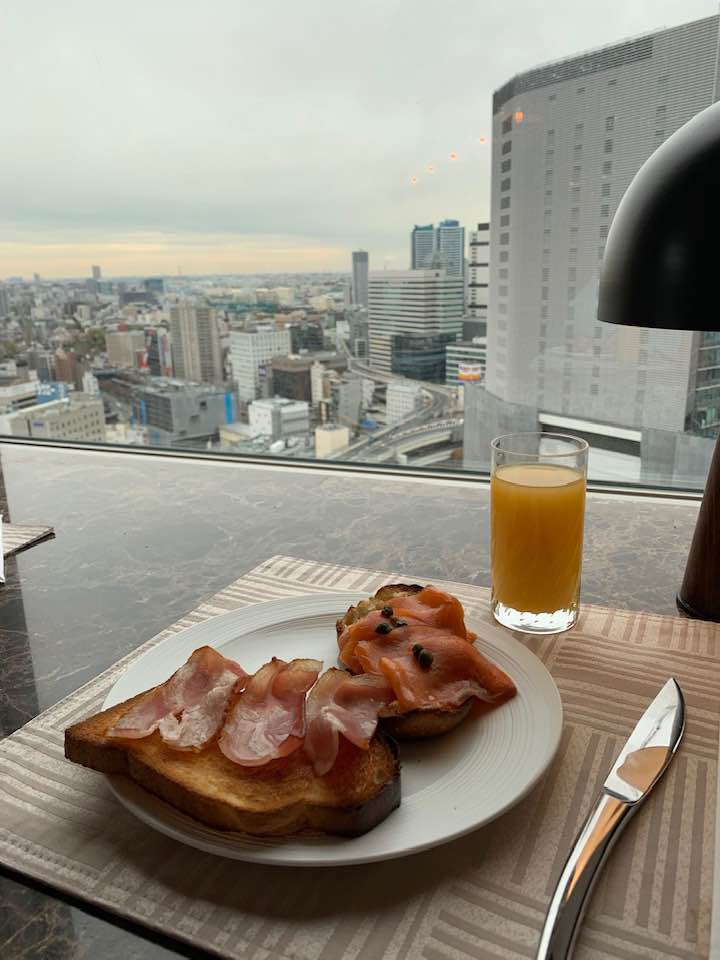 Early flight from BWI so we got a hotel room near the airport. Left Baltimore; changed planes in Dallas; then flew over Alaska, Russia and finally landed in Japan on Wednesday. The airport was about an hour from Yokohama. Steven arranged for a car service to take us downtown. Driver very friendly, kept asking if we wanted to get something out of the vending machines. Vending machines were everywhere in Japan, every block has at least a couple no mater how remote. There was pretty much nothing between the airport and the city, just bamboo covered hills and a few filling stations. There is a lot of undeveloped land on the island, I guess people there just like living stacked 3 deep in the mega-cities. We checked into the Sheraton Yokohama Bay, a nice hotel but super expensive. We paid for club class and had access to the lounge with a lovely view of the city. The time difference was 12 hours and it was difficult to stay awake. Had snacks and drinks in the lounge and went to bed just after sundown. Woke up and found that through our window we could see Mt. Fuji far in the distance. Learned later that it was rare to be able to see that far because the air is usually too smoggy.
Tokyo, Friday April 12
We took the subway to Tokyo, a 40 minute ride. Every thing was clean and crowded. Needed some help to figure out the ticket machines. Steven had found online a robot show while he was trying to find a place with a robot bartender. Fortunately he got his company to give him phone access so we had maps to get us through the maze of Tokyo's streets. We got our tickets then had beers and dumplings in a small shop nearby. The show was located in a total firetrap 3 floor underground in a subbasement with walls floors and ceilings covered with brightly colored anime and photos from the show. The show was three acts of radio controlled floats with staff dressed in costumes riding and dancing about. There were pyrotechnics and fog machines loud music and alcohol so a fun time had by all. Only tourists were in the audience. Retraced our steps to Yokohama and the hotel. Had dinner in the club lounge again then early to bed. Saturday April 13 After breakfast took a long walk around hotel. Life here is many small shops, houses and highrise crowded together, schools, parks, and the train station. Packed up and took cabs to the ship. Checking in was uneventful and we were in our cabins by 1:00. Explored the ship, pretty much same layout as last one. That evening there was an LGBTQ get together where we found a bunch of other old queens. Had some nice conversation and cocktails. Dinner in the Aqua class restaurant (we were upgraded to Aqua class and didn't have to eat with the G-Pop). Early to bed.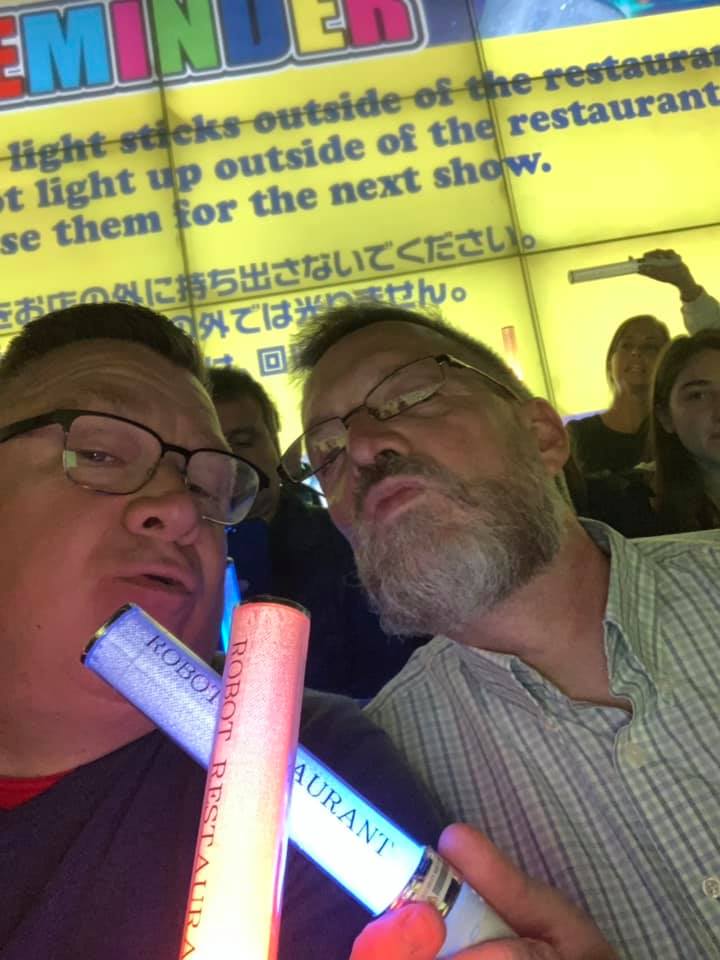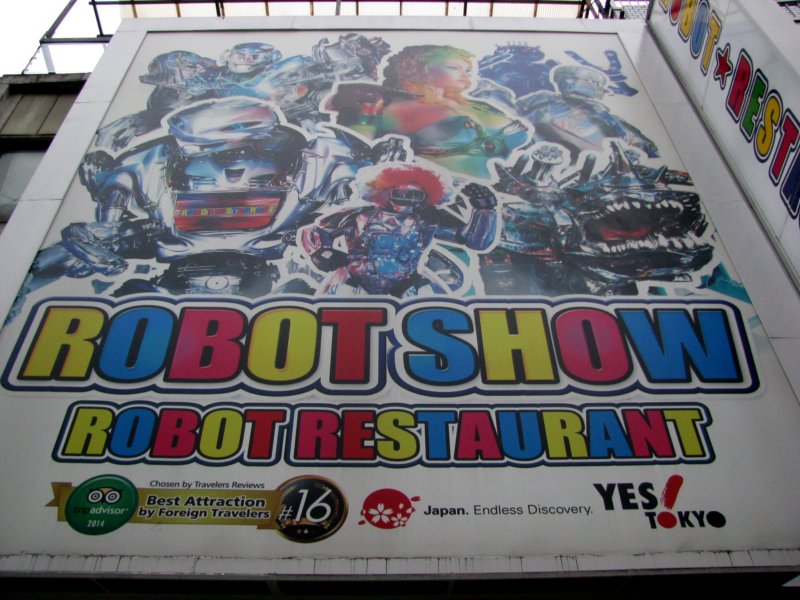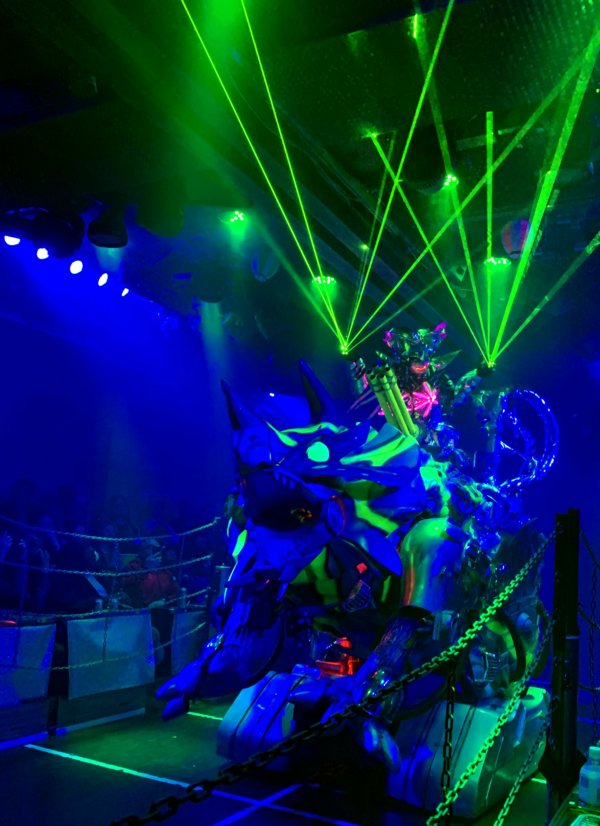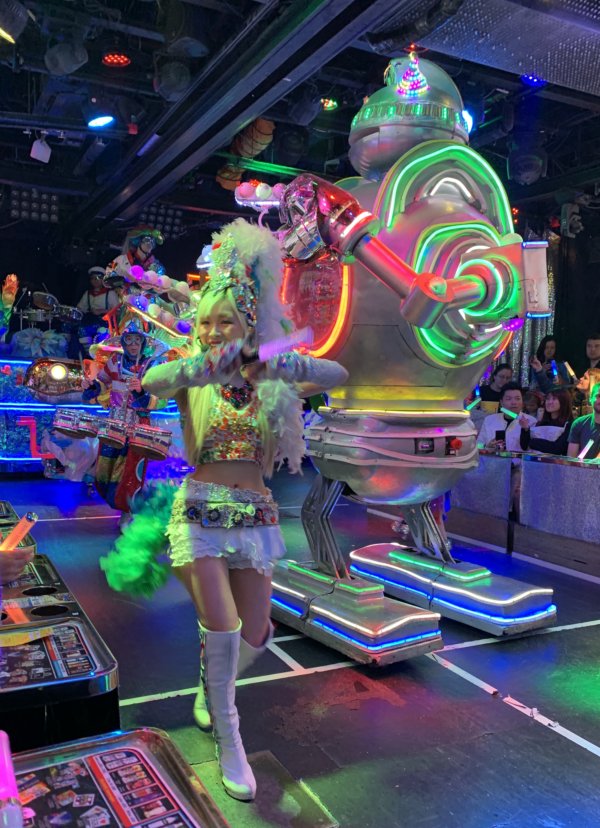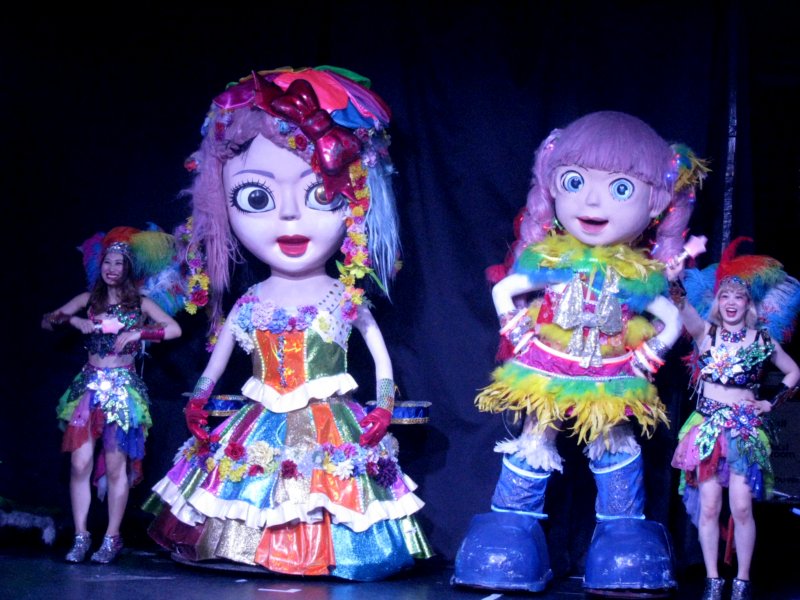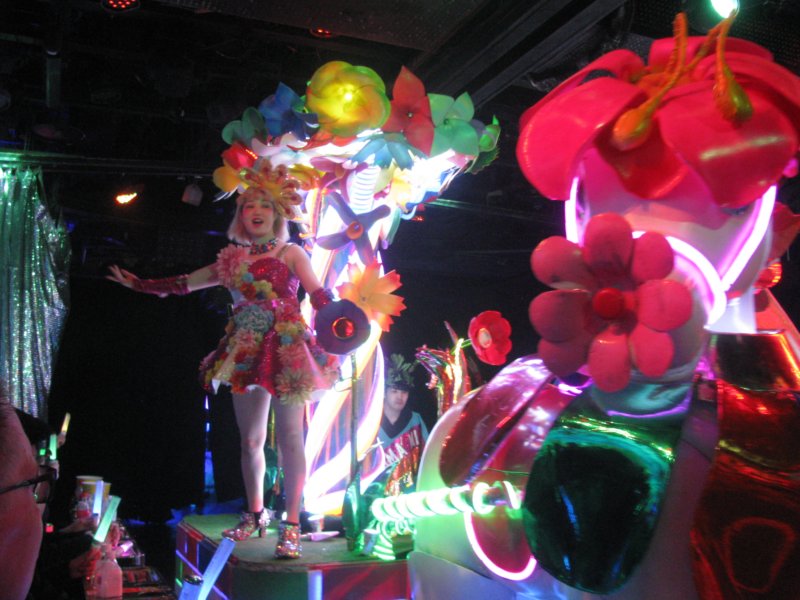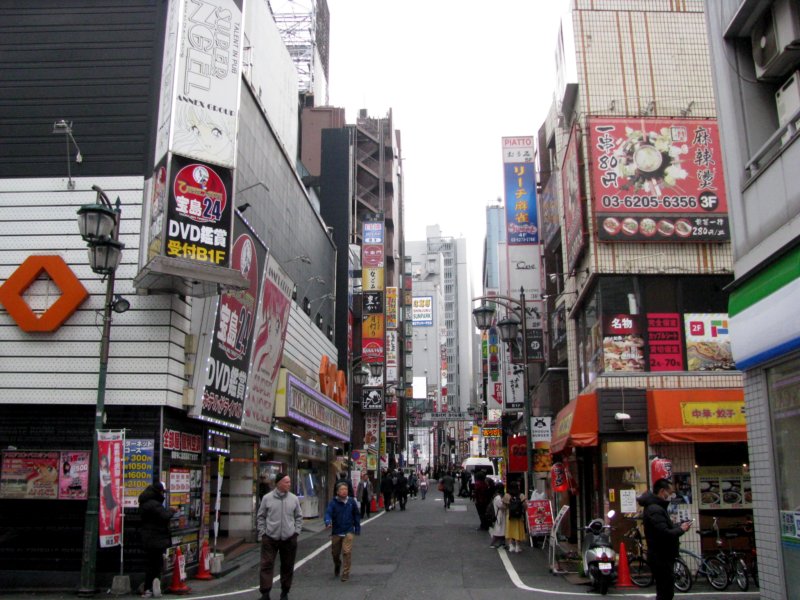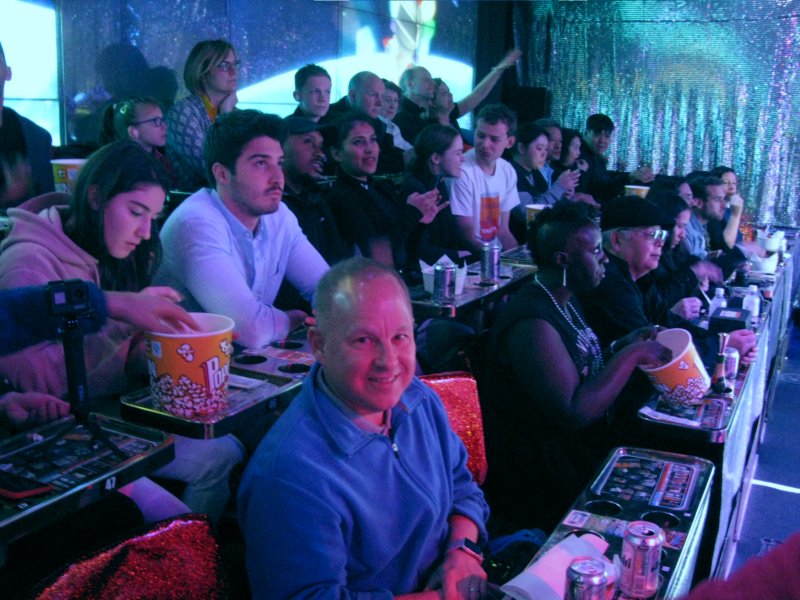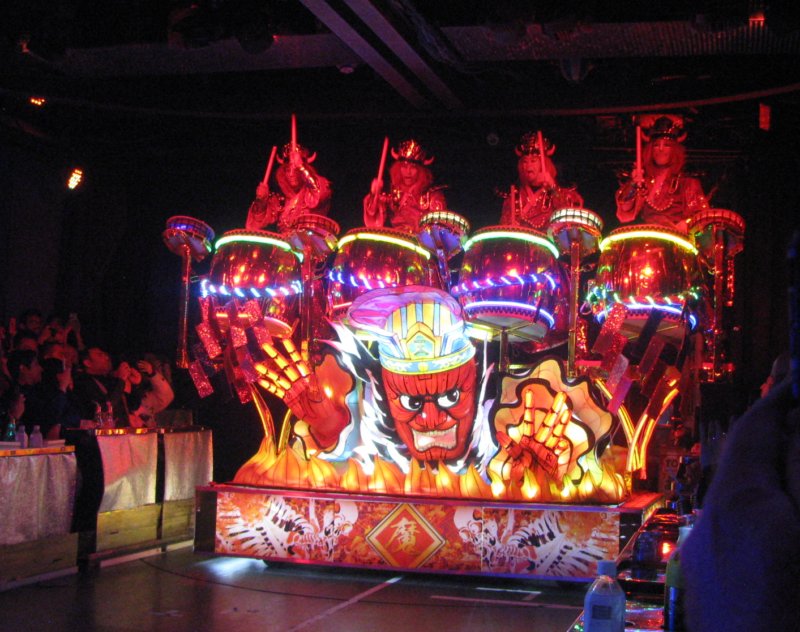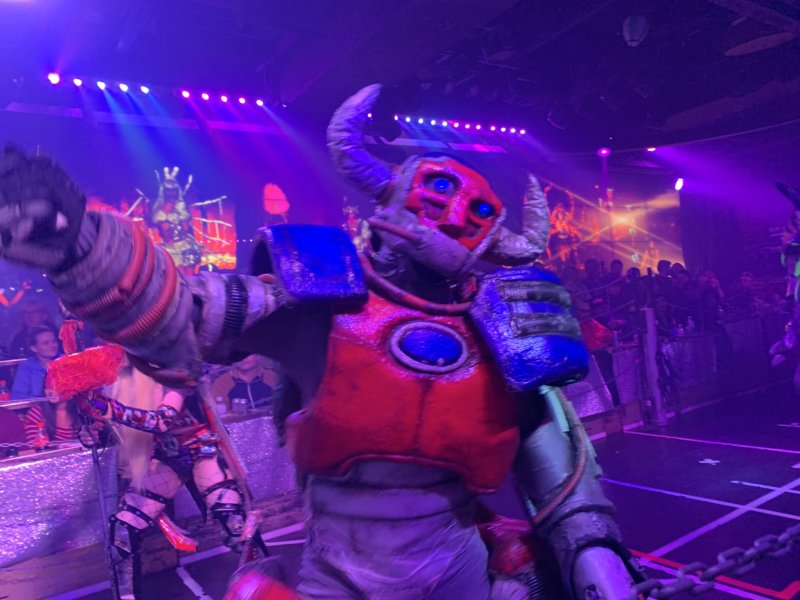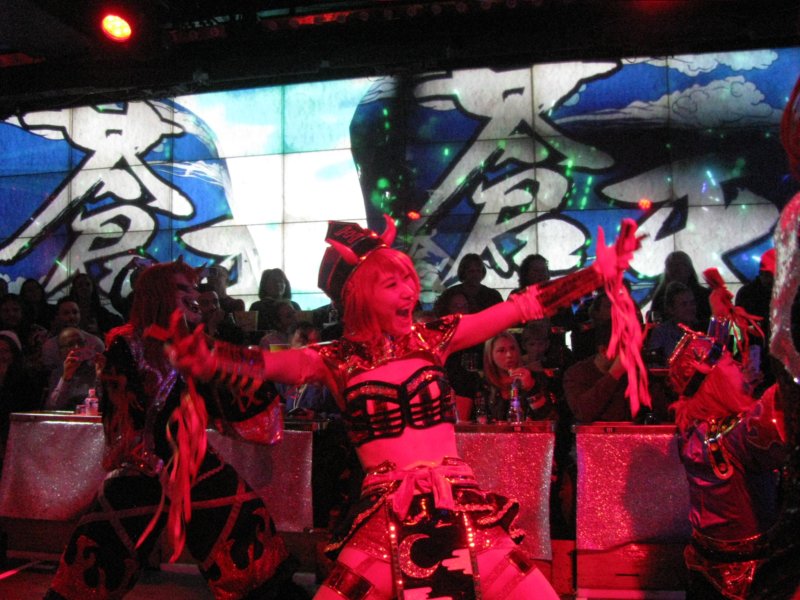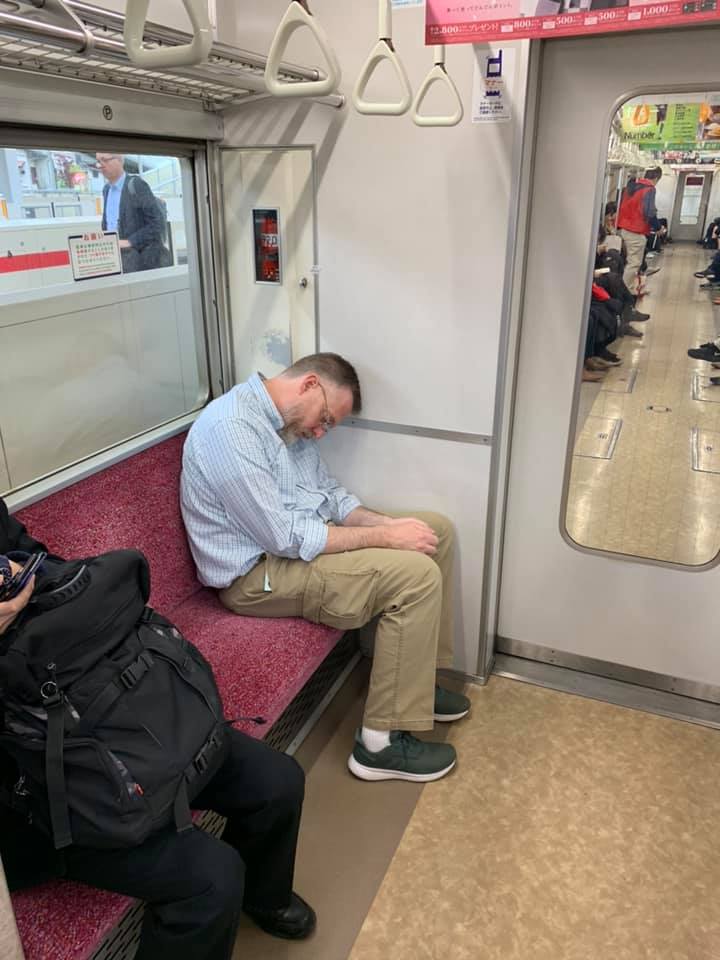 Mt. Fuji, Shimizu, Sunday April 14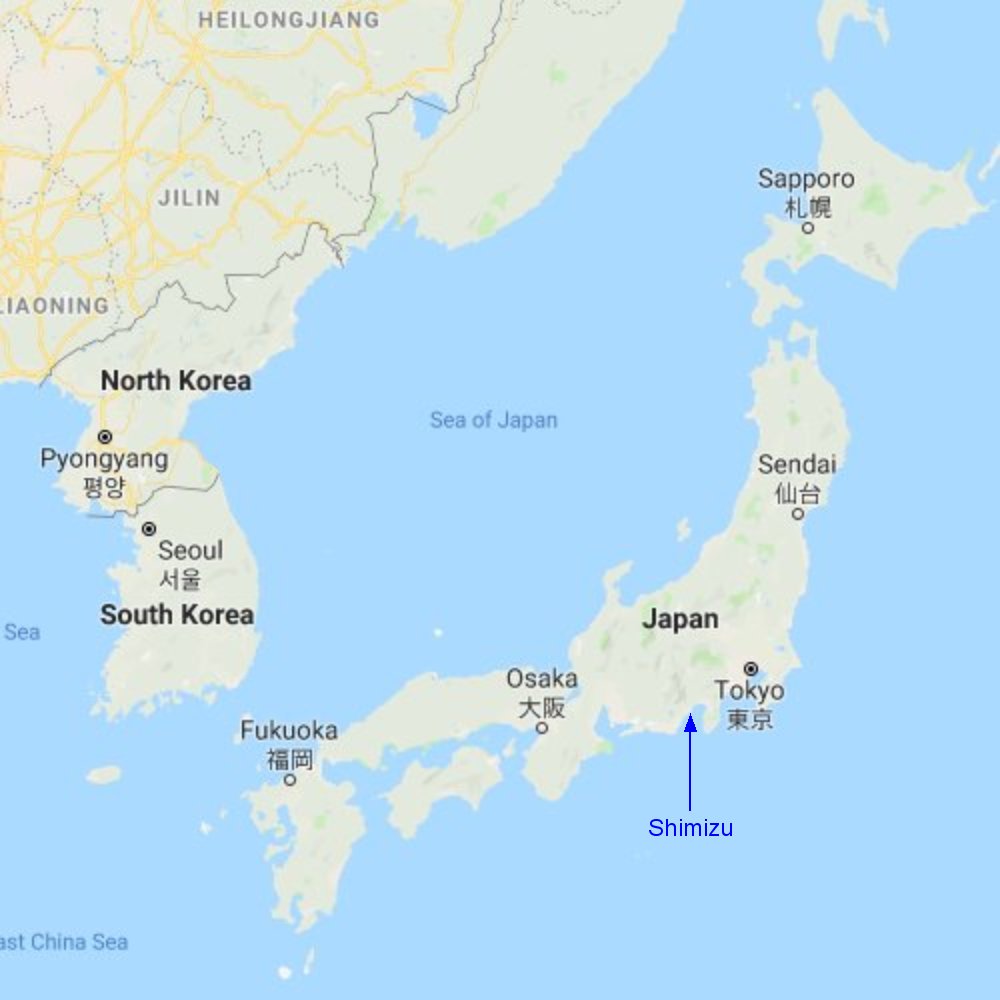 Our first port of Shimizu is just south of Mt Fuji and our best chance to see the iconic peak. Wish that I had woken up early to get the rising sun on the mountain but that didn't happen. Even so we had a really good view from our balcony when we finally did get out of bed. We took a ship arranged shore excursion for this port. The guide was a perky little woman with a good but imperfect grasp of English. She felt she needed to keep up a running dialogue even when there was nothing to talk about. Most of the tour was spent sitting in traffic on the bus. This port has little in way of tourist attractions but we were taken to see what there was. Interestingly the town is where the founders of Honda, Toyota, and Yamaha were born. We saw the ruins of a Samurai fortress along with a Japanese garden; a Shinto shrine; and a beach with black sand. This beach was where we were supposed to get a stunning view of Mt. Fiji, but by the time we got there clouds had rolled in and you couldn't see squat. Back to the boat for lunch, cocktails, and nap. We had thought to do an activity in the afternoon but nap went to long and got up just in time for dinner. Did the 'silent disco' in the nightclub then went to bed. Steven was getting a sore throat. He went to the ship's medical office, but just to see the doctor was big bucks. He did manage to score some NyQuil from them.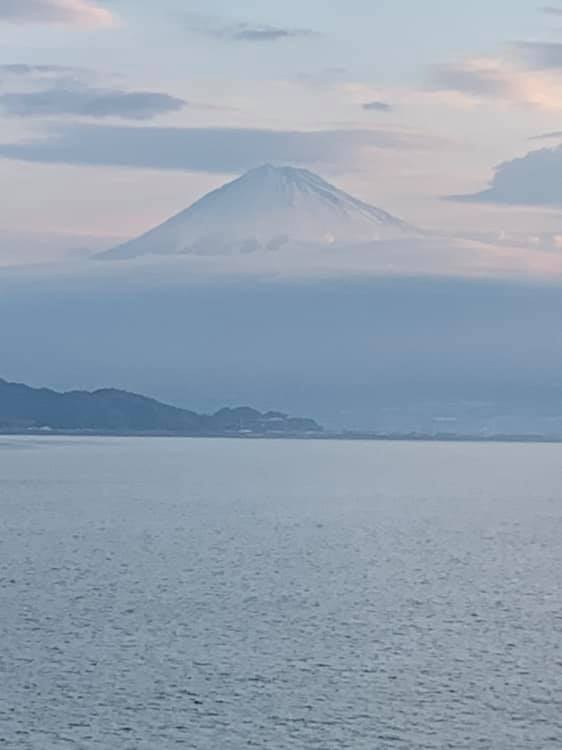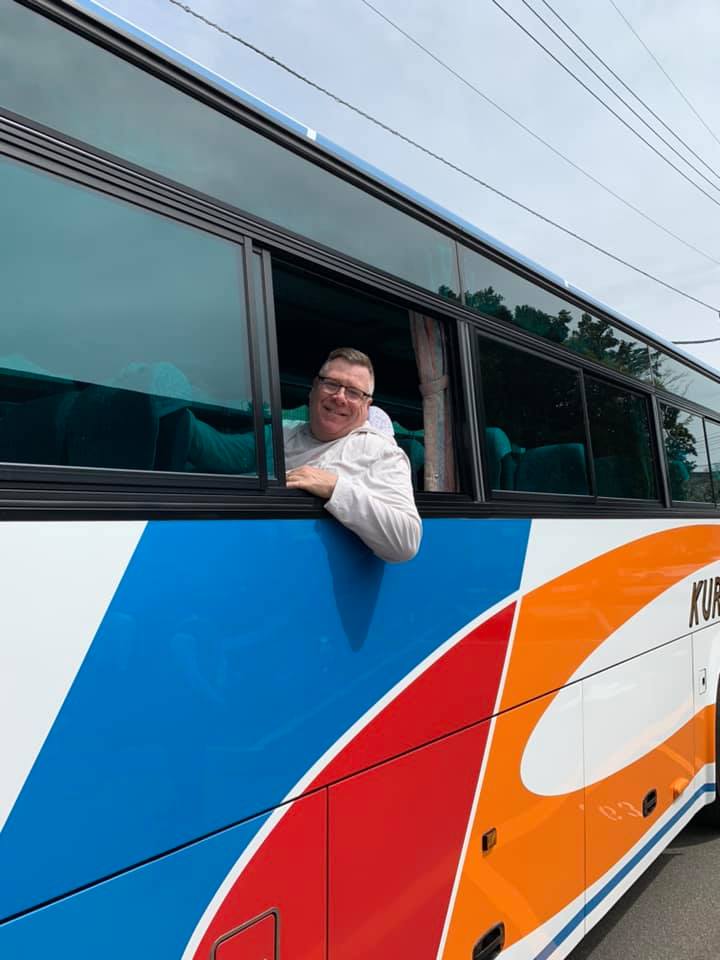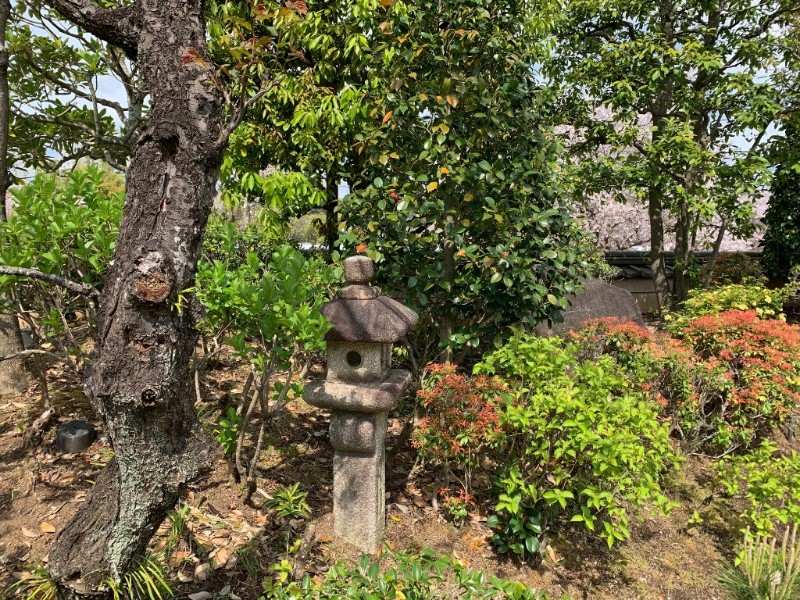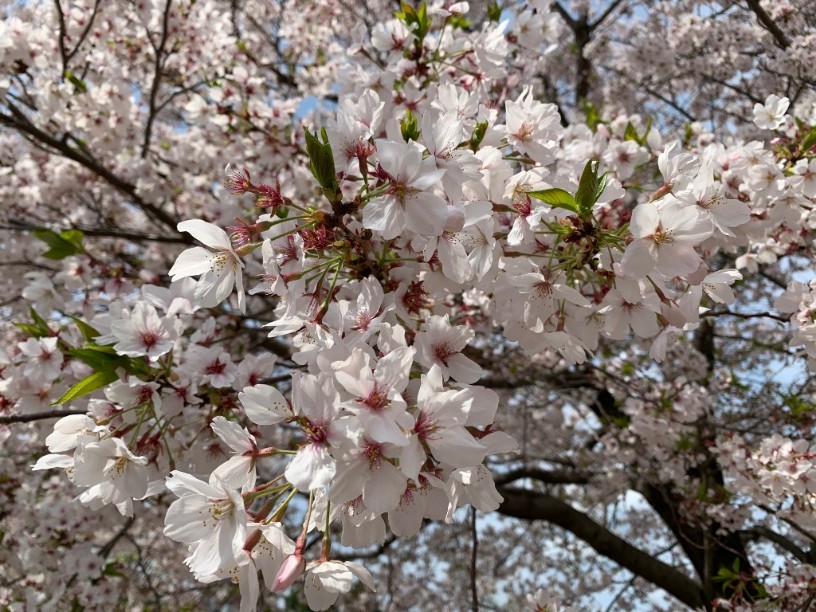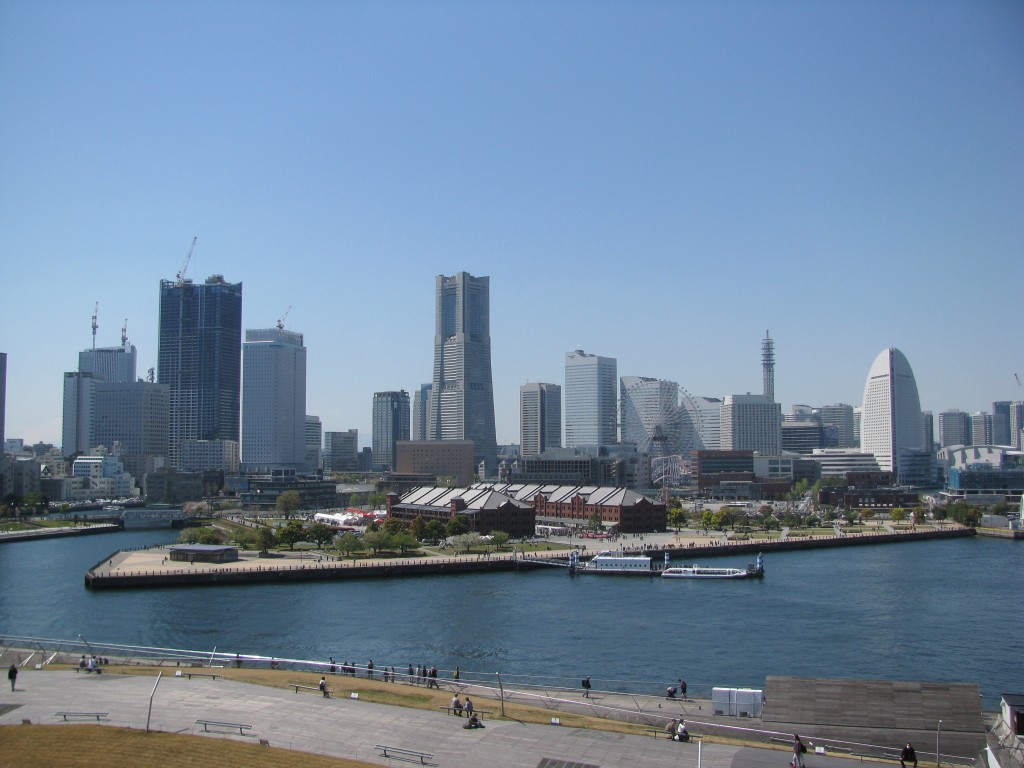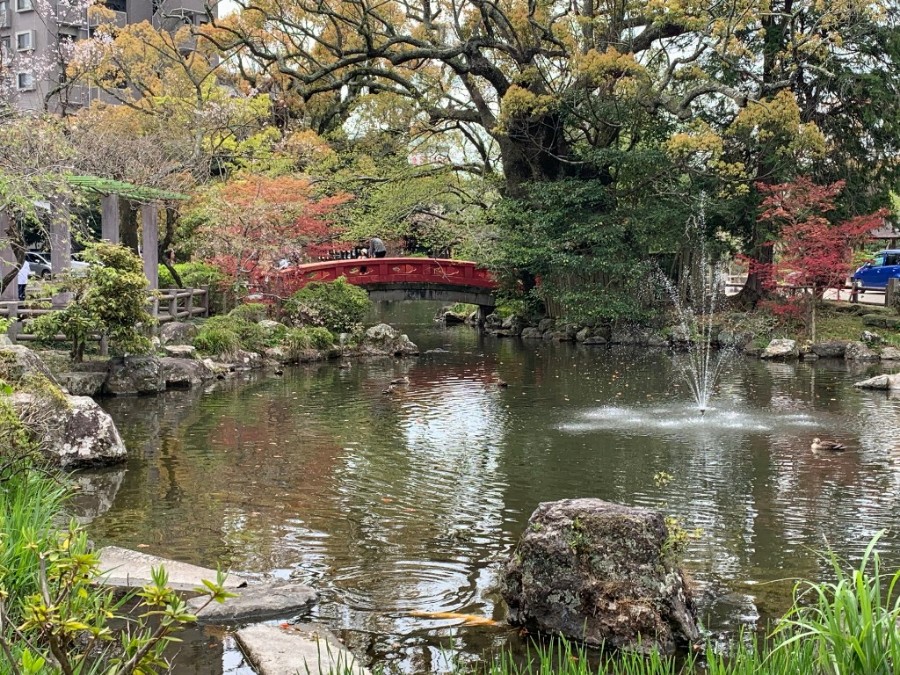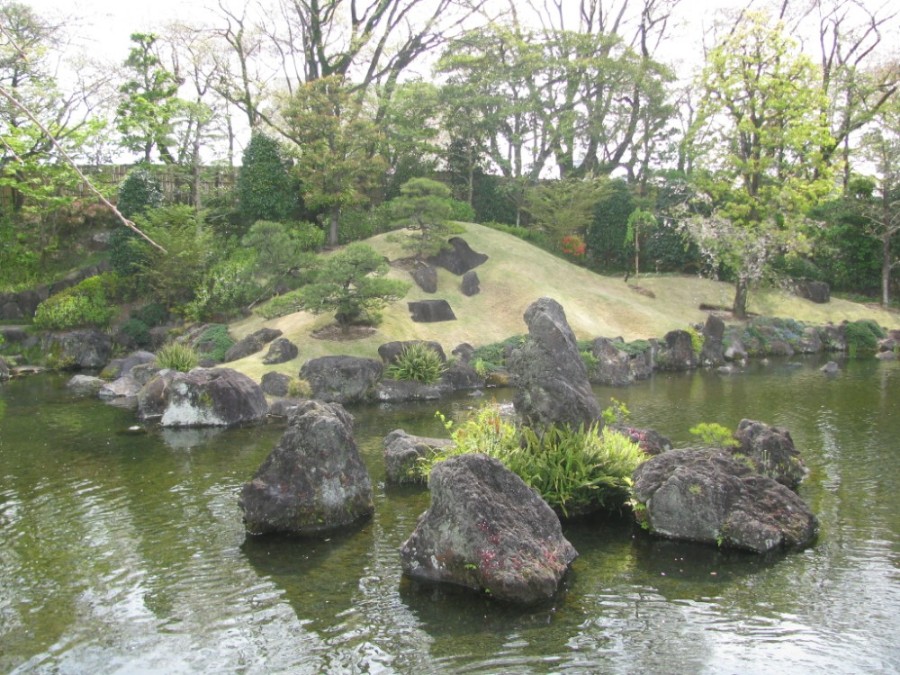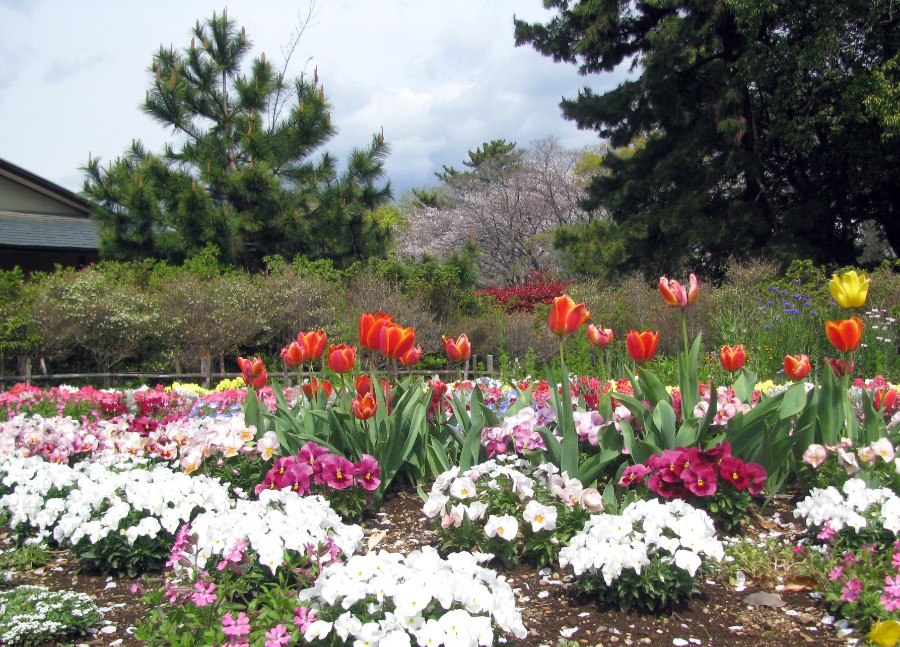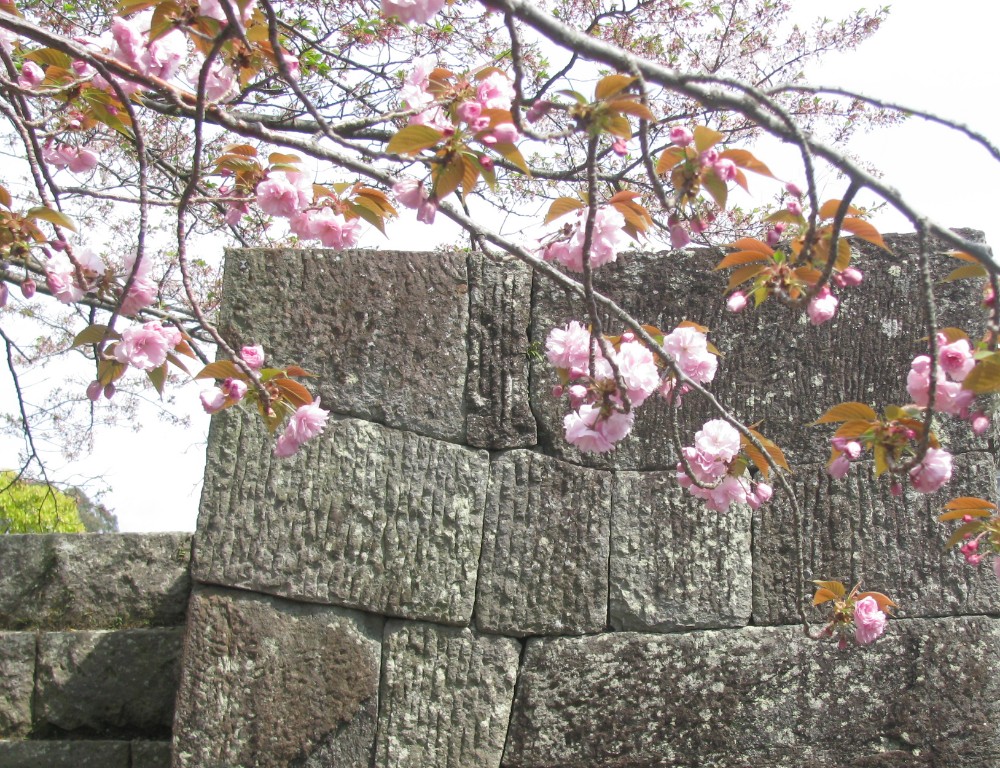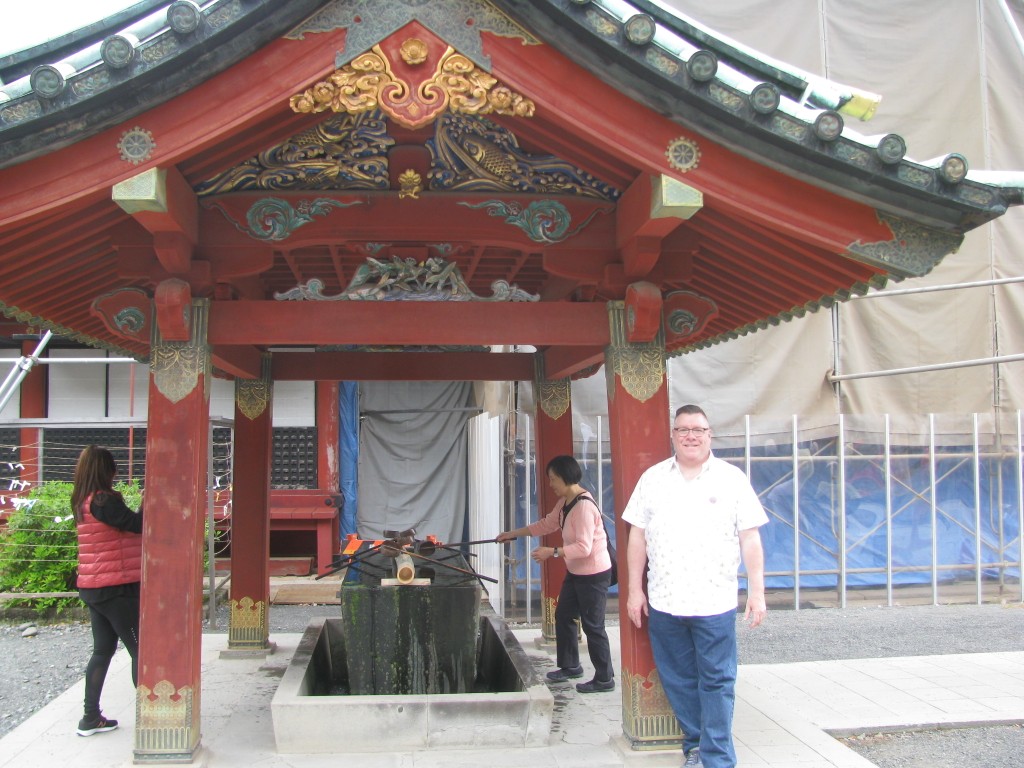 Kyoto, Monday April 15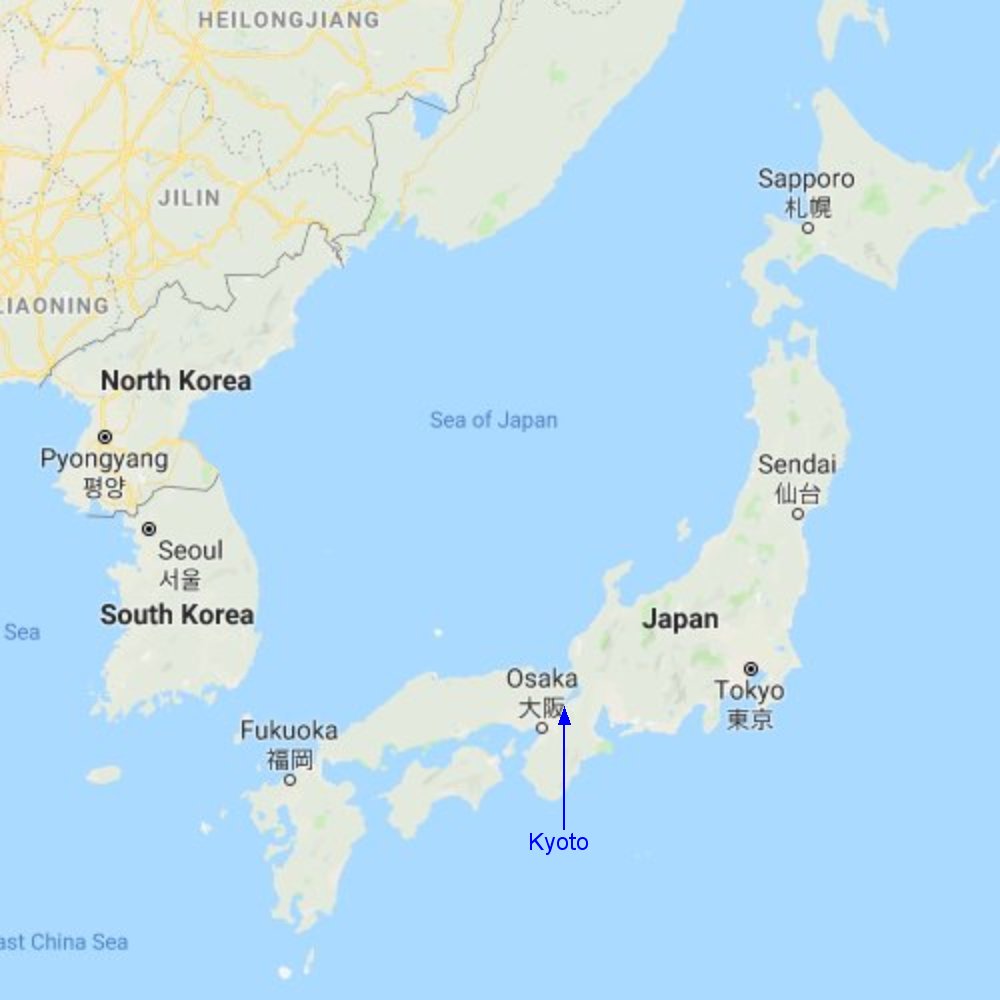 We made port in Kobe (of the beef fame) at noon. We hired a private tour guide to take us to see the sites in Kyoto. She met us at the boat and escorted us all the way there. A 40 minute train ride through canyons of apartment buildings. Our guide made it clear that we really didn't have much time to see anything as every place closes at 5:00 PM sharp. She asked what we wanted to see but we left it up to her because we had done zero research. She took us to the Golden Temple so called because the outside walls were covered in gold leaf. Very pretty. Former home of the Emperor before he moved the capital to Tokyo. At this point it was about 4:30 and there wasn't much else we could see before closing time. She took us to a temple on top of a hill that overlooked the city. With the sun setting it was a beautiful scene. Way too many tourists though. At this point we had done much walking and were very tired even though we had spent most of the day on train or sitting in traffic. Guide felt like she had to give us our money's worth so kept going on about this alleyway or that staircase long after we were done with listening. We finally caught cabs in Geisha alley and went back to the train station. We had a drink with her and learned not only was she 65 (she seemed much younger) but also that she was an aspiring singer. She gave us a copy of her CD after we gave her a good tip. She recommended that we take the bullet train back because the local would be so crowded with people going home from work that we probably wouldn't be able to sit. I was so tired that I fell asleep during the trip. Got back to the ship and it was a struggle to stay awake through dinner at the buffet.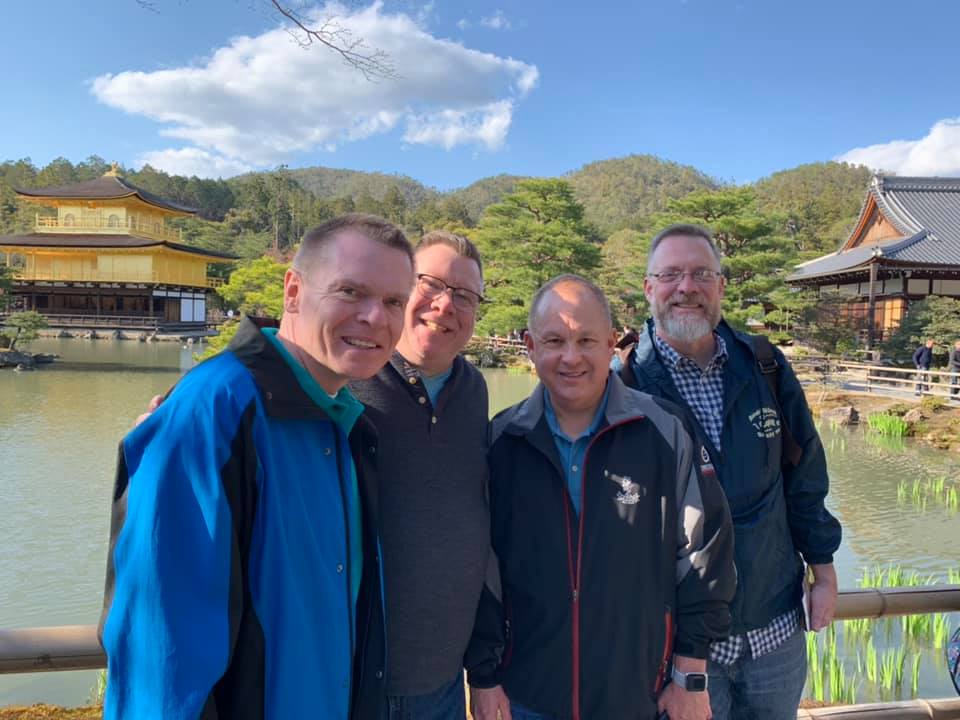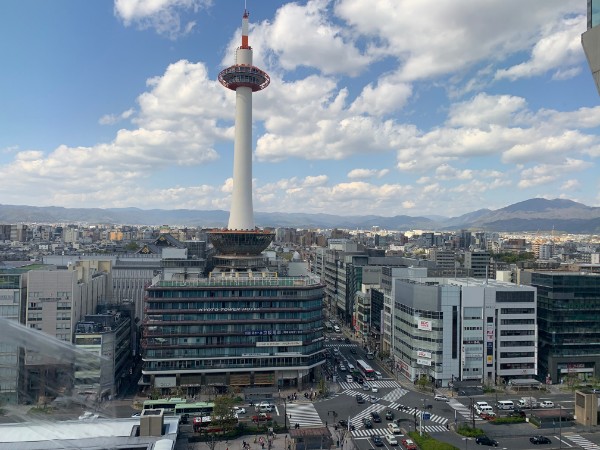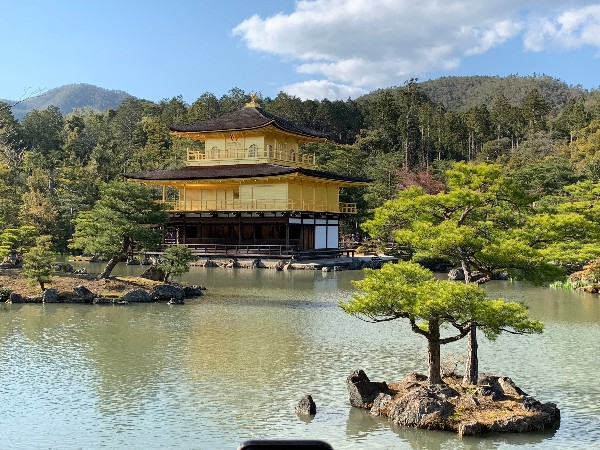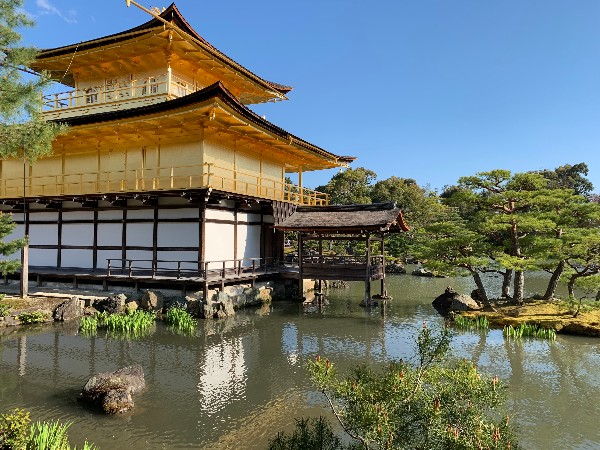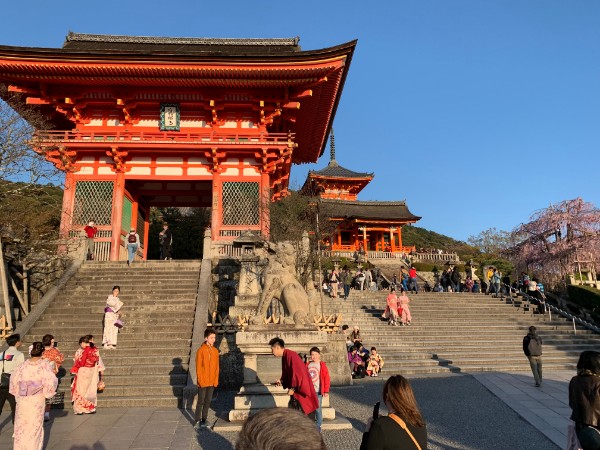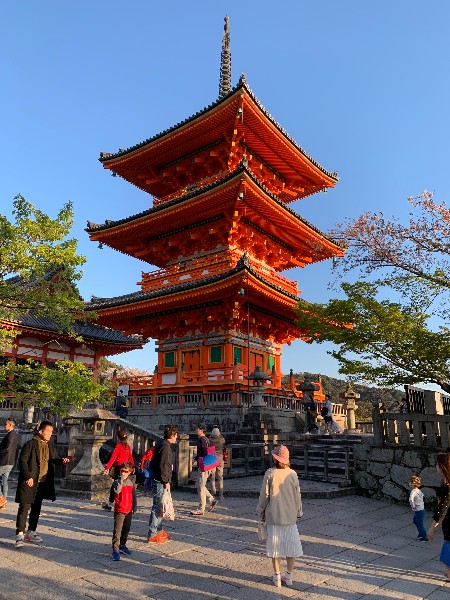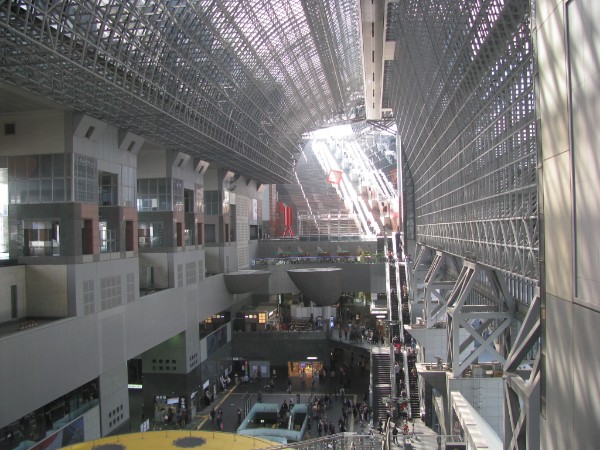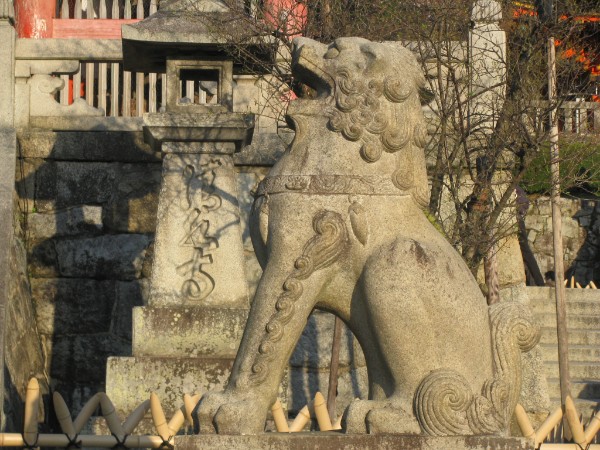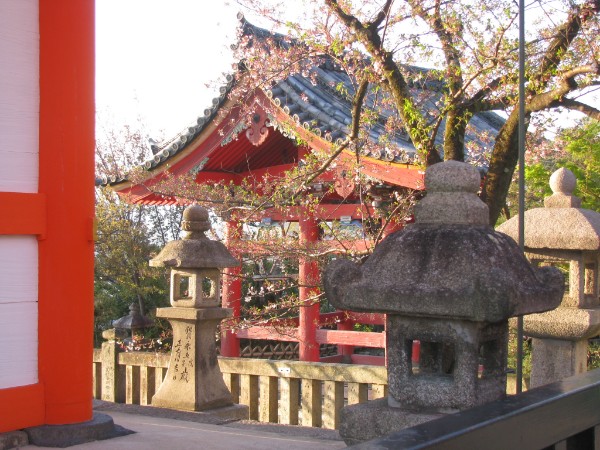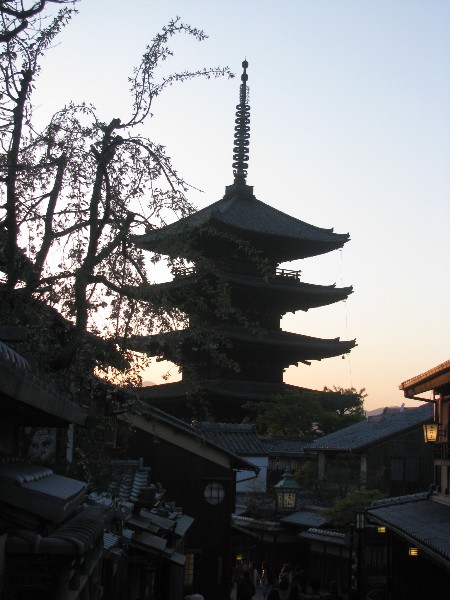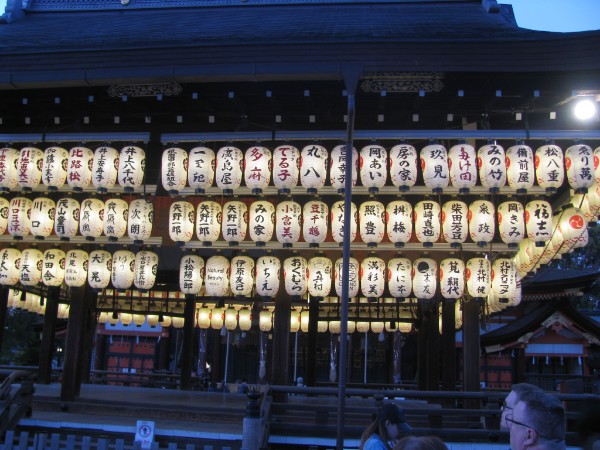 Kobe, Tuesday April 16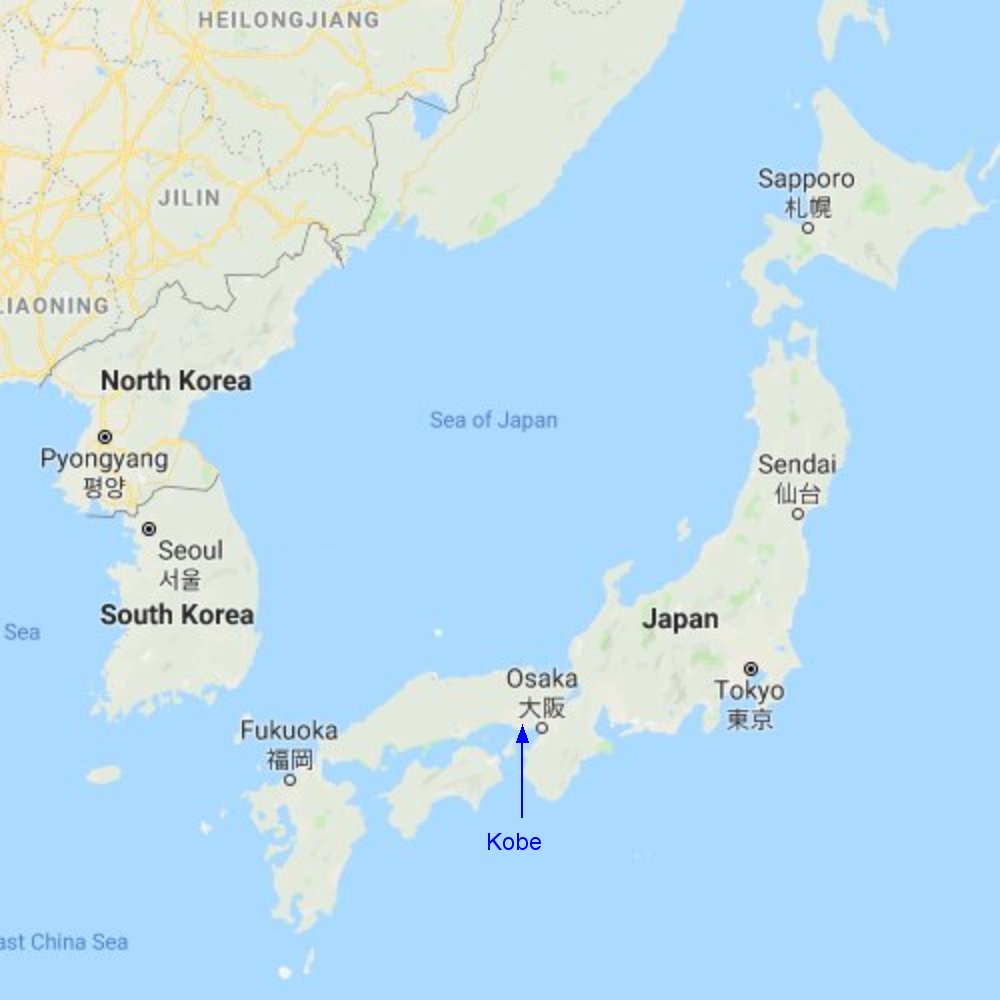 We stayed in port at Kobe overnight. There had plans to go to Osaka, but after the long day before we decided to stay local. Steven and I went to an animal park where they had cats and dogs to pet as well as bunnies. Bears and wolfs mixed with pigmy hipos, penguins, llamas, beavers, and raccoon. It was very well set up and lucky for us there weren't many children at that time. Took a cab from there to a restaurant downtown that was listed on TripAdvisor as having good Kobe beef hamburgers. Walked back to ship. Steven went for a shave and massage. I took a short nap and finished a book. We met for cocktails and were going to dinner. Such a backup, that after waiting an hour we were offered seating at the sushi restaurant which was fine by us. For some reason the dining room really had problems turning tables over, people just sat there talking long after they had finished eating. Rude. We soon learned if you don't get to dinner early you weren't going to get seated until after 9:30. Finished the evening watching Beatles trivia in the nightclub.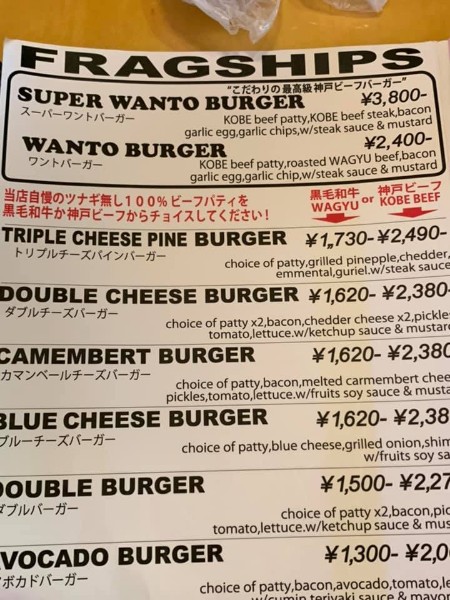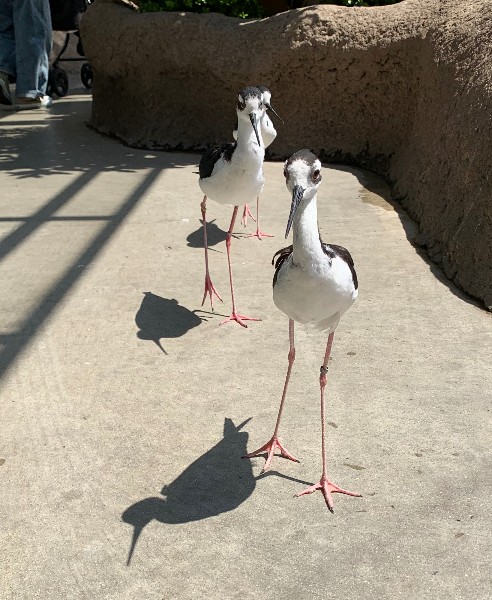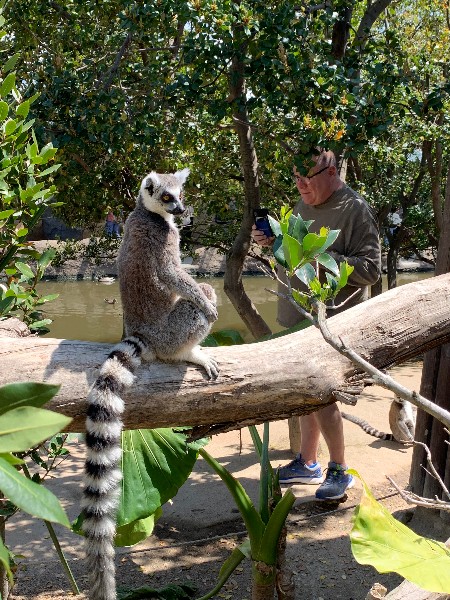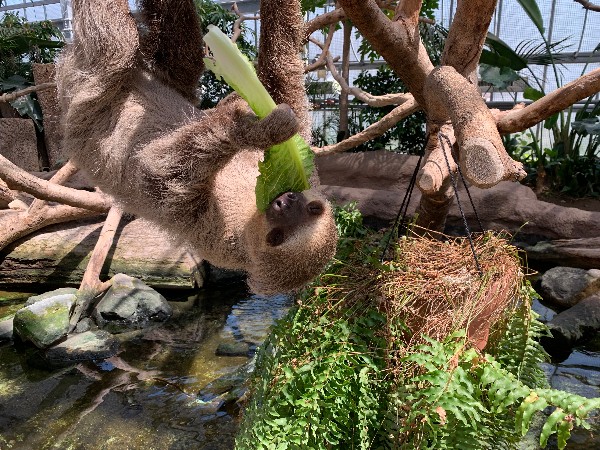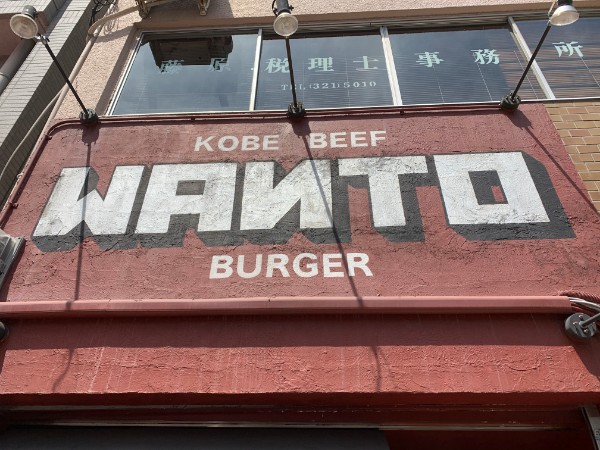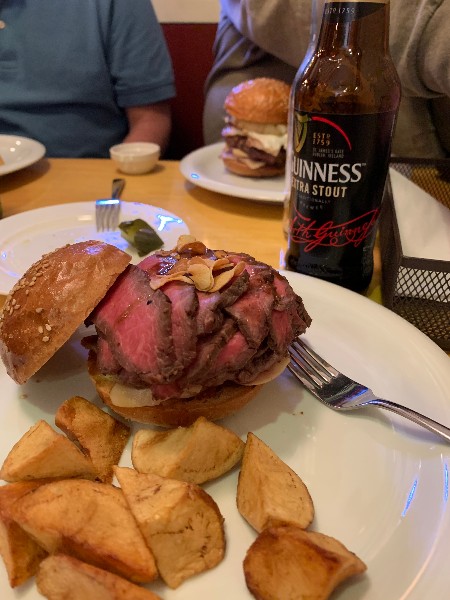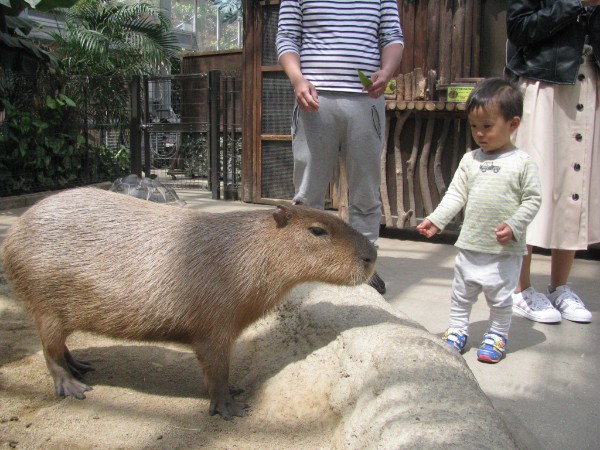 Kochi, Wednesday April 17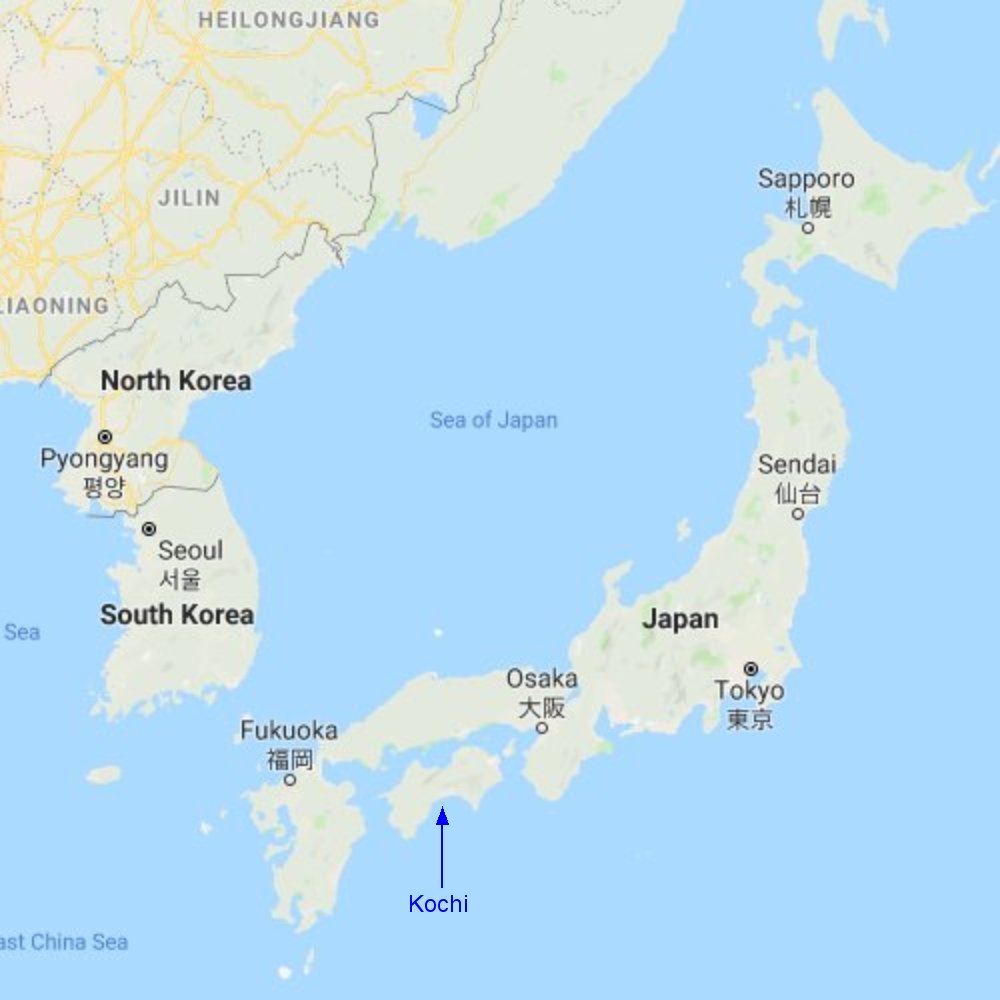 Kochi is on the island to the south. We docked in an industrial area that had nothing of interest other than a large raised field where people could run up in case of tsunami. At this port we took ship sponsored tour and spent hours in traffic with very little time at sights. The first stop was a castle with lots of steps. About 50 buses in the parking lot. Long lines of people trudging up the hill to get to the castle. It was quite a steep walk and we were out of breath by the top, especially Steven who is suffering from a cold. We had to take off our shoes in the castle and the wood floors we slick. Long lines of people trudging up six flights of narrow high steps with very low ceilings. I conked my head but good and then was more careful to duck. The view of the city was nice but it pretty much looked like every other city here, miles and miles of high-rise buildings. Back down all those steps to the bus then a 45 minute drive to a saki brewery. During the ride our tour guide pulled out a binder where she had hand drawn pictures of the saki brewing process. These pictures looked like a 6 year old had drawn them in crayon. It was quite bizarre. The saki place was just in a warehouse off a nondescript street The owner took us around the tanks and said everything the guide had just told us on the bus. A tasting of 6 unmemorable sakis made at the brewery, then back on the bus. Our last stop was a beach. Bunch of steps to get up and more to get down. Not really sure why this was a sight. Back to ship and nap. Went to Qsine for dinner, a culinary concept restaurant. Really just oversized tapas that we had to order using an iPad. Strangely the waitress still had to write out our order by hand even after making such a big deal about ordering electronically. The sunset that night looked a bit like the mushroom cloud of the A-bomb, ironic since we were going to Hiroshima overnight. Ended the night at ABBA sing along. I sang at the top of my voice and probably annoyed some people but I had fun.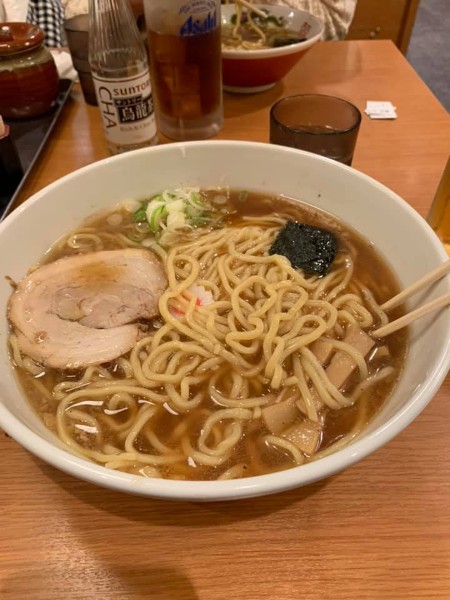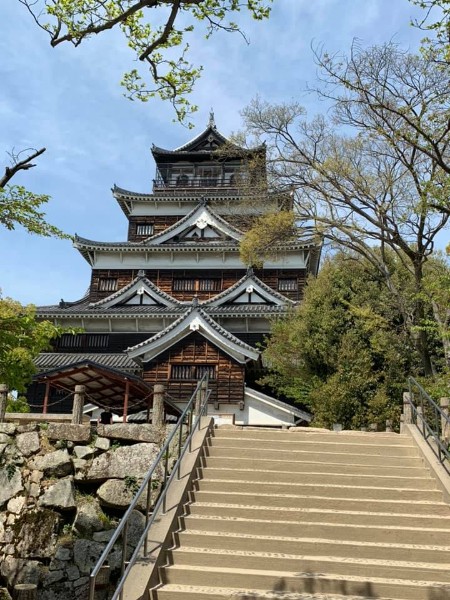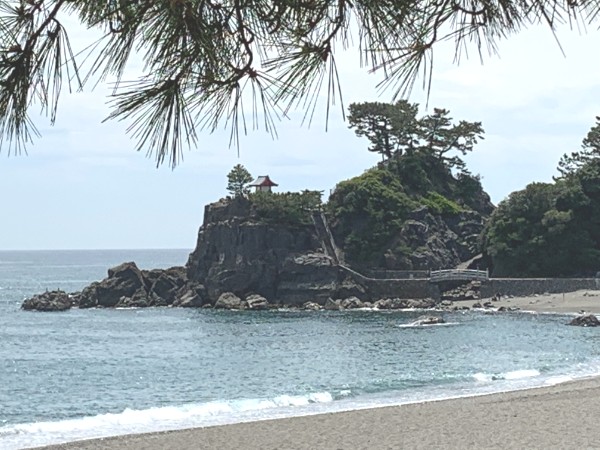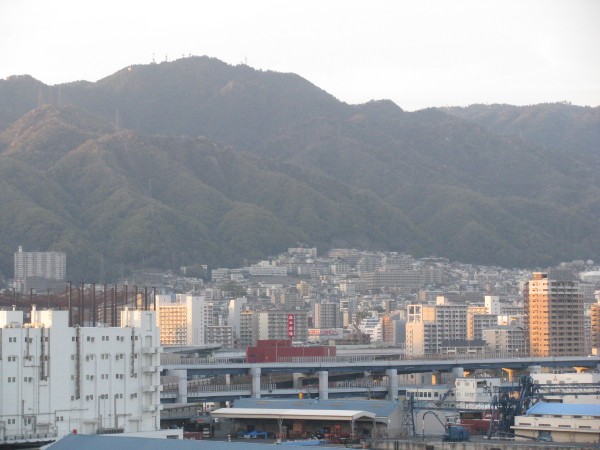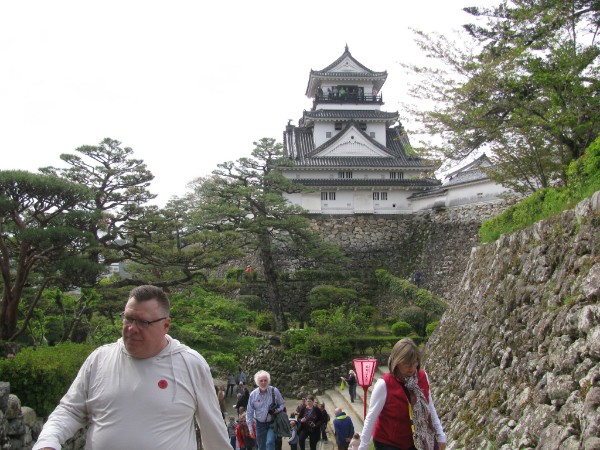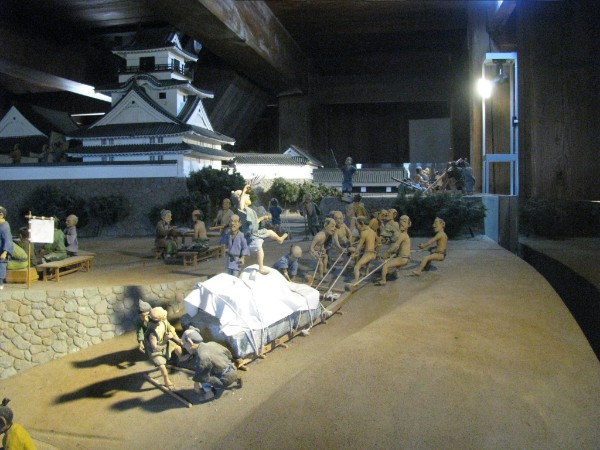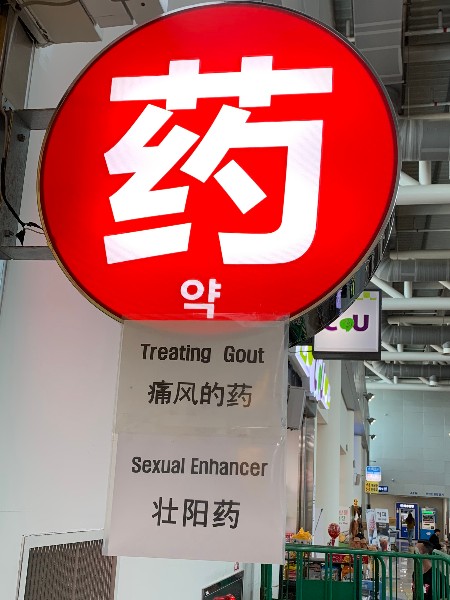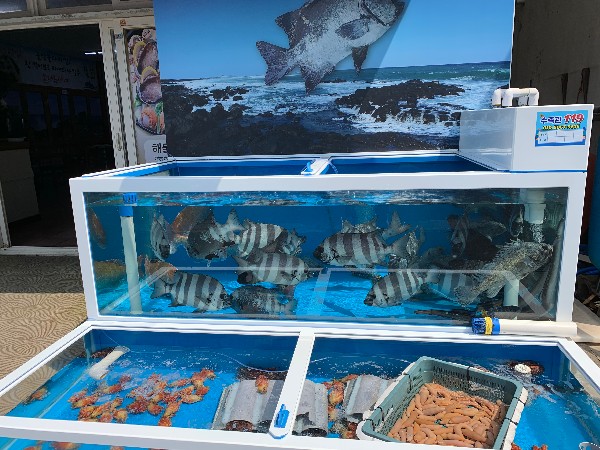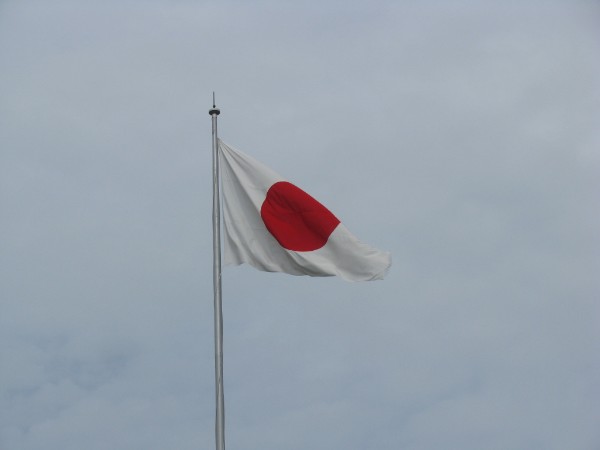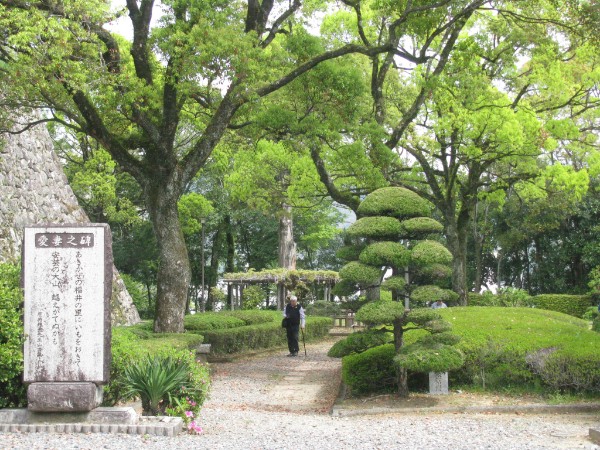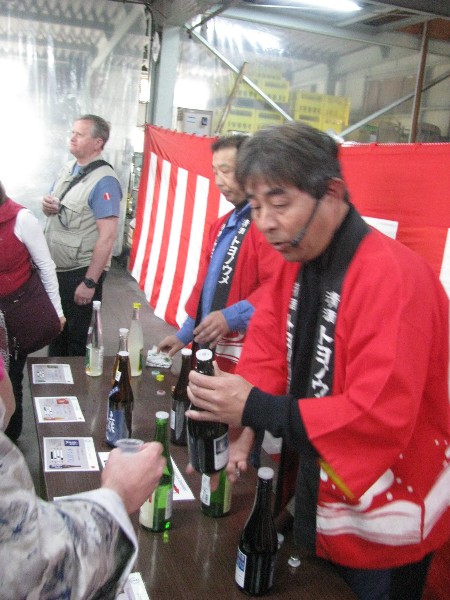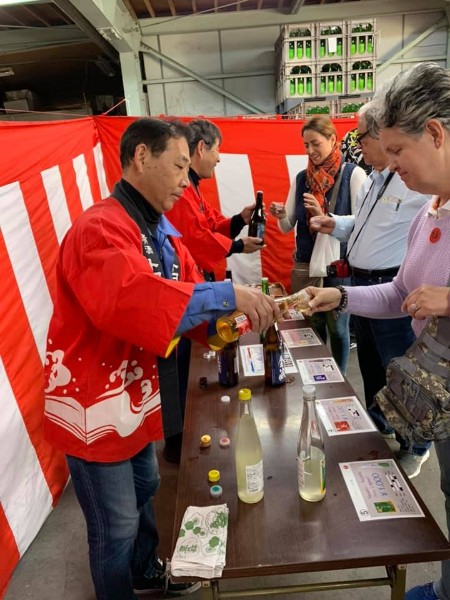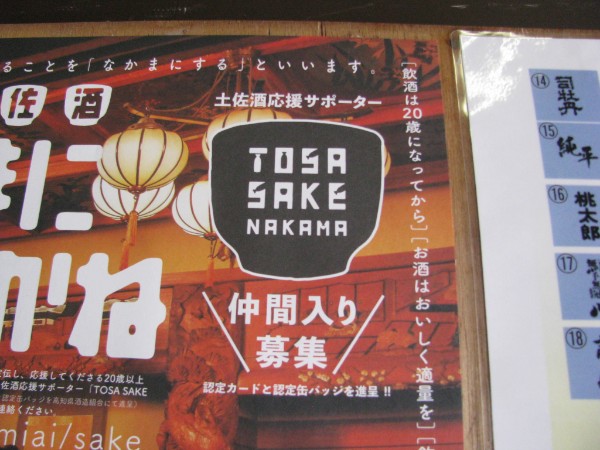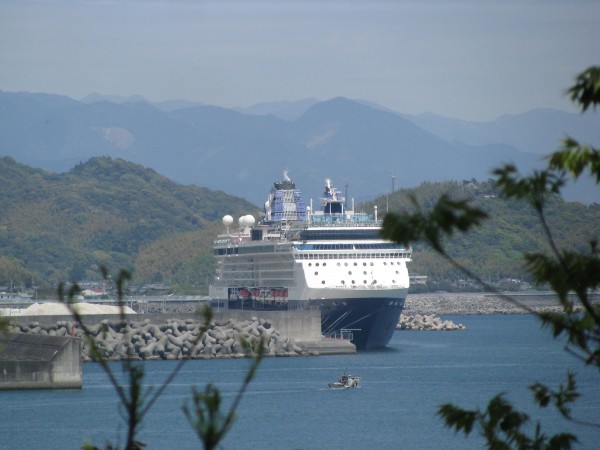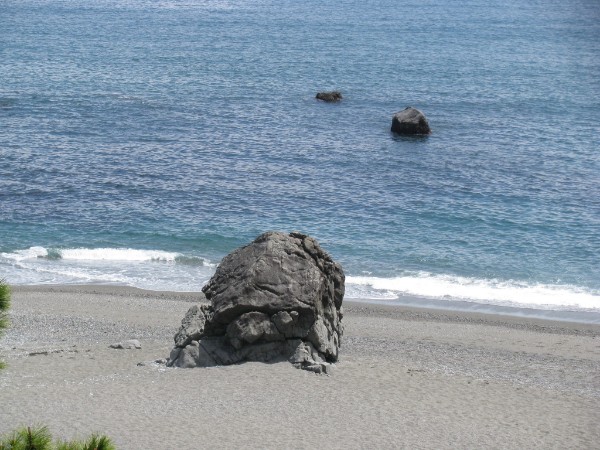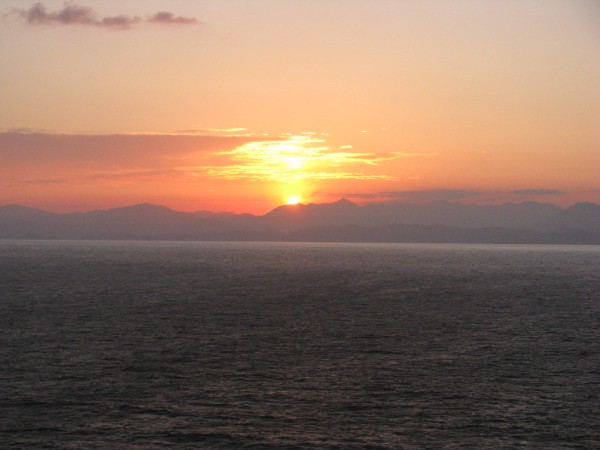 Hiroshima, Thursday April 18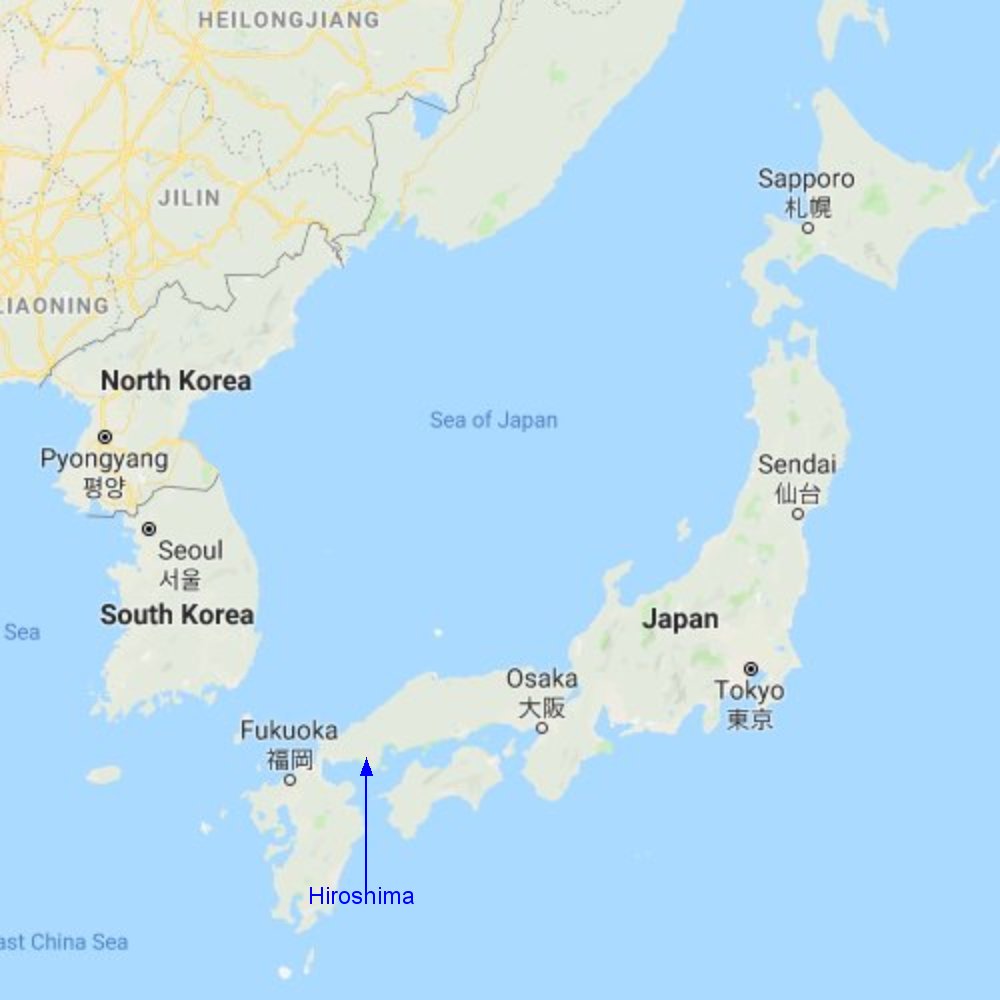 We hired a private guide to take us to the bomb site in Hiroshima. Good organization at the port and a guide that knew the ropes got us a day pass for the trolley and on the train quickly. A 30 minute trolly ride to the peace park. The city has been rebuilt so there is little evidence left of the bomb blast. A government building that was one of the few structures to remain standing after the explosion has been left as it was as a reminder of that day. There are several monuments around the building, one to the unnamed Korean slaves killed in the blast, some monuments to stopping atomic weapons, and the saddest of all was to a little girl who thought if she folded 1000 cranes it would stop her from dying of cancer. The guide gave us origami cranes to leave as an offering as many others have done. There is a museum with objects that got melted in the blast and pictures of the aftermath. This all made me very depressed. Our guide took us to a noodle shop for lunch and we tried the local favorite, a savory pancake mixed with all sorts of stuff. Next we passed by another castle but didn't go in. Finally we went to another Japanese garden where we got food to feed the pond full of koi and turtles. The fish were not much interested but the pigeons were. I had about 6 sitting in my lap and eating out of my hand. Went back to the ship and napped. That night there were 2 aerialists (husband and wife) doing a Circ type show that was pretty good. Went to the night club for the repeat of the silent disco.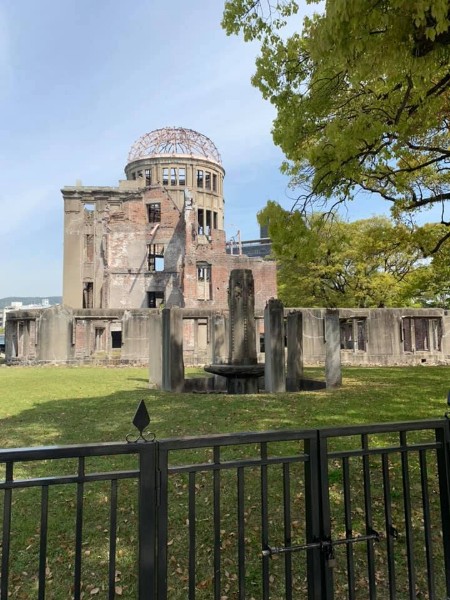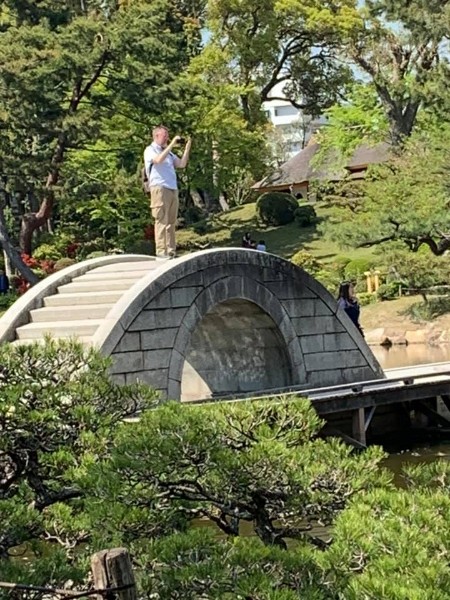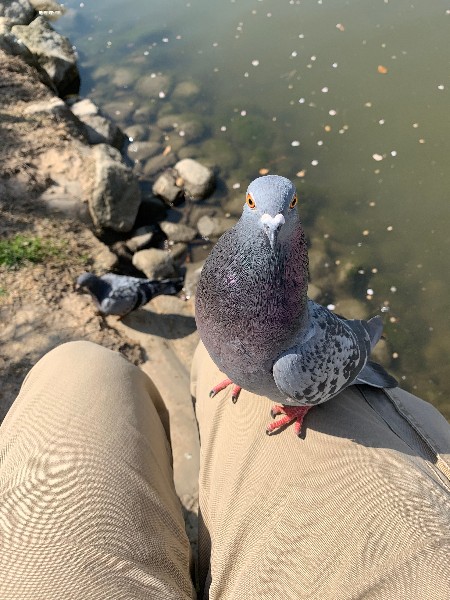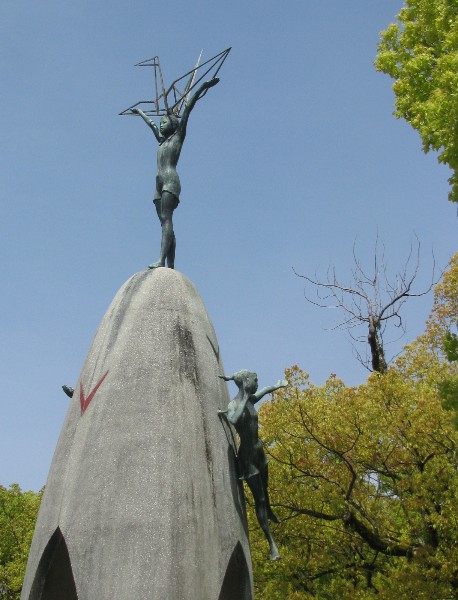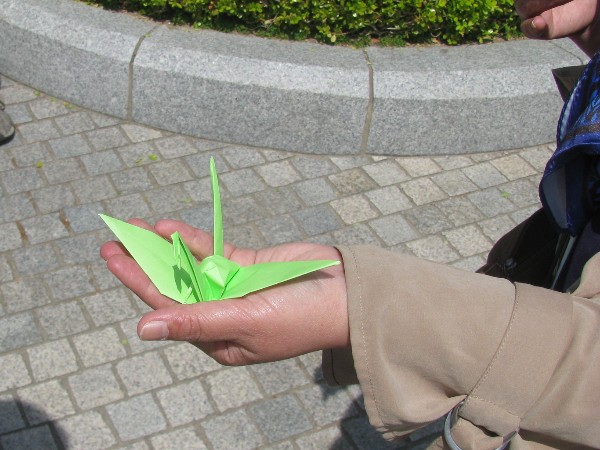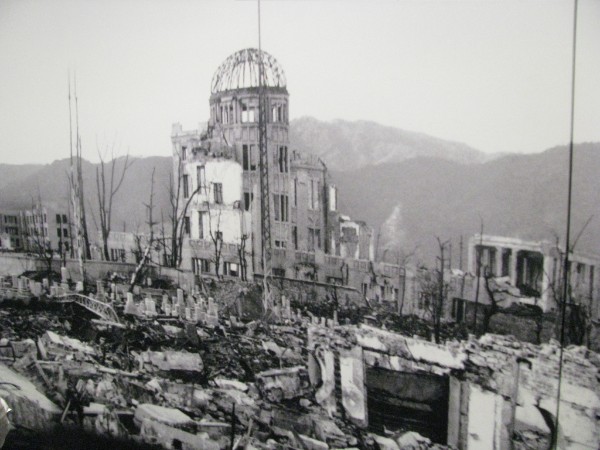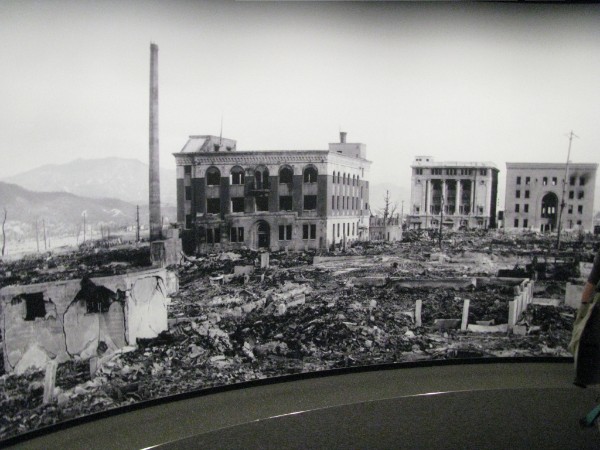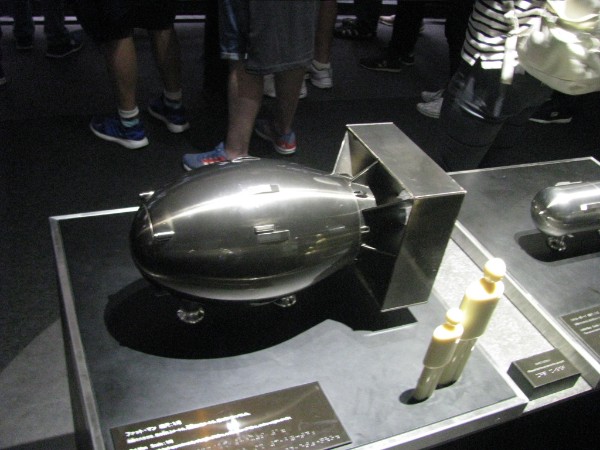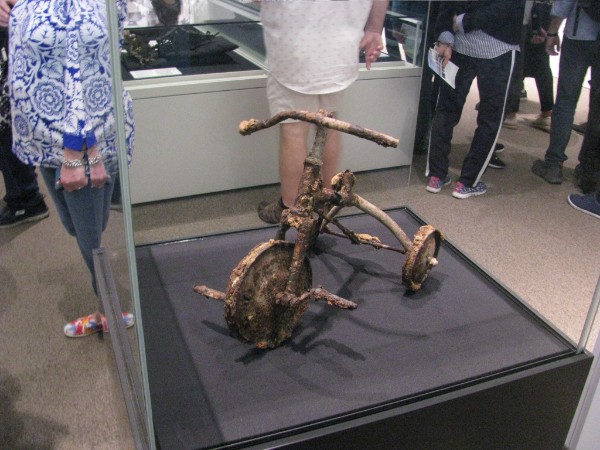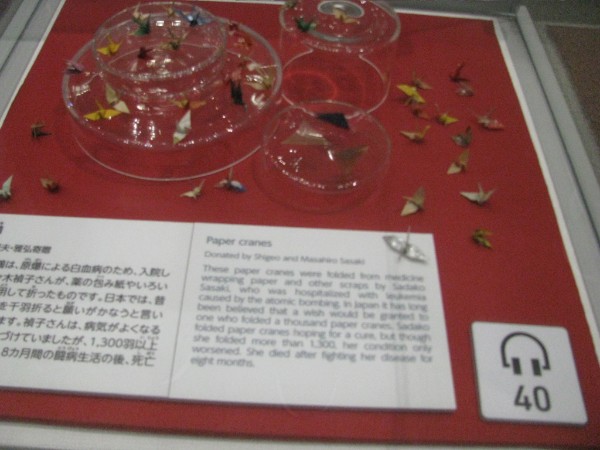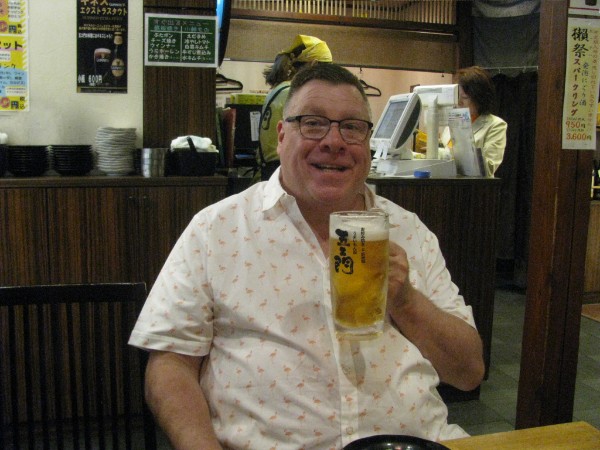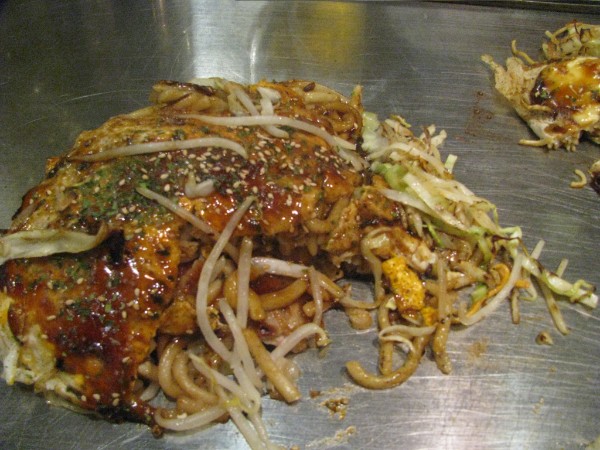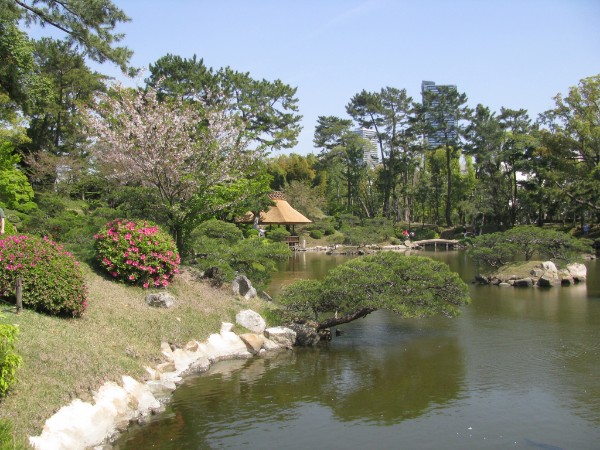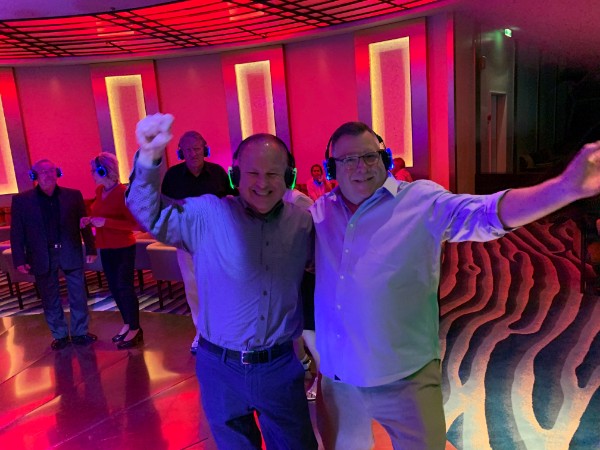 Day At Sea, Friday April 19
We sailed around the southern tip of Japan on our way to Korea. There is a lighthouse here which is famous for some reason.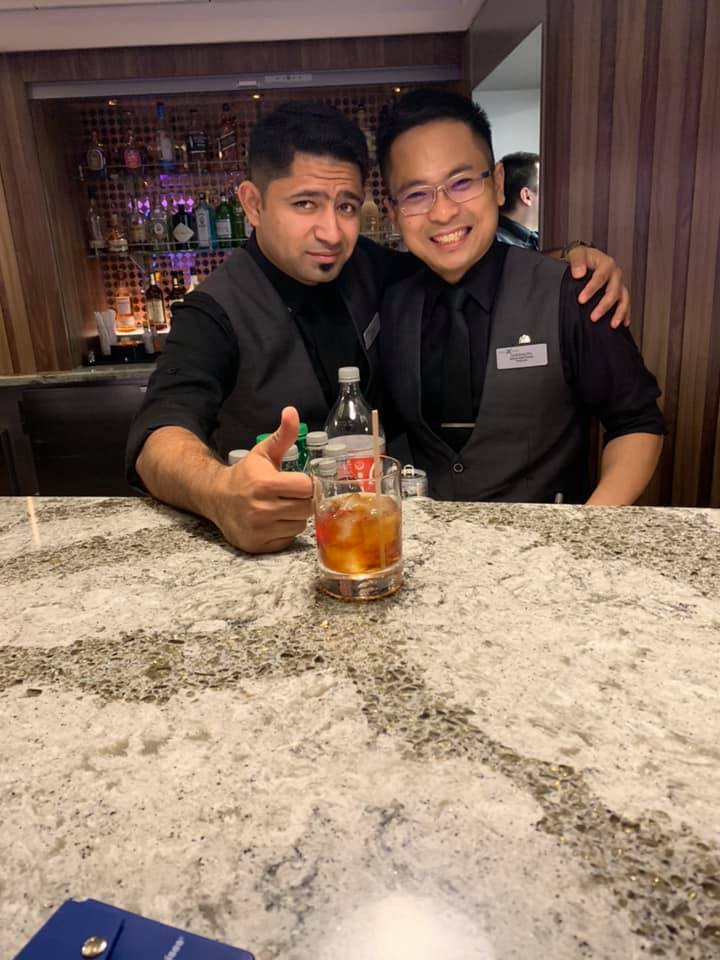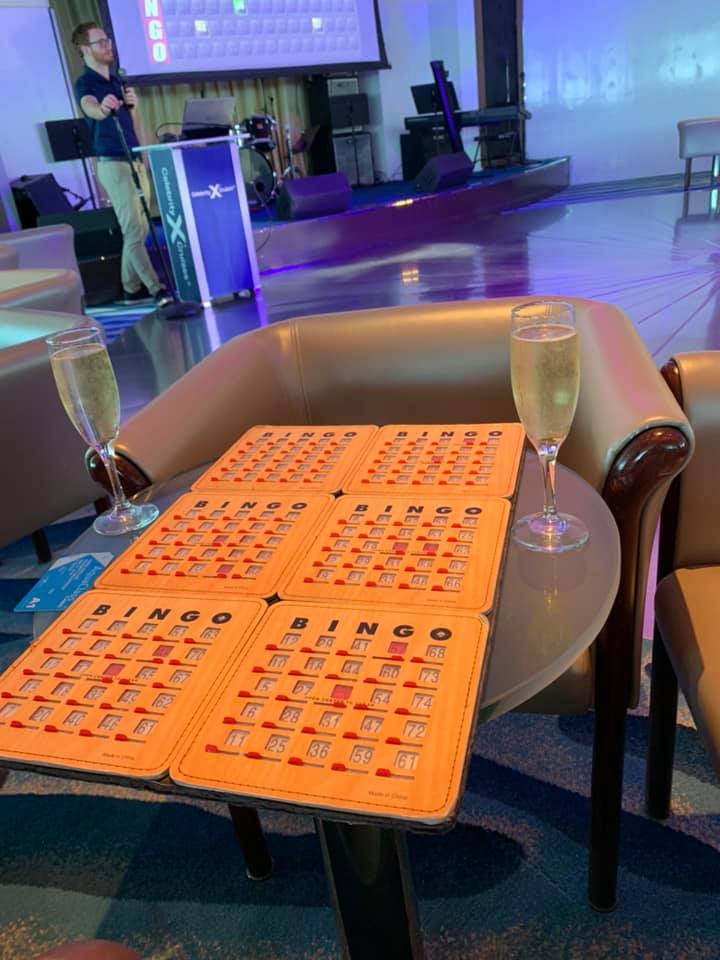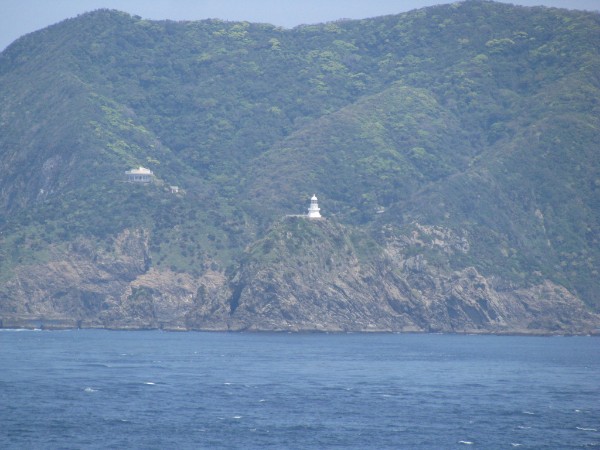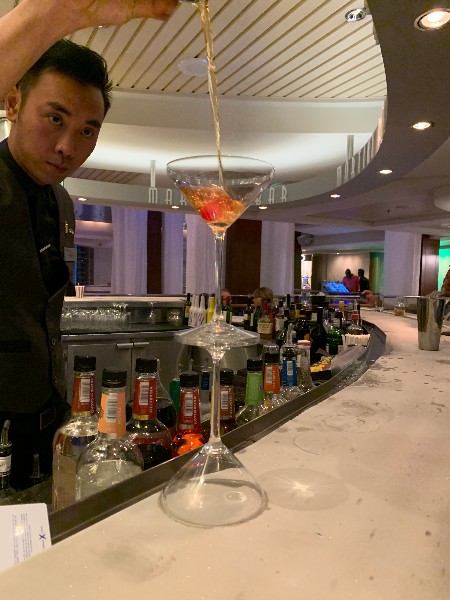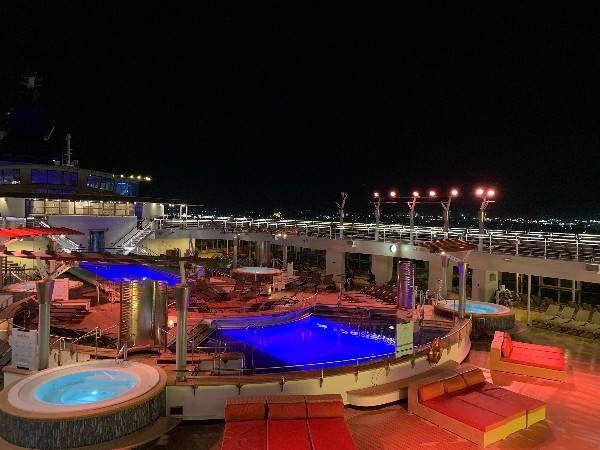 Jeju Island Korea, Saturday April 20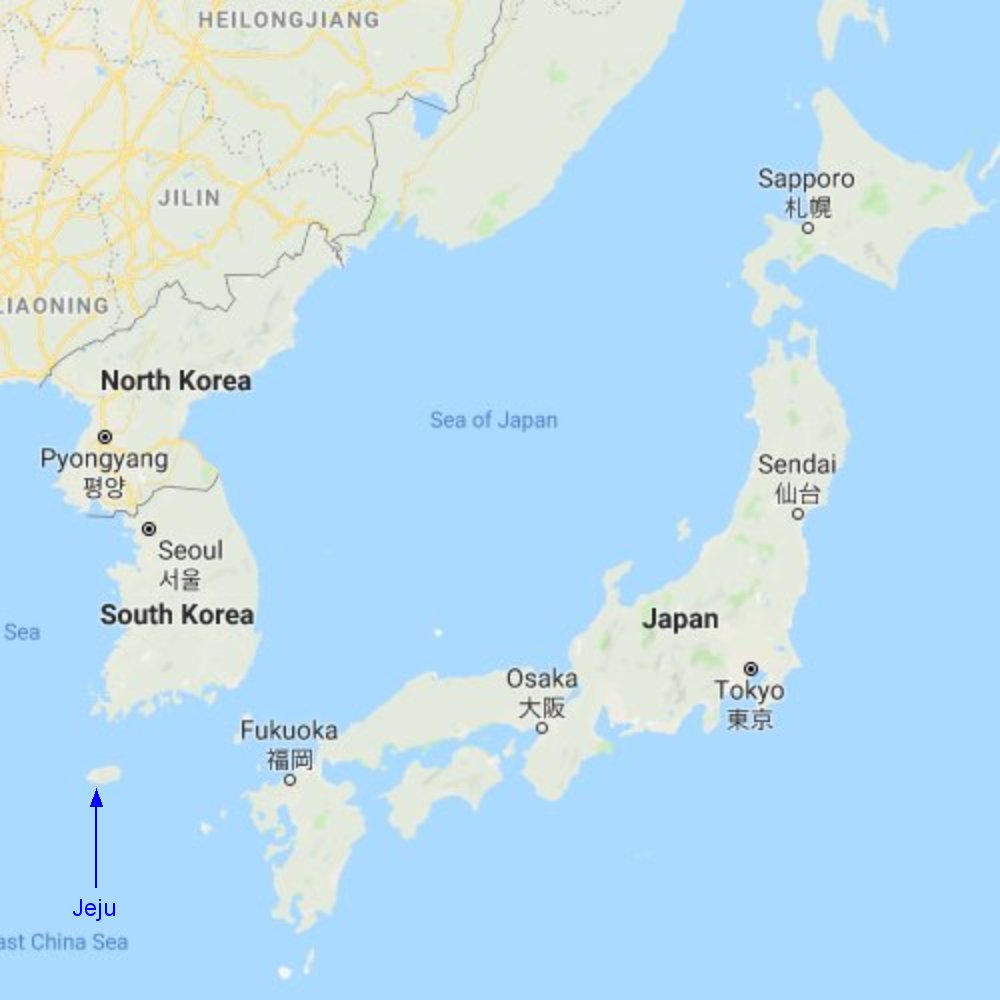 Jeju Korea is a volcanic island just south of the mainland. A very popular vacation destination. Oranges are very big there with most of the vendors selling something orange related. We did minimal research online and tried to go to a beach. Caught a cab at the port to take us to the place we found which took about 30 min in traffic. Once we got there, Steven took one look at it and had the cab take us back into town. Had a few beers and then went back to ship. We had booked an 8 hour tour which we cancelled a few days before. Nobody who took it said we missed out not seeing the lava tubes. I suspect if we had more than a few hours the island would have had more to offer, but this was a wasted day as far us.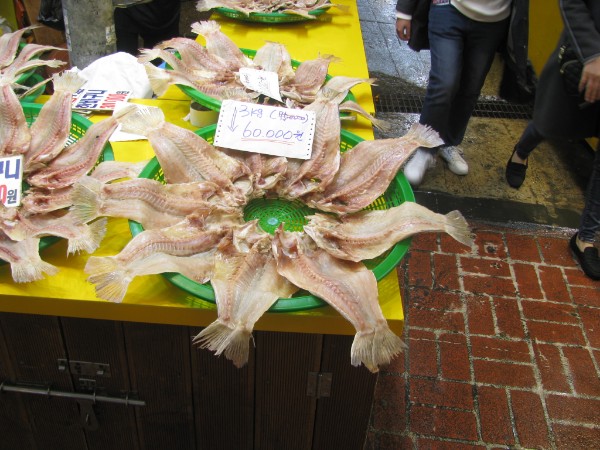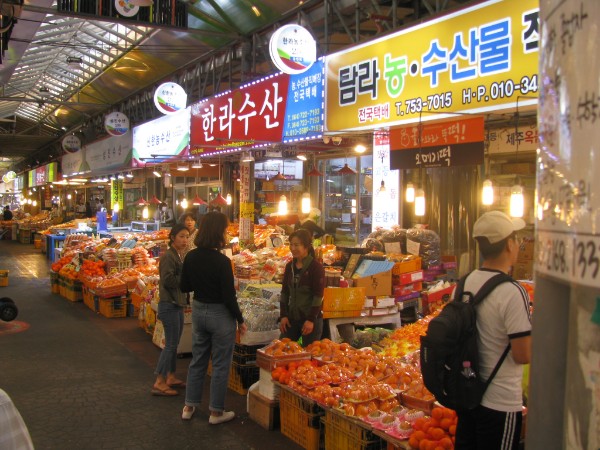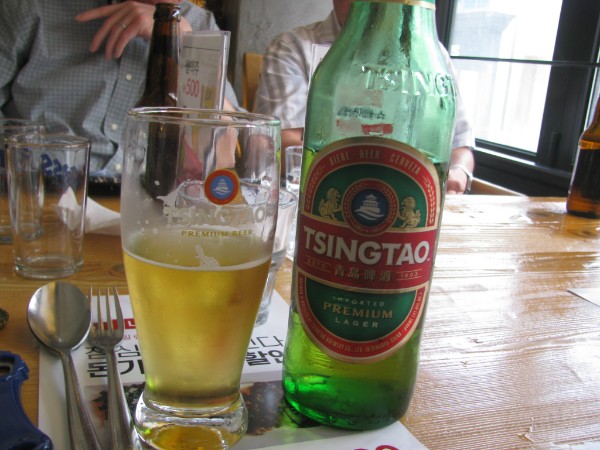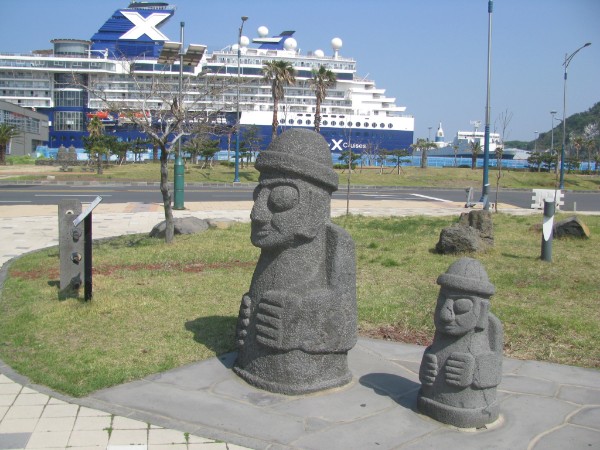 Busan Korea, Sunday April 21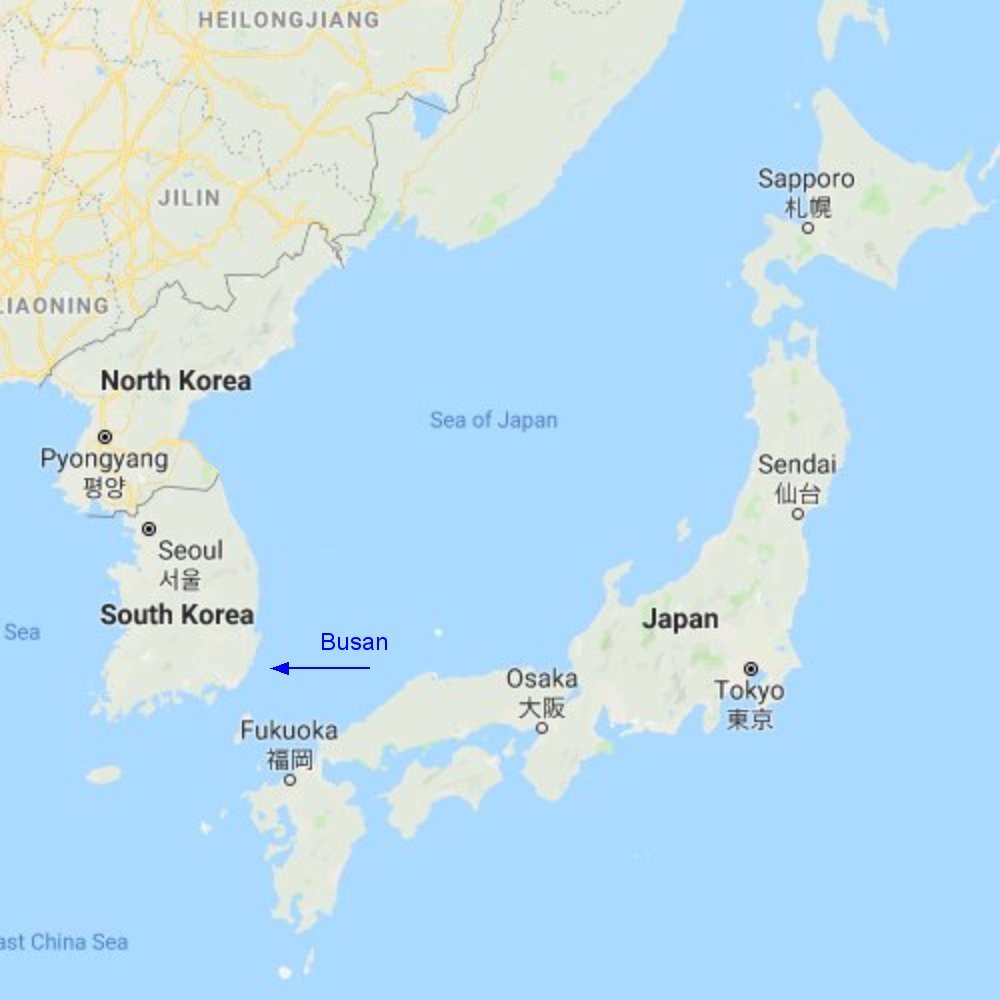 Easter Sunday. When I found out Steven had scheduled the cruise over Easter weekend, I suddenly had to come up with a lie to tell my parents why I wasn't going to see them on the holiday. The lie was that I was taking a cruise in the caribbean with fellows from Baltimore with whom I used to play poker. We had just taken a Caribbean cruise so if any questions came up I could answer them. The nice thing about my parents is that they don't ask hard questions. Don't ask don't tell. Steven had wanted to go to the church service onboard, but we had to get off the ship early for a tour so that was no go. I woke early and went up on deck to watch the sun rise and got to see the high-rise towers rising out of the mist as we pulled into Busan on the South Korean mainland. This was a short stop and all aboard was 3:30 so we got off the ship as quickly as possible. We hired a private guide for the day, a lovely woman named Willow. Busan is a large city filled with tall skyscrapers amid green mountains. Willow took us first to what must be the Disney Land of temples . It was crowded but luckily we beat most of the tour buses there or it would have been worse. First a line of stalls selling all manner of strange and exotic foods including mealworms and squid on a stick. Then a line of anthropomorphized zodiac animals. Down steps and across a bridge to the lucky coin toss. Up a hill to the temple crowded with all sorts of Buddha (sitting, lounging , studying) even a female Buddha with 100 faces on top of her head. Willow was very knowledgeable about the symbols and meaning of numbers. 108 is very important because it is the 6 senses multiplied by 6 something multiplied by 3 for the past, present, and future. Hopefully the will be good pictures from this because the day was beautiful. Next was the APAC house: which turned out to be some conference center where they held the Pacific nations trade talks during the Bush administration. They have roped off the table and we got to see where each delegate sat. The even had replicas of the lunch they had that day. Gosh I was bored. After that Willow took us to the sky walk which sounds impressive but was just a plexiglass walkway over some random cliff. I don't know how this got to be a sight but it was on all the tours. Waited in line so we could put cloth booties over our shoes an shuffle out on the walkway with a hundred other tourists while a couple of buses were pulling up to drop off another load. Next Willow told us she wanted to take us to the observatory, but we said we could skip that. She passive aggressively insisted and it turned out that she was taking us not to a building with a telescope but instead to a scenic outlook with a good view of the city. This was definitely worth seeing and I'm glad she was persisted. Willow explained that after the Japanese lost WW2 and the occupation of Korea was over there was a power struggle between the North and South. Buson became one of the only safe places to in all Korea. Thousands flooded into the city and were hoping to be reunited with lost family. The refugees set up make shift houses by the port and there was a meeting place where the displaced could find each other. We went to the cultural village which is the remains of this refugee camp but is now home to many artists and other Bohemians. We could have spent a long time here but we convinced her that we had had enough of culture. Instead we told our guide that we would like to try authentic Korean BBQ, so she took us to a restaurant in the new town. This was excellent: they brought out a basket of burning hot coals and let you cook it at the table. We got 2 kinds of beef, one like bacon and one like brisket. Willow took charge of cooking even though she didn't eat meat. There was a copper exhaust fan that came down over the grill so smoke was not a problem. She said that the meat was really just an appetizer and noodles or rice were really the main dish, but as far as I'm concerned we could have stopped with the meat. She used scissors to cut the meat up for us. We also learned that Koreans use metal chopsticks rather than wooden ones. Willow ordered a cold noodle dish for herself with ice floating in the broth. Not sure we would have liked that. The lunch also included a bunch of side dishes that we really were not sure how to eat but gobbled them up like salads. Got back to ship by 3:00 but turned out we hadn't need to rush because 3 busses were caught in traffic and the ship didn't leave until after 4:00. That night the show was a juggling comedian. Amusing but not all that funny. I Went to bed and Steven went to casino.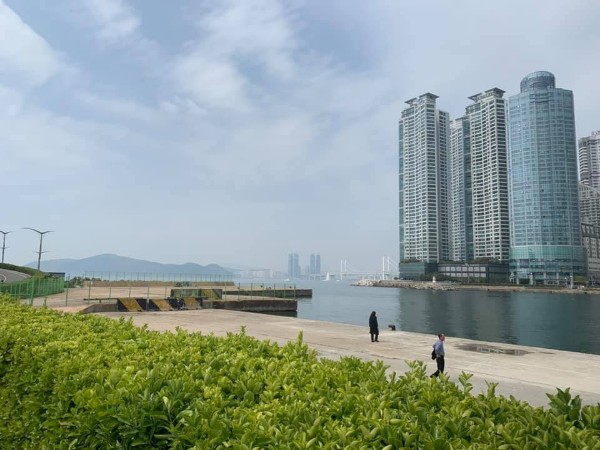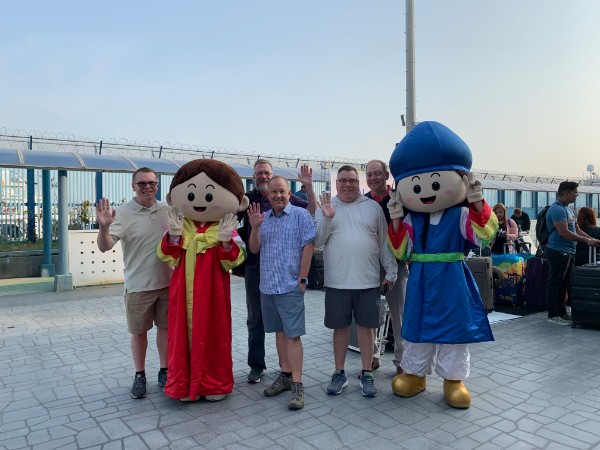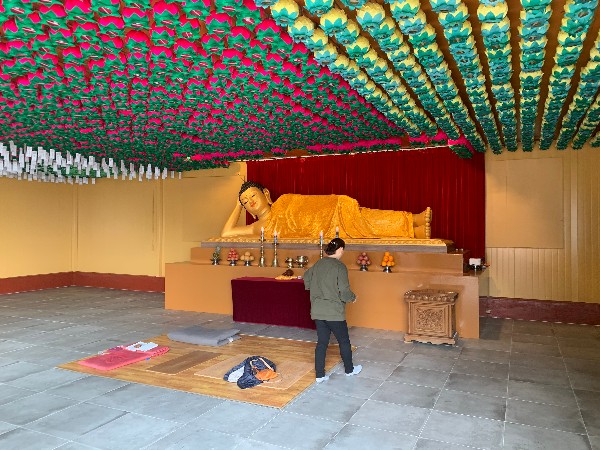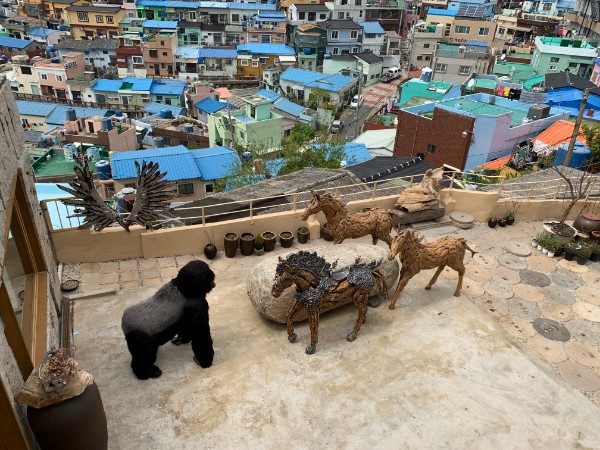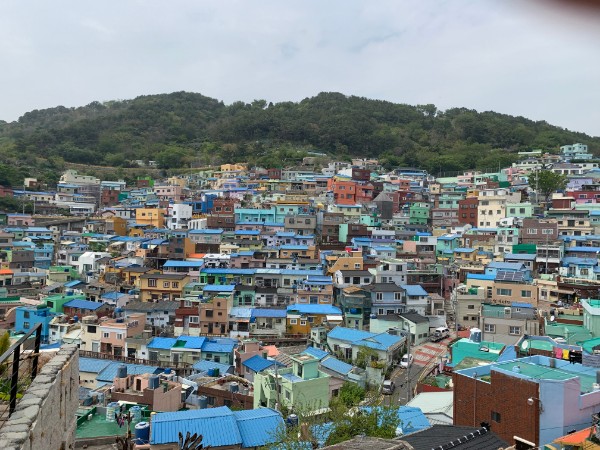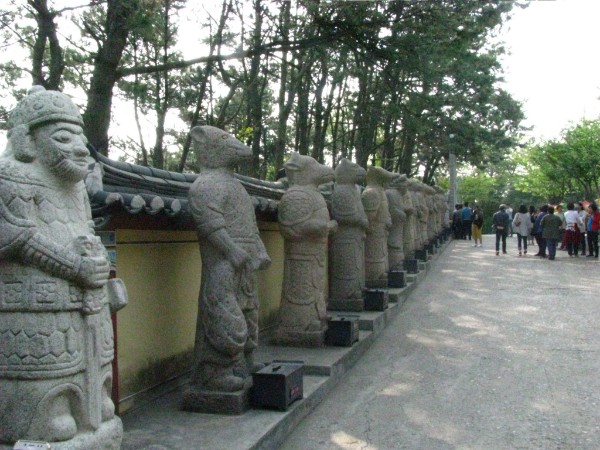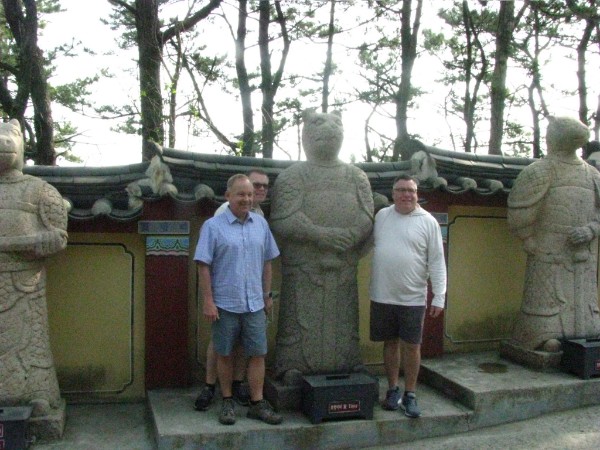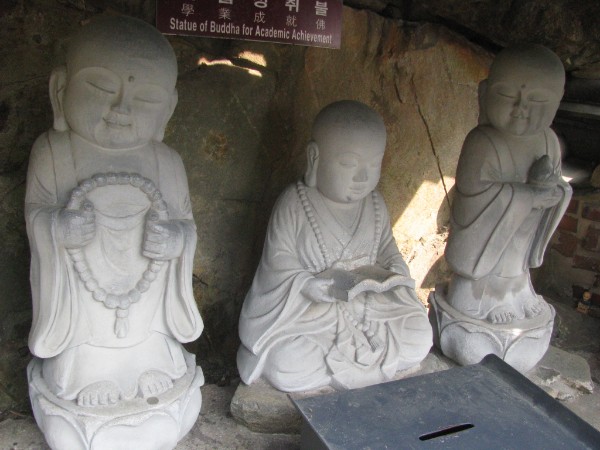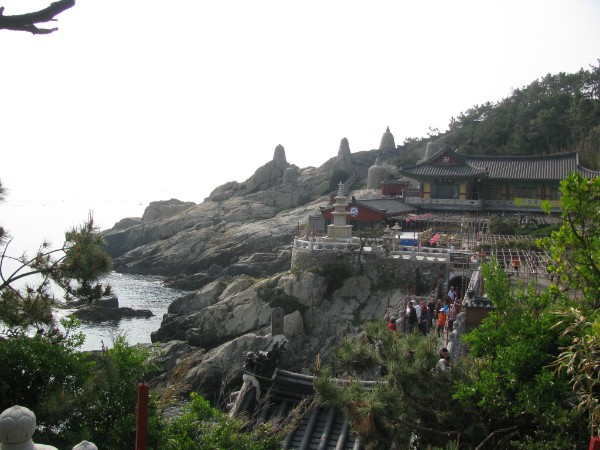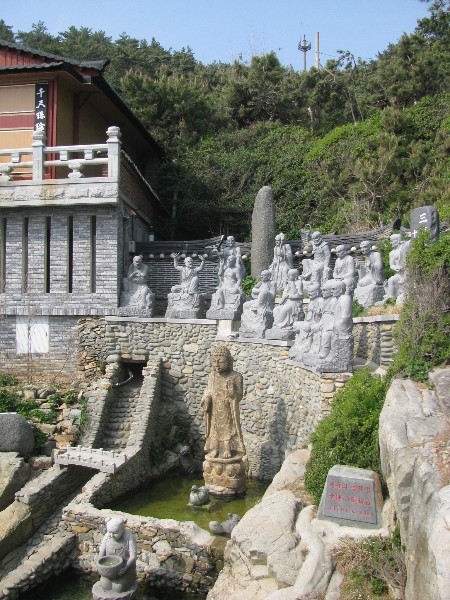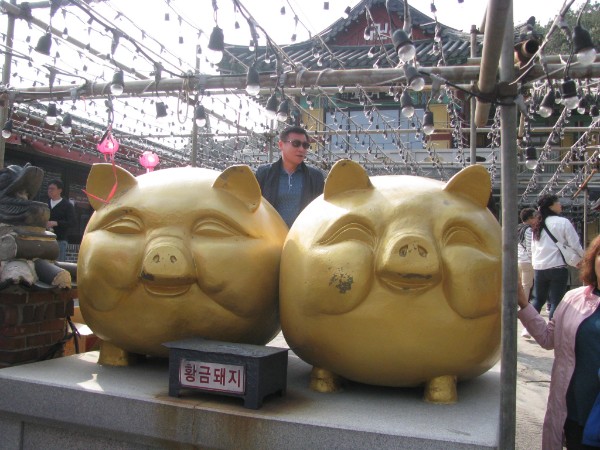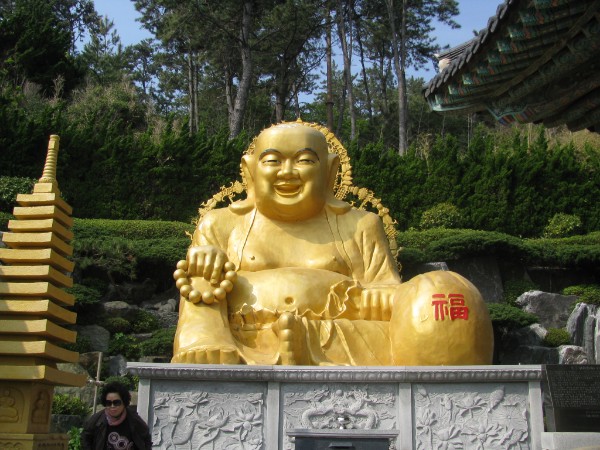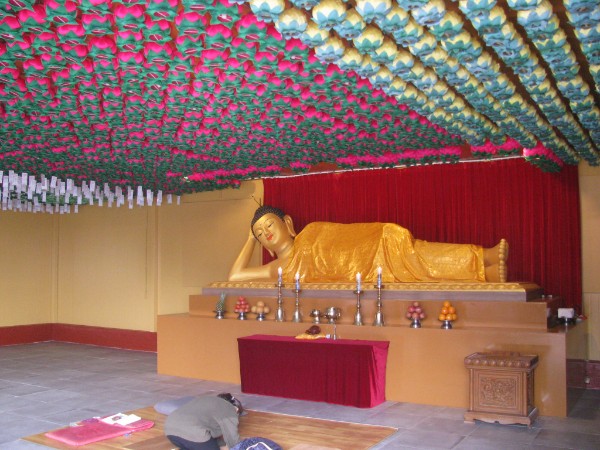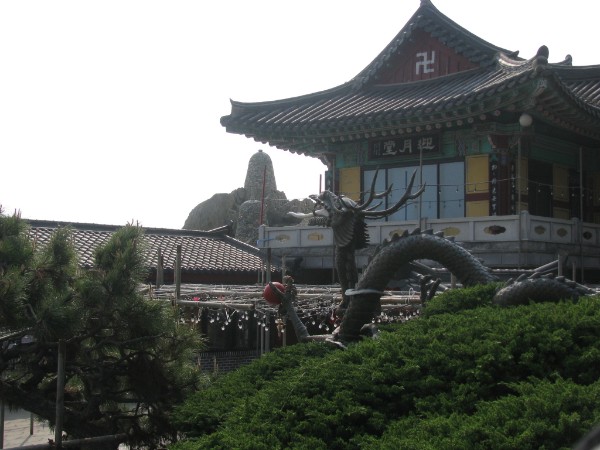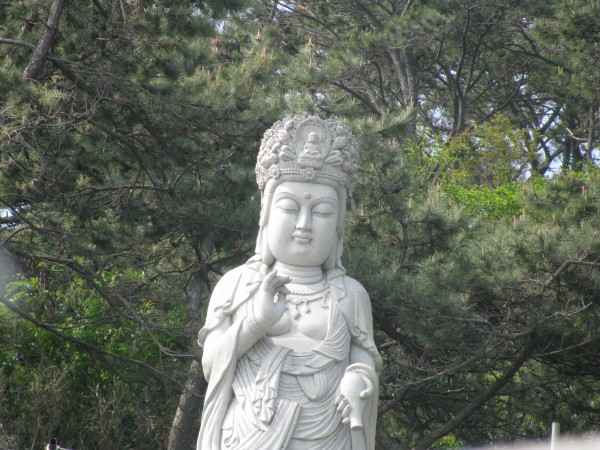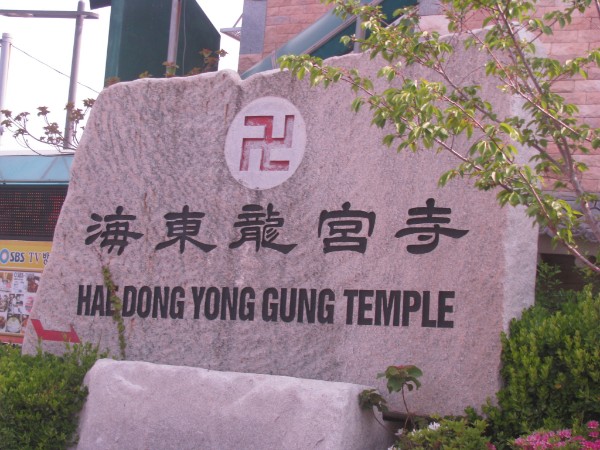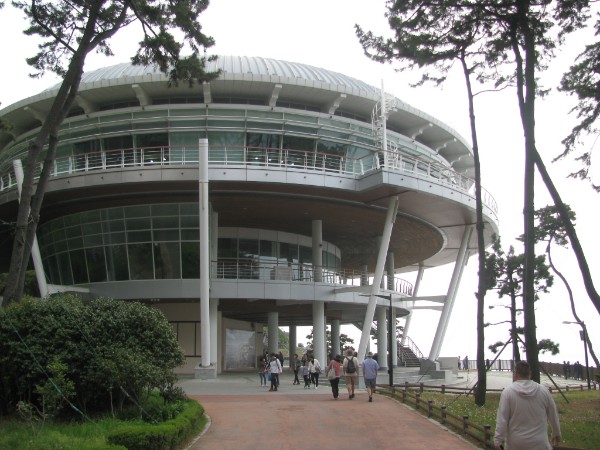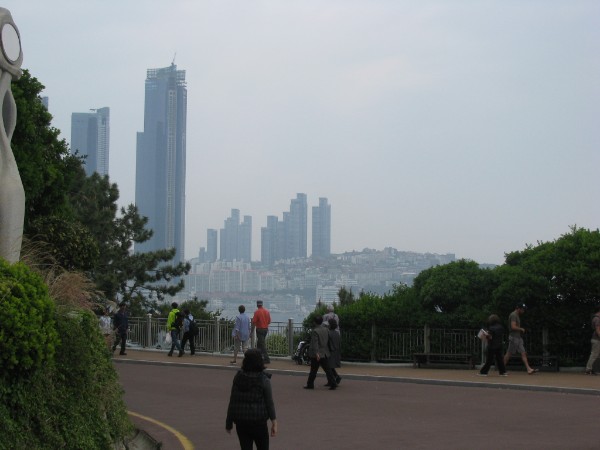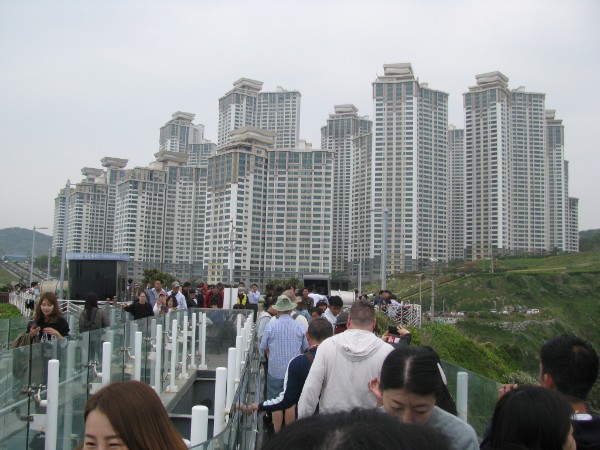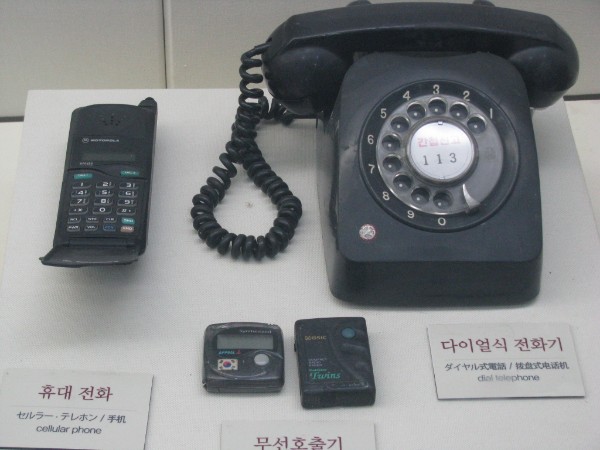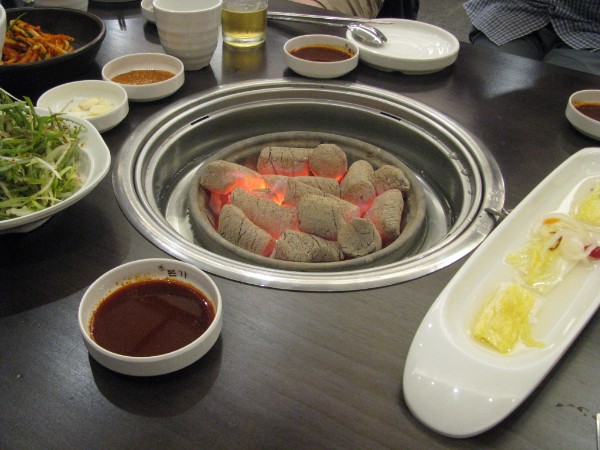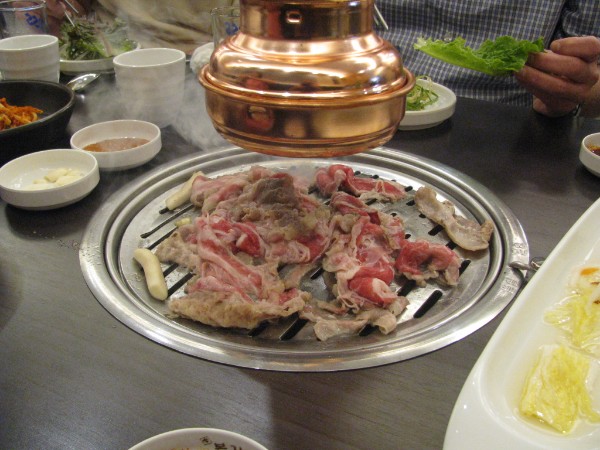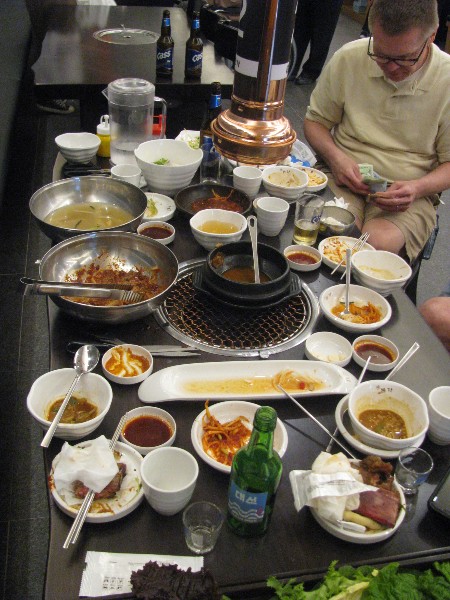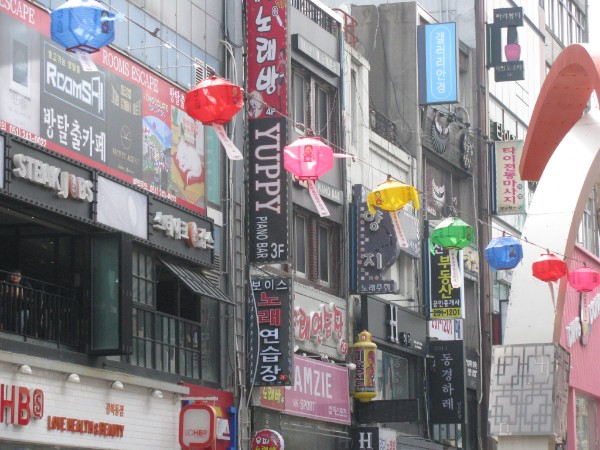 Hakodate, Tuesday April 22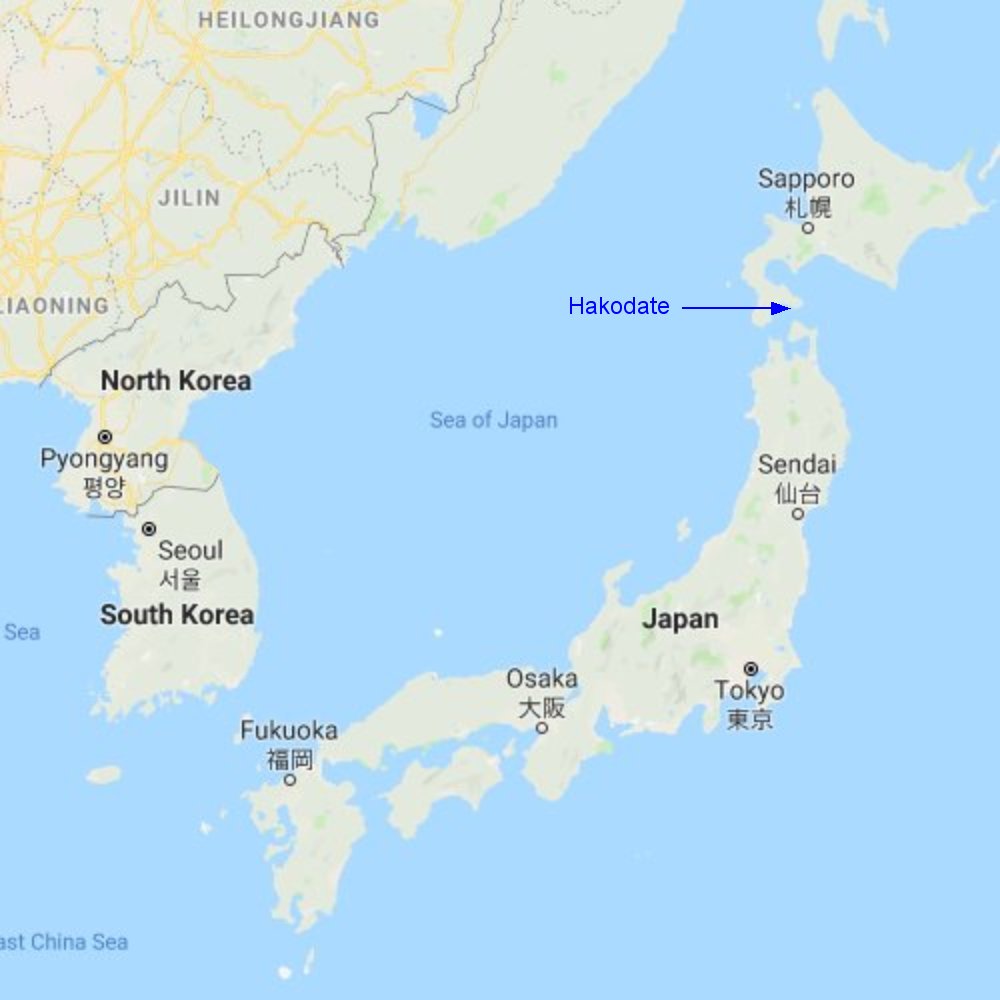 Since we had left Japan to stop in Korea, we had to go back through immigration. We had to stand in line for an hour to get our fingerprints scanned again. What a waste of time. One of our group thinks it's because they don't like foreign folk visiting and do this needless bureaucracy just to be contrary. Don't know if true but seems like it could be. Hakodate is on the Northern island, so the temperature was a bit colder today. The cherry trees we saw were in bud but hadn't bloomed yet. We decided to just explore on our own today so no orgaized tour. Hadodate is a big city but there is not much to do. We hit the local market, then went the tourist mall. I Bought a Hello Kitty dressed in a kimono for as an ornament for our Xmas tree. We took the sky tram up to the top of a mountain to get good views of the city. Had beer and chicken fingers while looking out over the city. Because the ship was leaving so late we were told we could be up there at dusk to see the city lights but nobody wanted to risk being late for departure so we went back. Found a restaurant near port and had saki and dumplings then back to ship. All aboard was at 8:30 PM.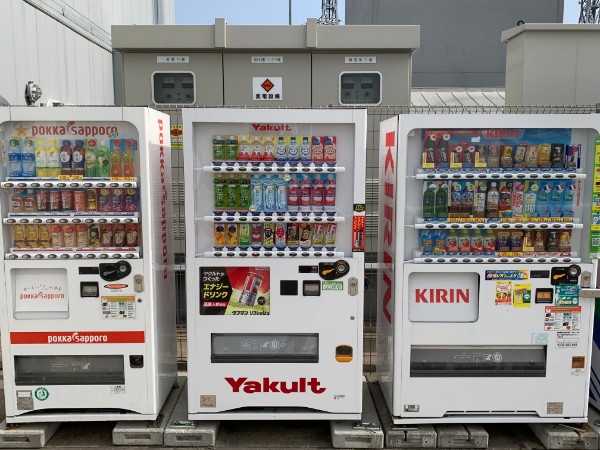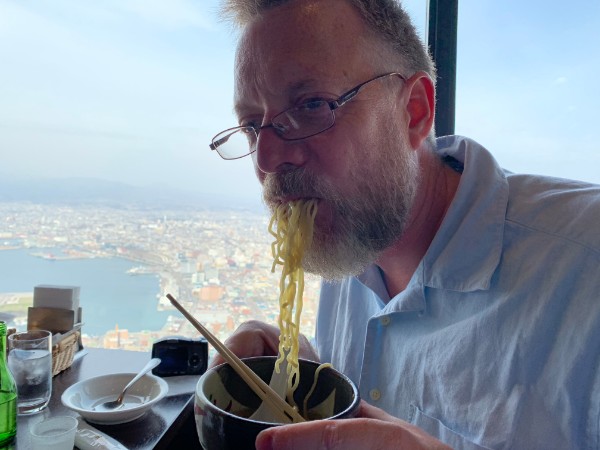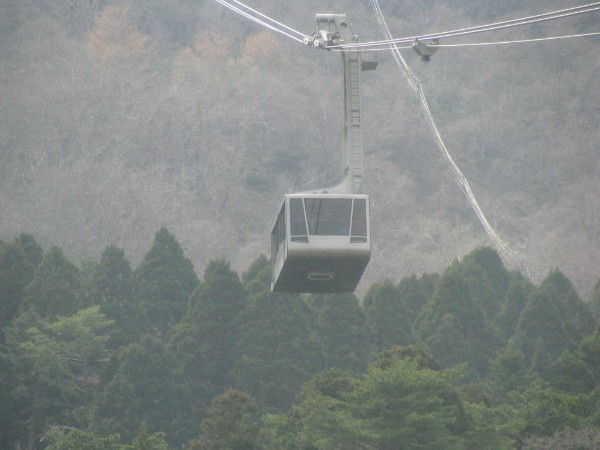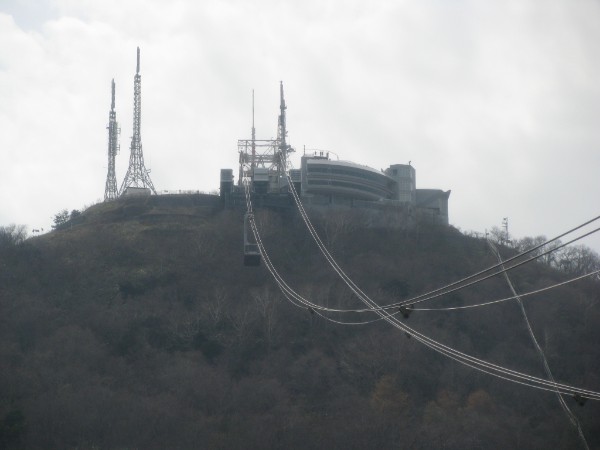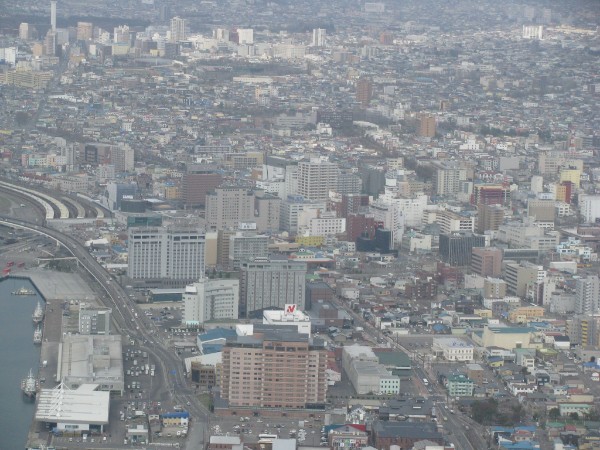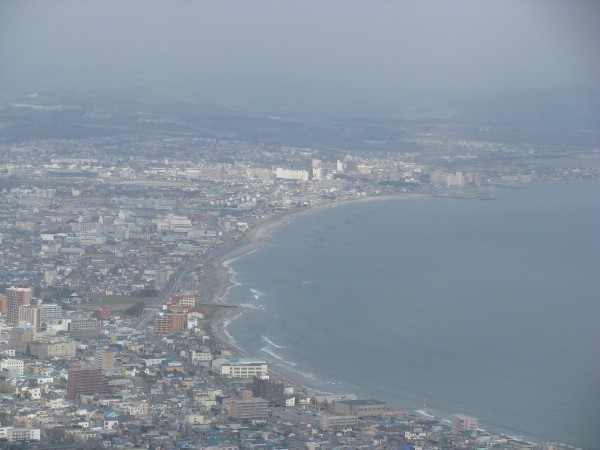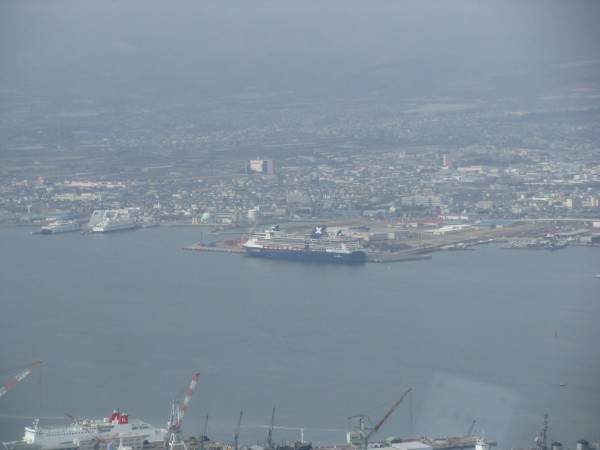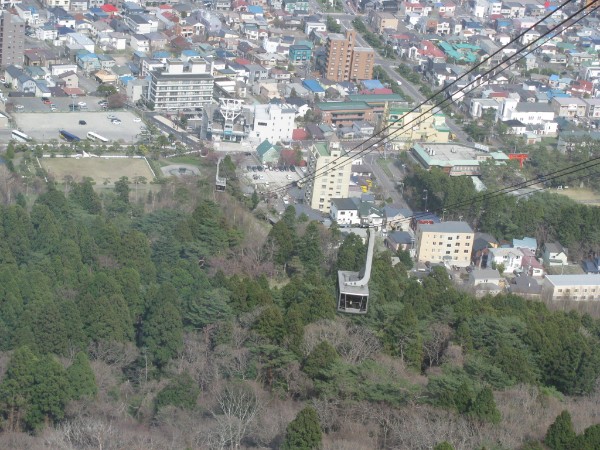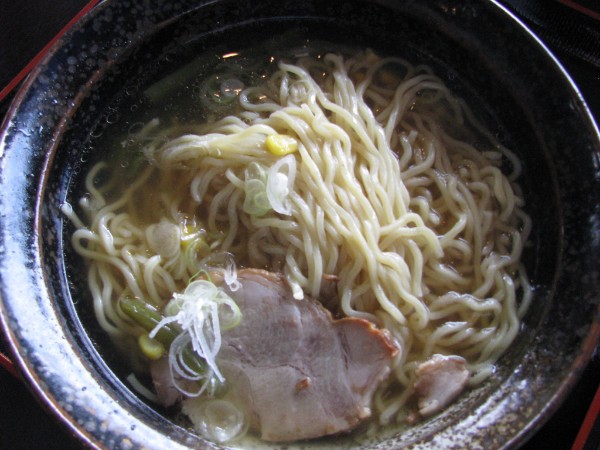 Aomori,Wednesday April 24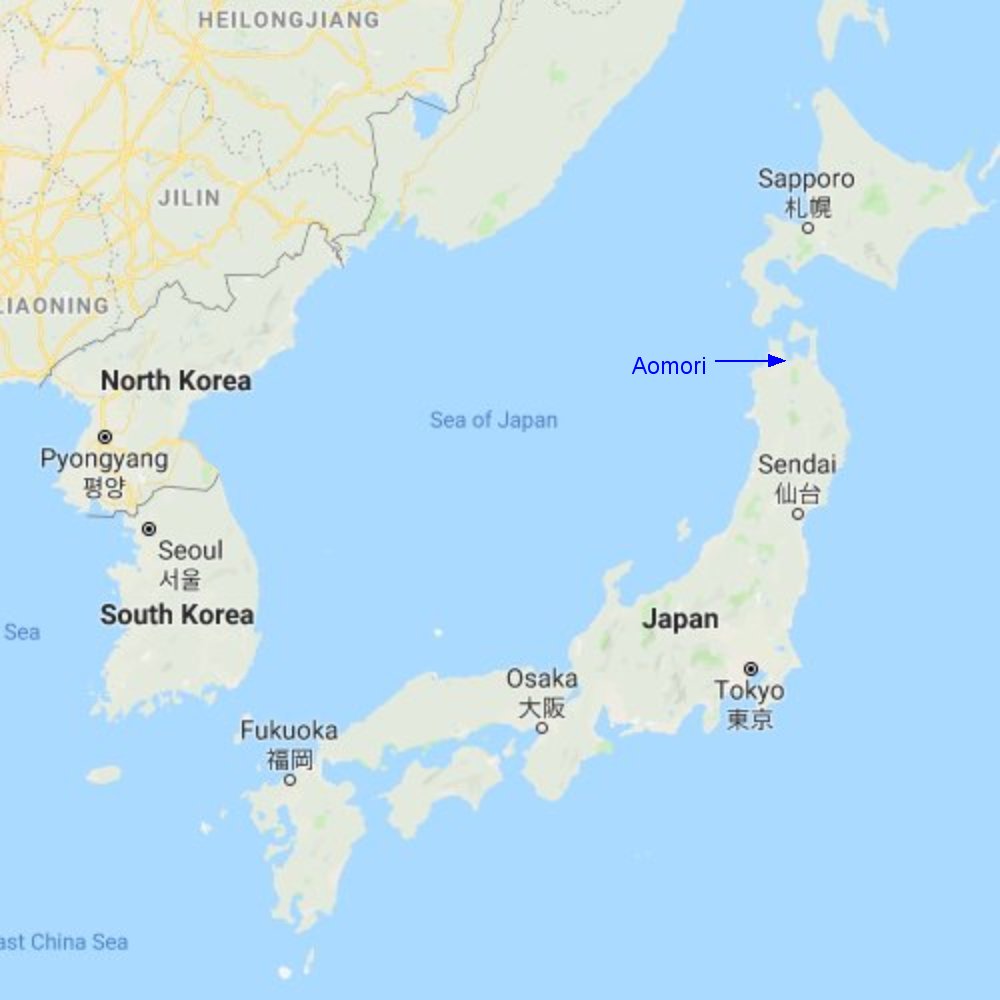 Our next port at Aomori was only 7 nautical miles from the last, but on the big island, so it didn't take long to sail there. As the boat docked we could see snow capped mountains surrounded the city. The weather was cool to start but went to the mid 70s during the day. We hired a private guide for this port, his name was Yuki, a retired school teacher. He had studied Teaching English Language in San Fran back in the 80s. Yuki spent his career teaching English to high school students. Now after being forced to retire he gives tours in Northern Japan. The forecast called for rain in the afternoon so our first stop was to see cherry blossoms. The drive took about 45 minutes from the port during which we learned all about Yoki and this part of the island. This region is big in apple production and we passed many small orchards as well as rice paddies. In the distance was a mountain that looked very like Fuji and it was here we were headed. Yoki told us at age 8 his mother took him to a temple on the mountain to pray for his bed wetting and after that he never wet the bed again. Tour guide TMI. The castle we were going to is surrounded by a thousand some cherry trees and they were at peak bloom at the time of our visit. We spent some time admiring the blossoms against the backdrop of the castle and snow capped peak. Yoki said at this time of year some two million people pass through this park. Many stalls selling various fish and squid on sticks. Also had some apples because that is what the region is known for. Yoki took us to a local restaurant where we actually saw people sitting on the floor at the little tables. We got to sit at regular tables with the locals, one guy was slurping his noodles very loudly. Next stop was a temple with Japan's largest seated Buddha and a five story pagoda. As we were driving back to port Yoki said the cabdriver would like to know where our wives were. We explained that we were married to each other. He said 'oh I met people like you in San Francisco'. Lastly was a museum dedicated to floats made for a yearly summer parade. The details were extraordinary like 3-D pictures. Back to ship for cocktails and dinner. Motown trivia and a show by the singers dancers in disco lounge. Thursday April 25 Day at sea. Morning started with heavy rain and fog. Just slept in and read books. Fish lunch at Q-zine restaurant. By afternoon the clouds had cleared and turned sunny. Heading back down East coast to final ports. Show was Broadway tunes performed by the ship's singers and dancers.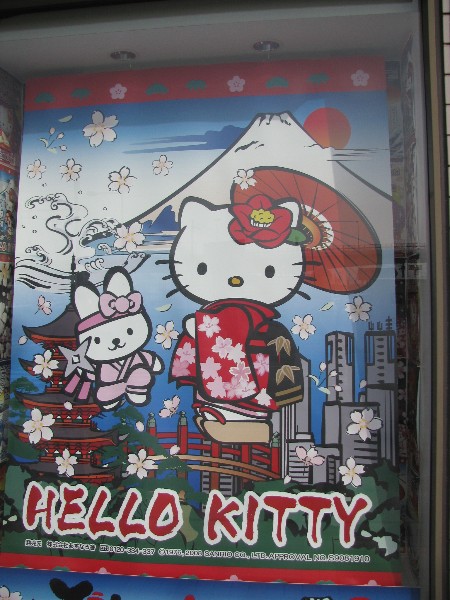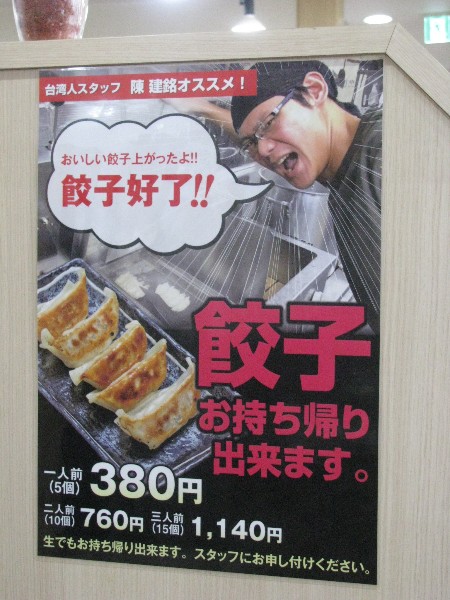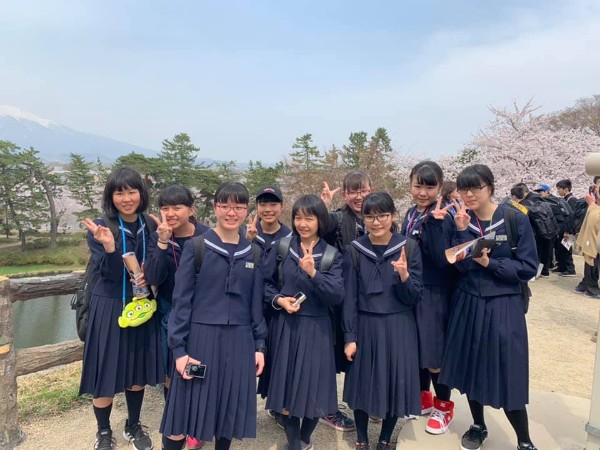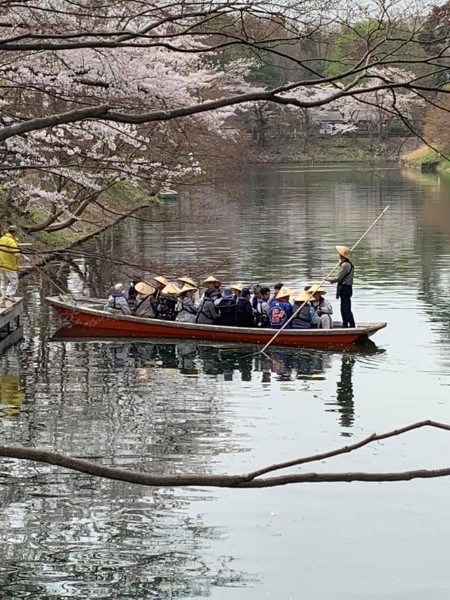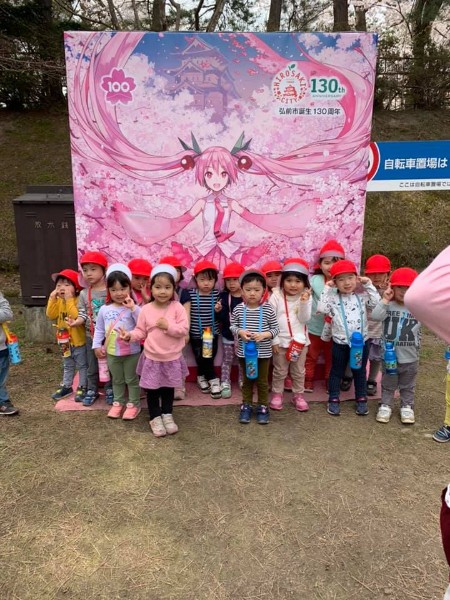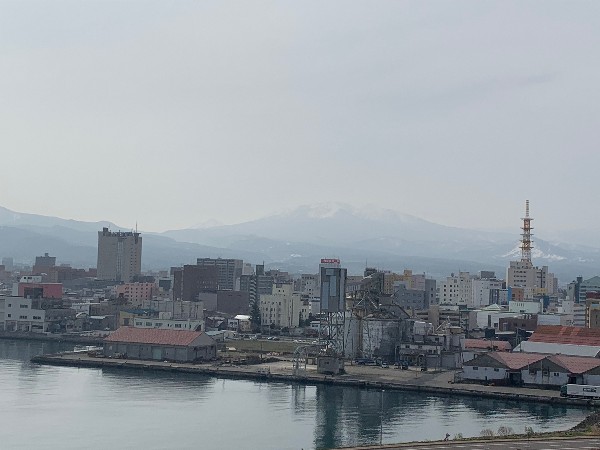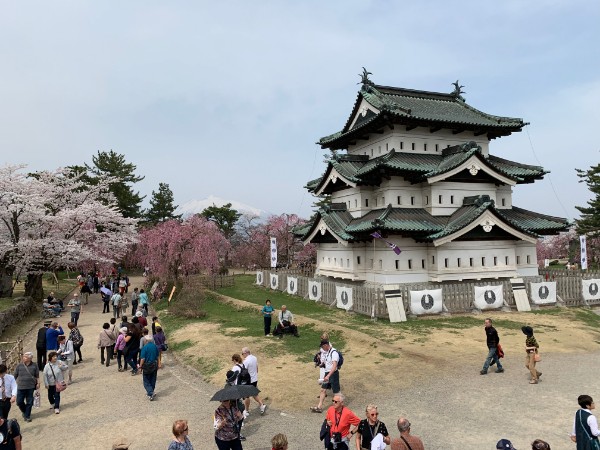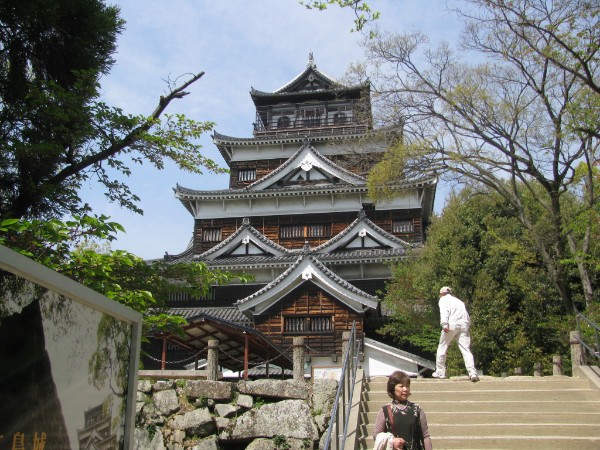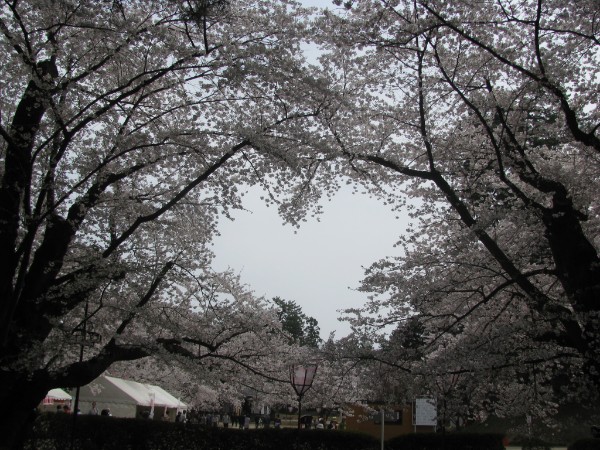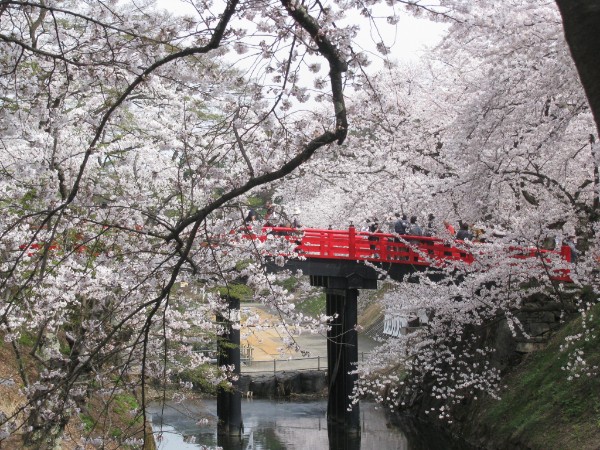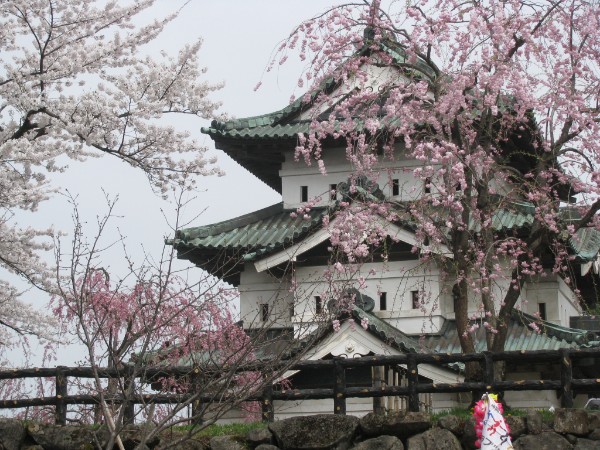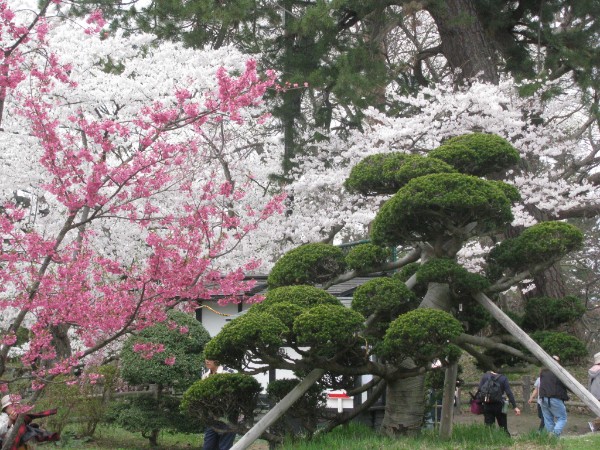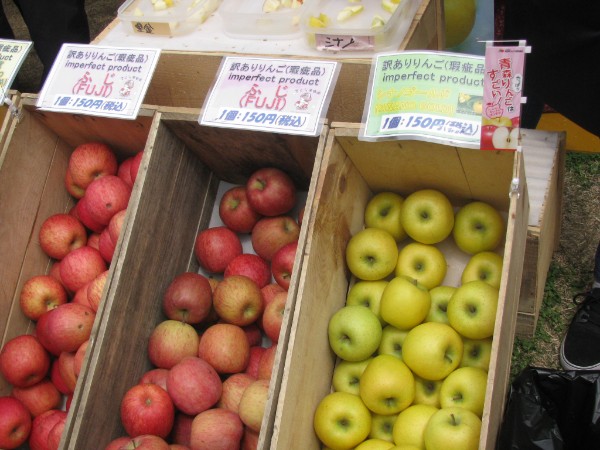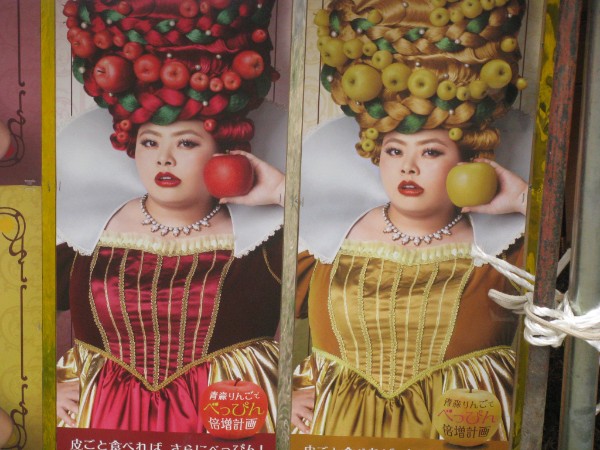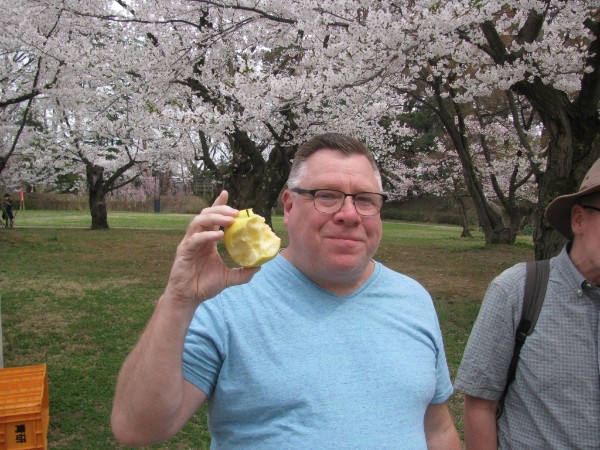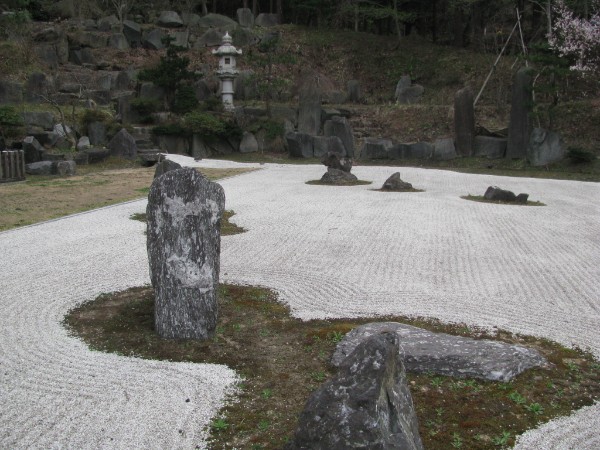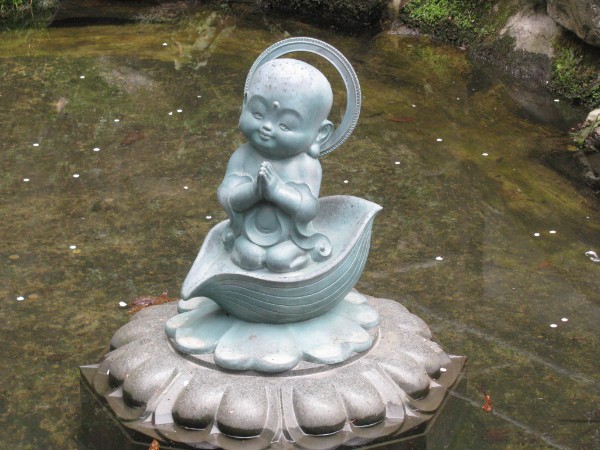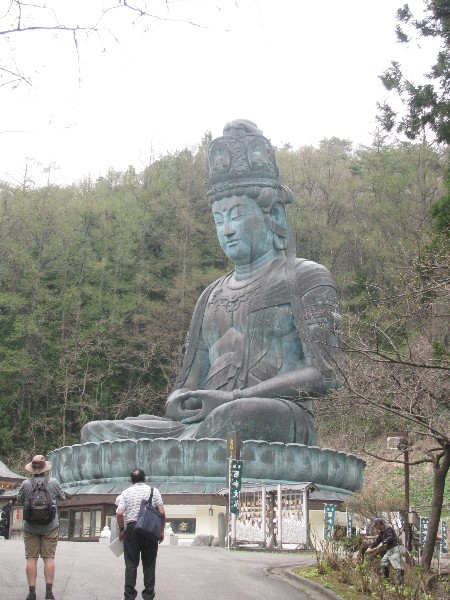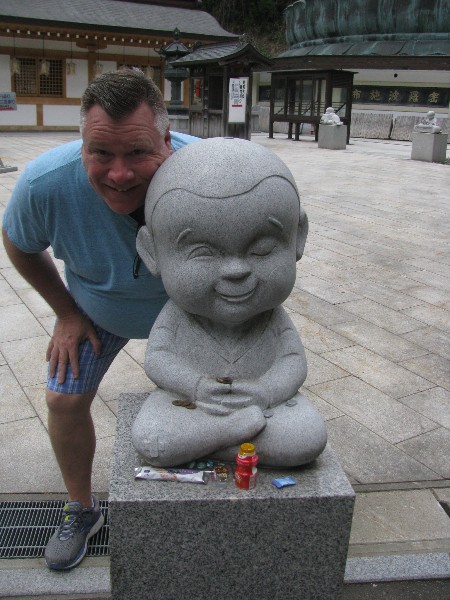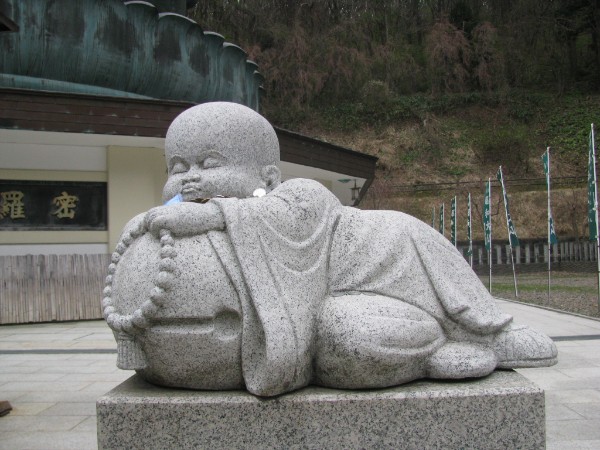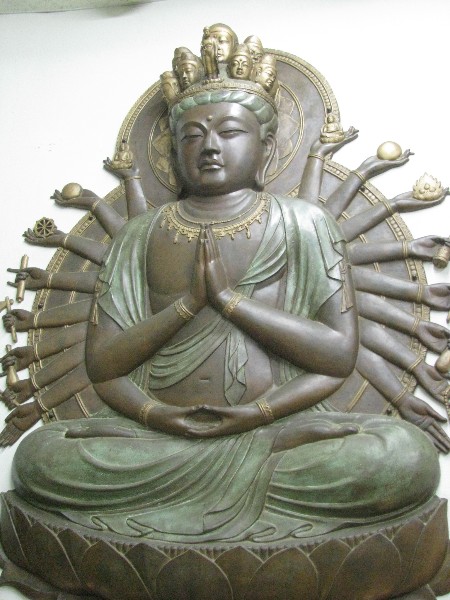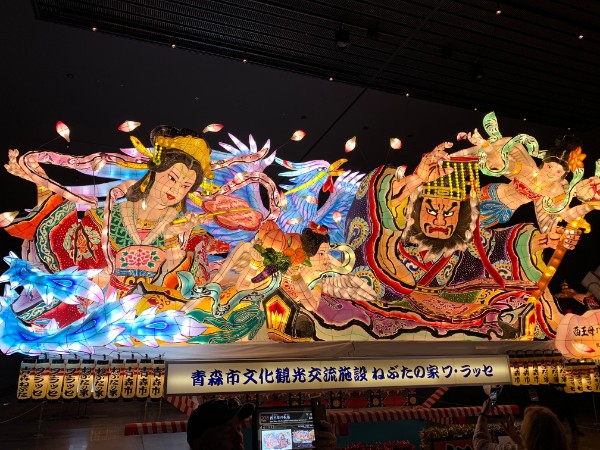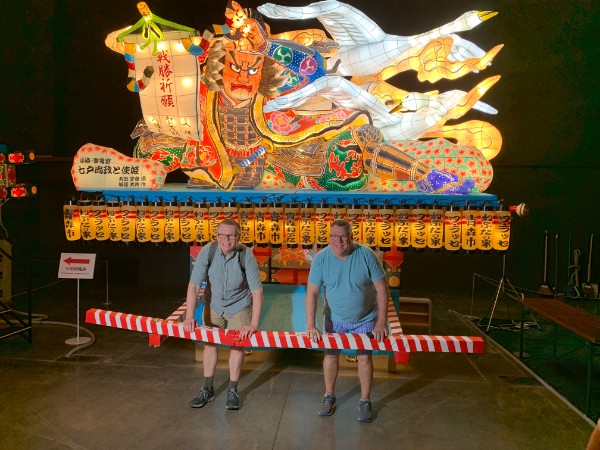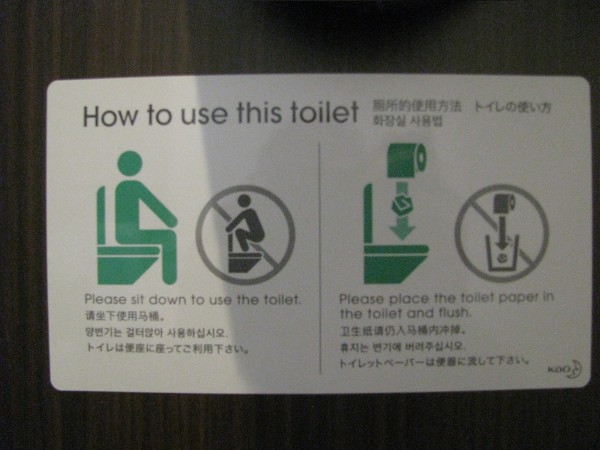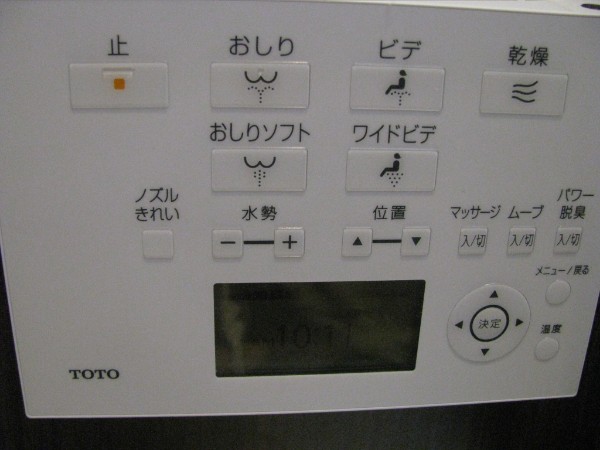 A note about the toilets in Japan. Traditionally it is just a hole in the ground where you squat. We did see some of those, but more often than not the toilets were really high tech, with water jets and warmed seats. Sometimes you had these super-toilets in one stall and a hole in the ground in the next stall. Apperently some people really like to squat. On one tour we had to wait a long time because the first woman's rest room only had holes and the ladies in our group had to find another place to do their business.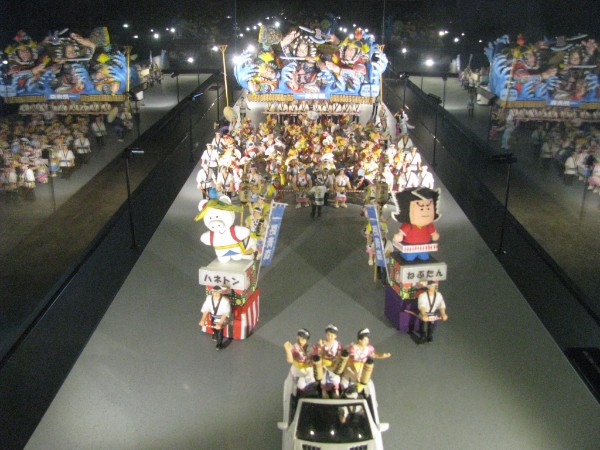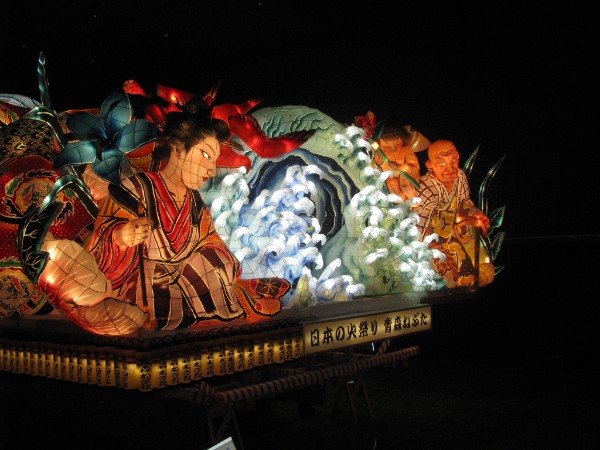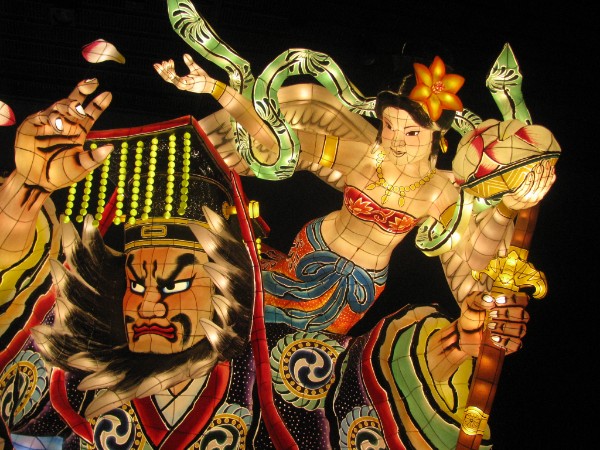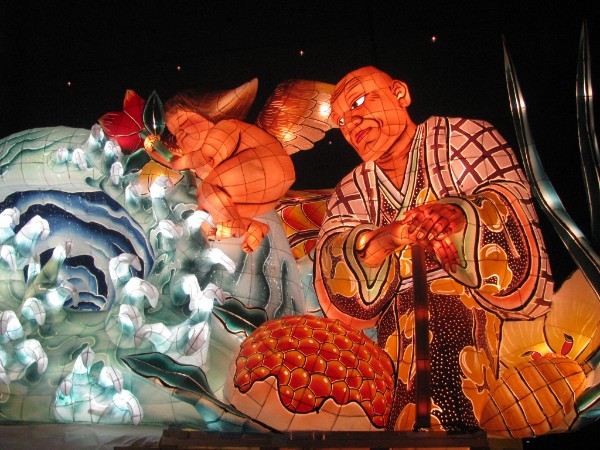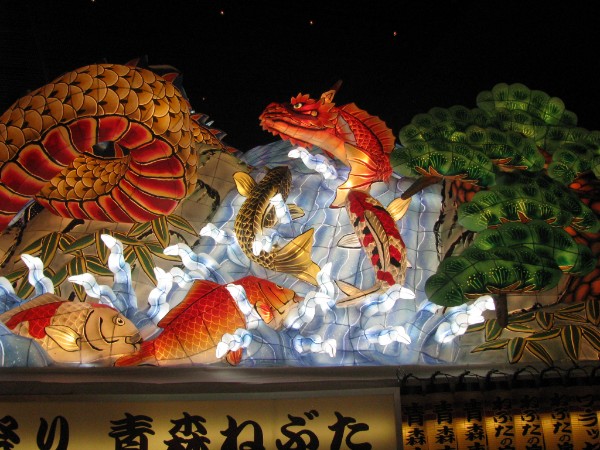 Yokohama, Friday April 26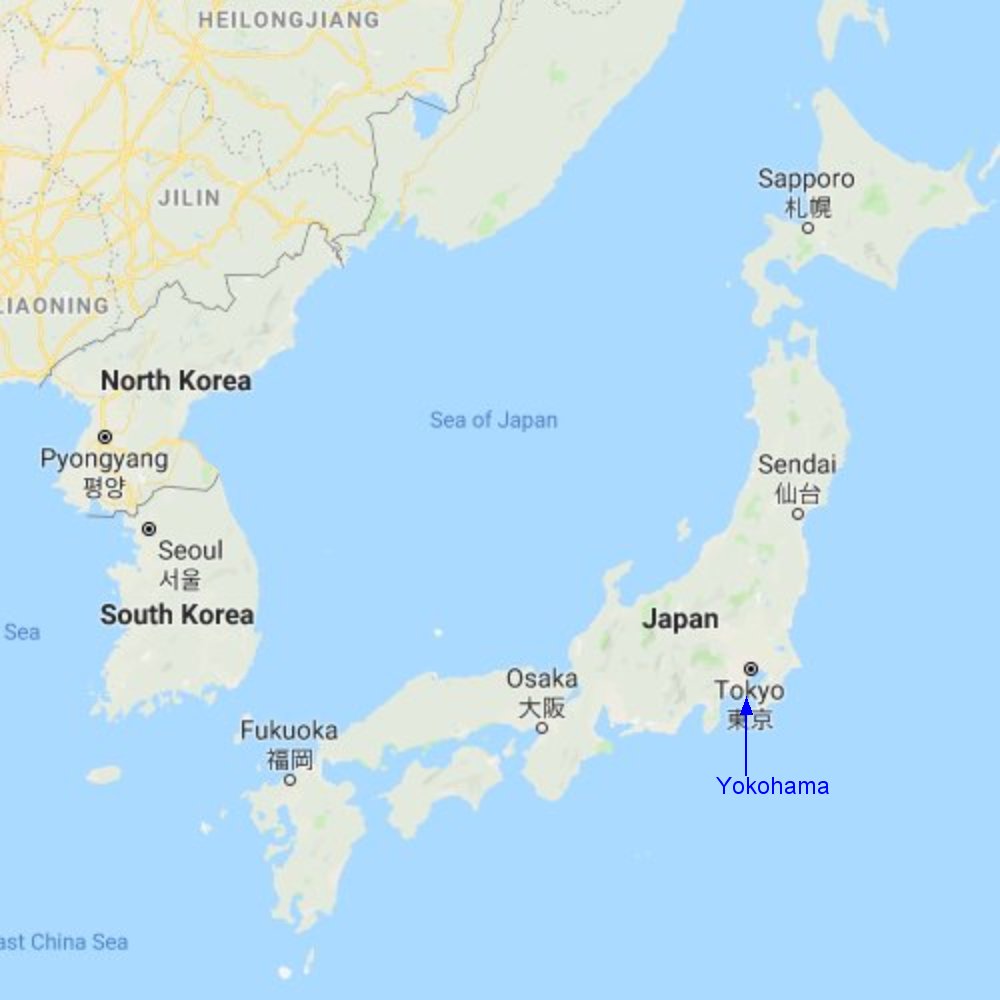 Docked back at Yokohama where we began the trip. We took a ship's tour of Tokyo that started with an hour long bus ride in morning traffic to go around 12 miles. First stop was a tsinto shrine to the Maori emperor built in the 1920s. Had to listen once more to the explanation of the different religions in Japan. The park was pretty but we were so shrined out. Next was a lunch of Japanese BBQ in a lovely garden restaurant. The chefs cooked everything on a big grill for the whole table. Fish and scallops, then vegetables, then beef and chicken. A refreshing mango sorbet with green tea to finish. Lunch was probably the highlight of the trip. On to the Imperial palace, which really is not a palace but a small brown building that you cannot see through the trees. Final stop was yet another Buddhist temple, this one in downtown Tokyo. Steven really wanted to have a rickshaw ride and he found a delightful driver willing to take us the short trip back to our bus pick up. I couldn't believe he could pull our combined weight but he did and gave us a good tour as well. We learned from him about how the boss at Asahi beer and Cup-O-Noodles gave money for the temple. Also saw the Asahi building that looks like a mug of beer. Back on the bus and another hour drive through traffic til we arrived back at the ship for the final time. Ate dinner then packed so the suitcases would be in the hall by 10:00.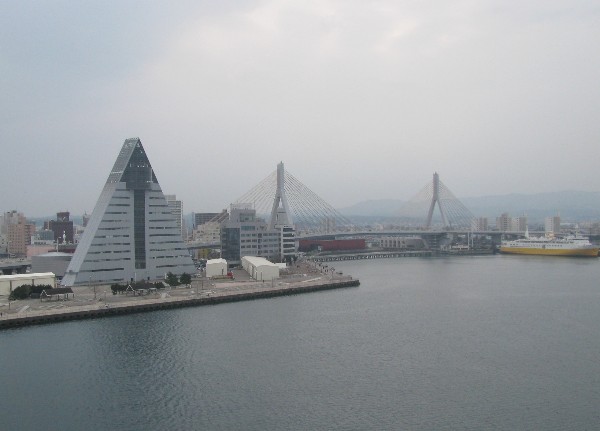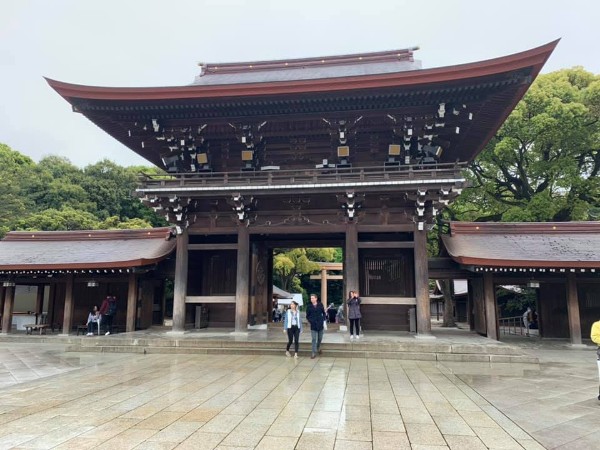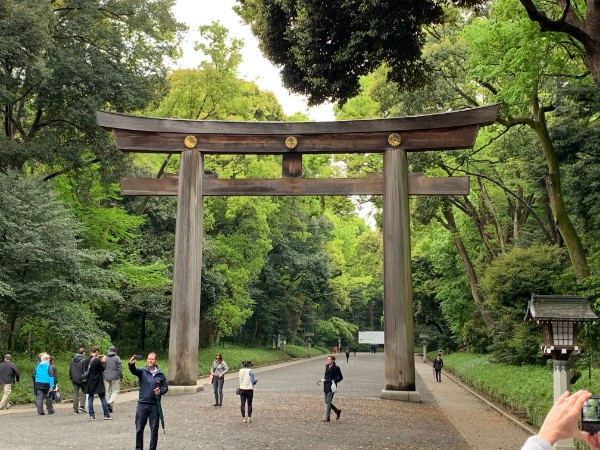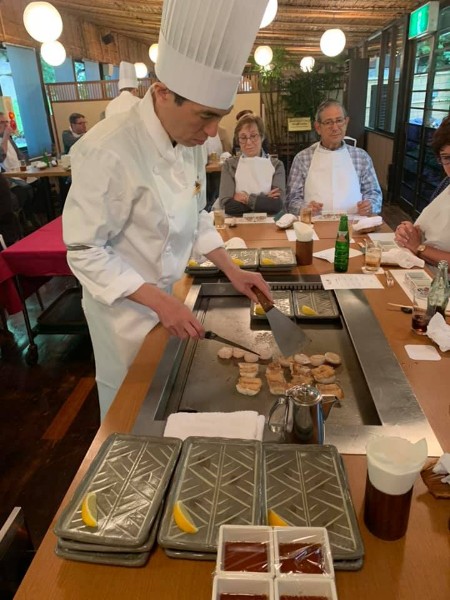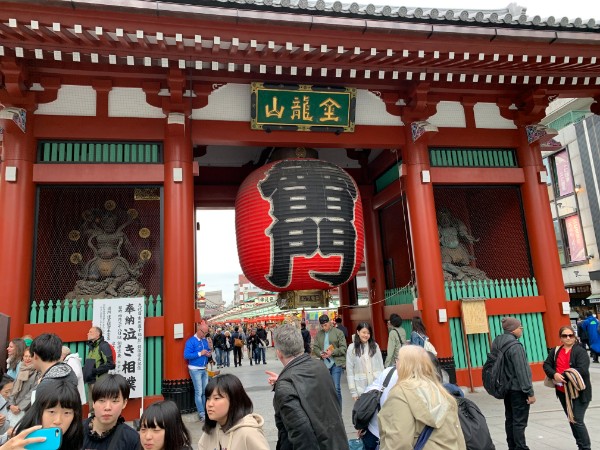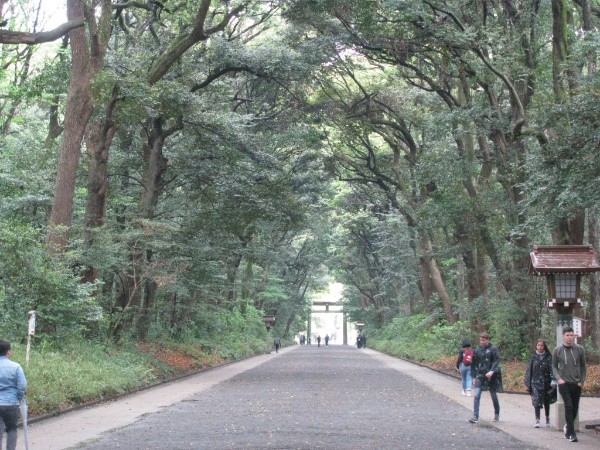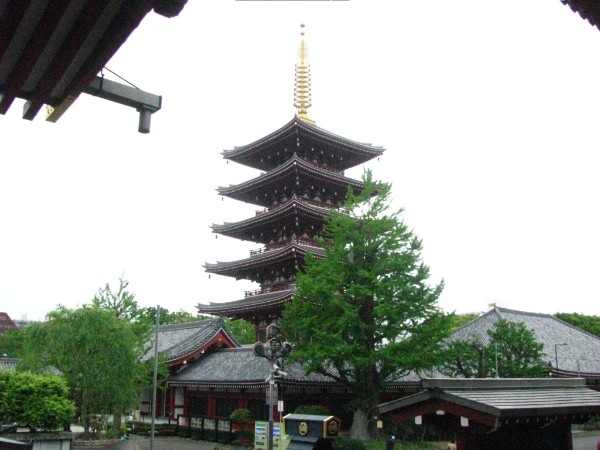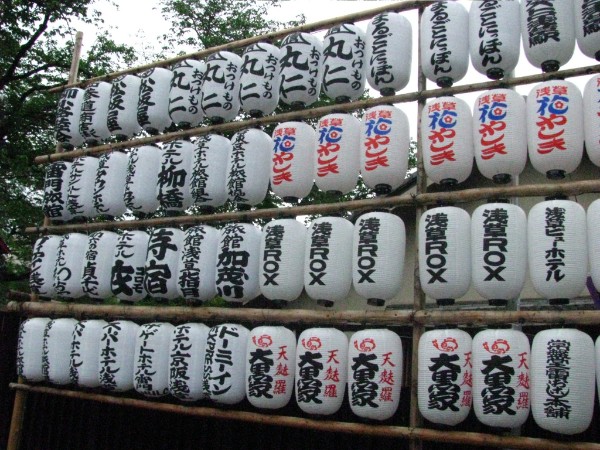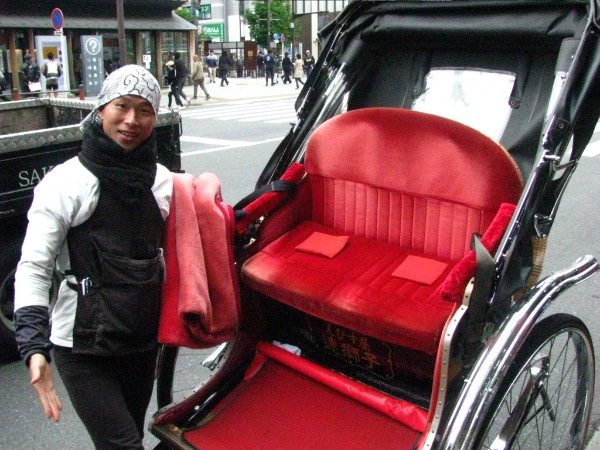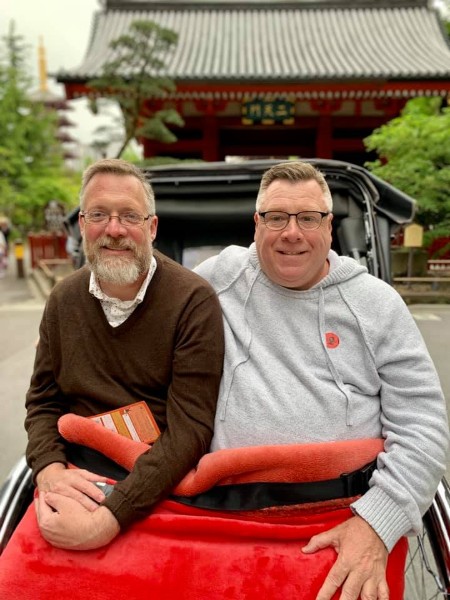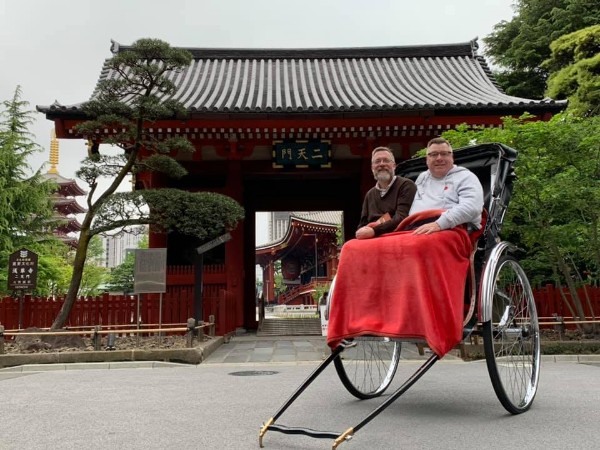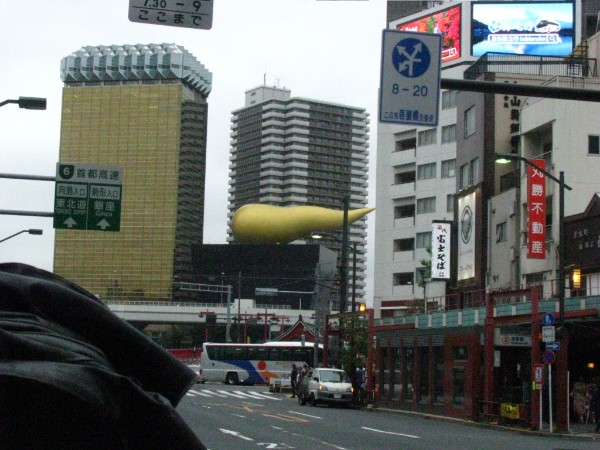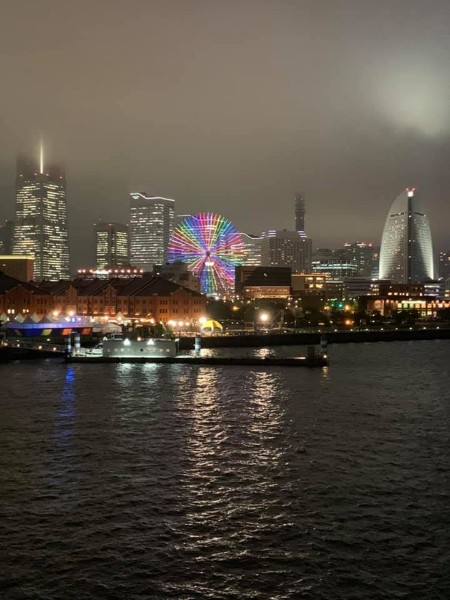 Tokyo, Saturday April 27
A long travel day. Left the ship around 9:30. Hung out at the Tokyo airport for a few hours before the flight to LA. Really didn't get any sleep on the flight. A four hour layover in LA, then flight to Dallas, changed planes, and back to Baltimore. We got back Sunday afternoon, then back to work on Monday when the jet lag really hit. So that was our trip to Japan. The weather was fantastic, everything went smoothly, nobody died. I could have done with fewer temples, castles, and shrines, but all in all it was a good trip.